'Swiftie Dad' Thanks Fans For Helping Him Bond With His Teenage Stepdaughter
June 22, 2023
A father in East Bethel, Minnesota, wrote a touching thank-you letter to Taylor Swift fans for helping him connect with his 13-year-old stepdaughter.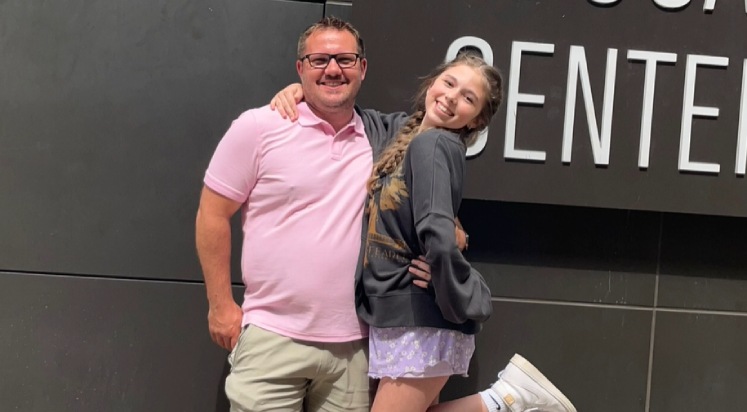 Credit: kare11.com
Rob Scharbach, 42, says his stepdaughter Sophia is "OBSESSED" with Taylor Swift. She's always singing her songs and "talks about her all day".
So, he joined the Taylor Swift subreddit, a group of 638,000 die-hard fans, to learn as much as he could about the pop superstar.
Recently, he posted to the same subreddit to thank all the "wonderful" fans.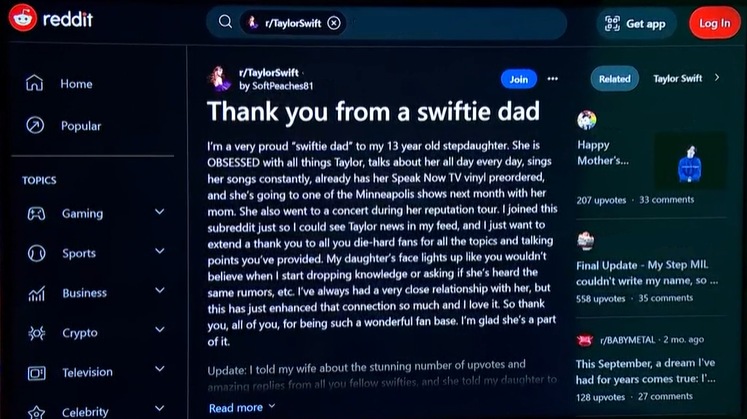 Reddit
He wrote:
I'm a very proud 'swiftie dad' to my 13 year old stepdaughter. She is OBSESSED with all things Taylor, talks about her all day every day, sings her songs constantly, already has her Speak Now TV vinyl preordered, and she's going to one of the Minneapolis shows next month with her mom. She also went to a concert during her reputation tour. I joined this subreddit just so I could see Taylor news in my feed, and I just want to extend a thank you to all you die-hard fans for all the topics and talking points you've provided. My daughter's face lights up like you wouldn't believe when I start dropping knowledge or asking if she's heard the same rumors, etc. I've always had a very close relationship with her, but this has just enhanced that connection so much and I love it. So thank you, all of you, for being such a wonderful fan base. I'm glad she's a part of it.
Update: I told my wife about the stunning number of upvotes and amazing replies from all you fellow swifties, and she told my daughter to read through it all, too. She loves it, and this just reinforces for her how amazing Taylor fans really are. I got a pretty tight hug out of it too, so thank you all again for being such a gift."
The post received over 5,000 upvotes from fans. Many other fathers chimed in with their own stories and support.
"Cool man. Swiftie dad fist bump. My daughter and I took a road trip to see the Eras Tour. It was ten solid hours of nonstop Taylor Swift all the way!" one commenter wrote.
"Another Swiftie Dad here but it was me that became a fan first and then converted my daughter and wife. I am very much looking forward to going to the tour when it reaches London. I have been following it closely and I am looking for costume tips from any creative fans. My daughter has suggested I go dressed as a Christmas Tree but as yet I have resisted," another user wrote.
Both Rob and Sophia hope they'll one day have the opportunity to thank Taylor Swift for the gift she has given them, they told TODAY.
Please consider
making a donation
to
Sunny Skyz
and help our mission to make the world a better place.