9-Year-Old Spends 4 Days Writing Inspiring Letter To Michigan State Football Team
November 22, 2019
A 9-year-old Michigan State football fan has an important message for the team and their fans.
Fraser Bartnell thought the Spartans needed some cheering up after their loss to Michigan. So, he spent 4 days writing a letter to the coach, the players and even the fans.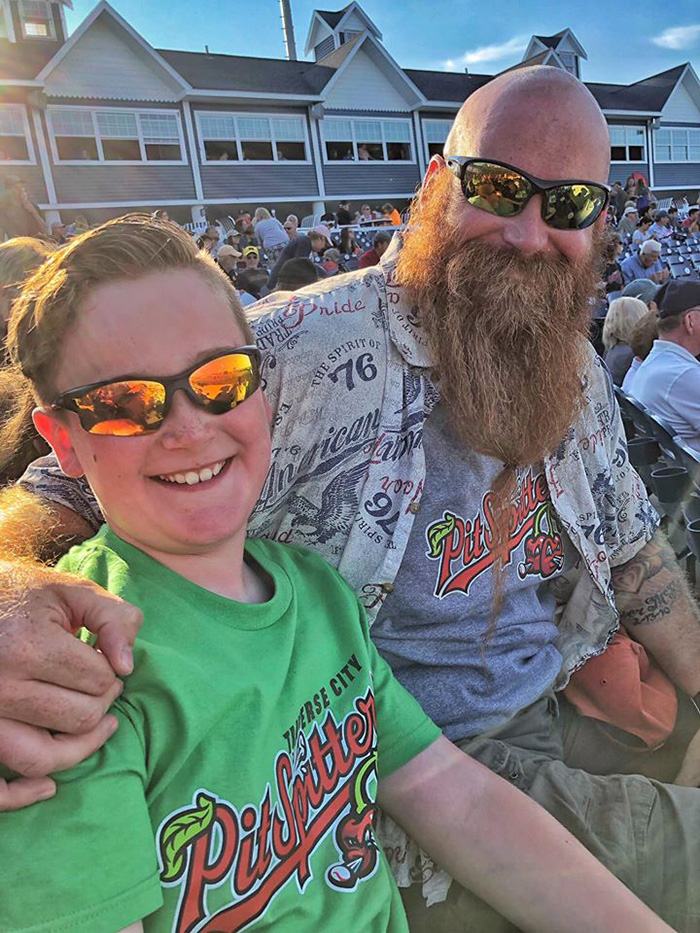 Ben Hartnell and son Fraser / Facebook
Fraser's father posted the letter on Twitter where it's captured national attention.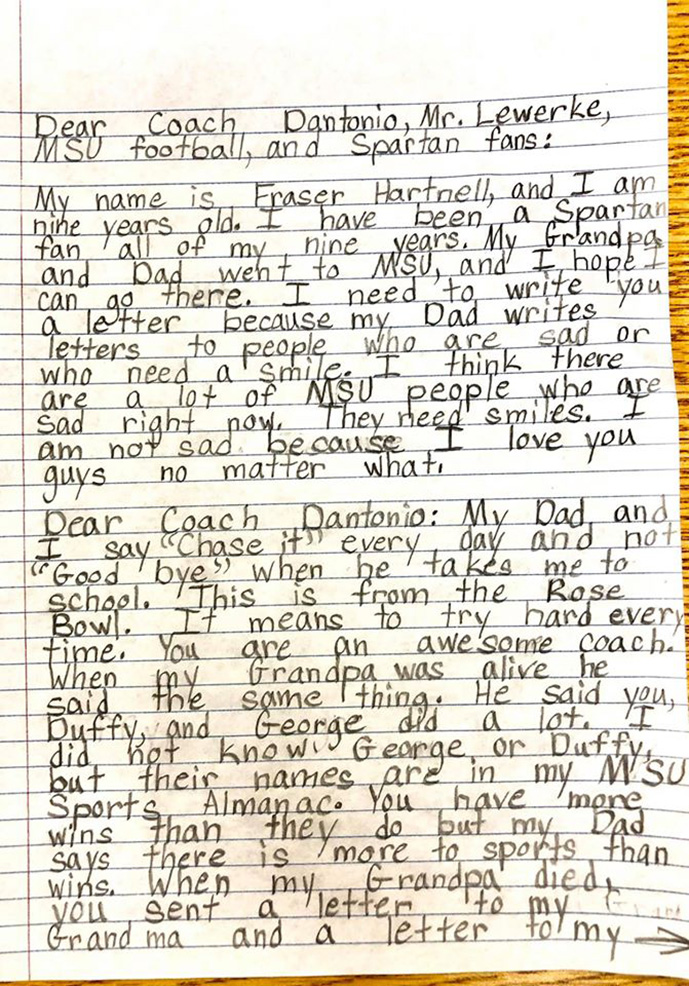 Credit: Ben Hartnell / Facebook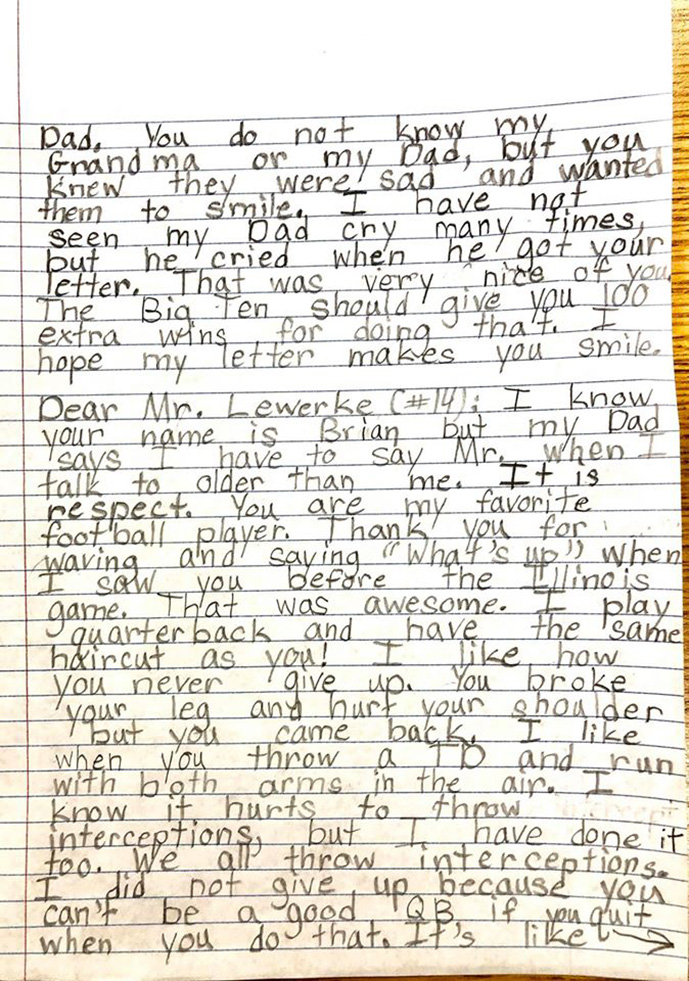 Credit: Ben Hartnell / Facebook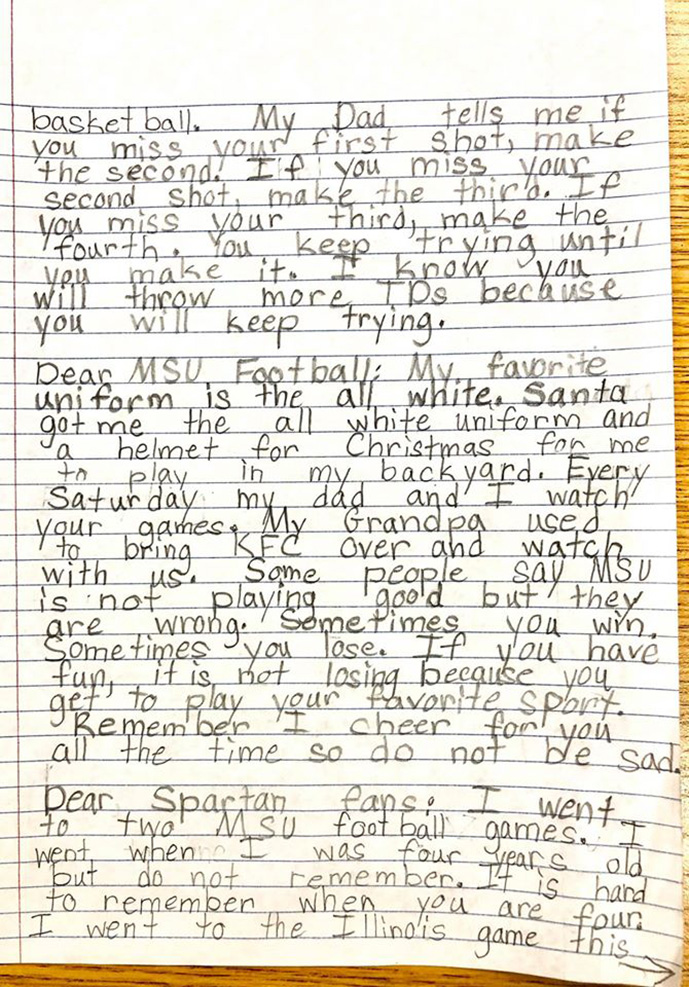 Credit: Ben Hartnell / Facebook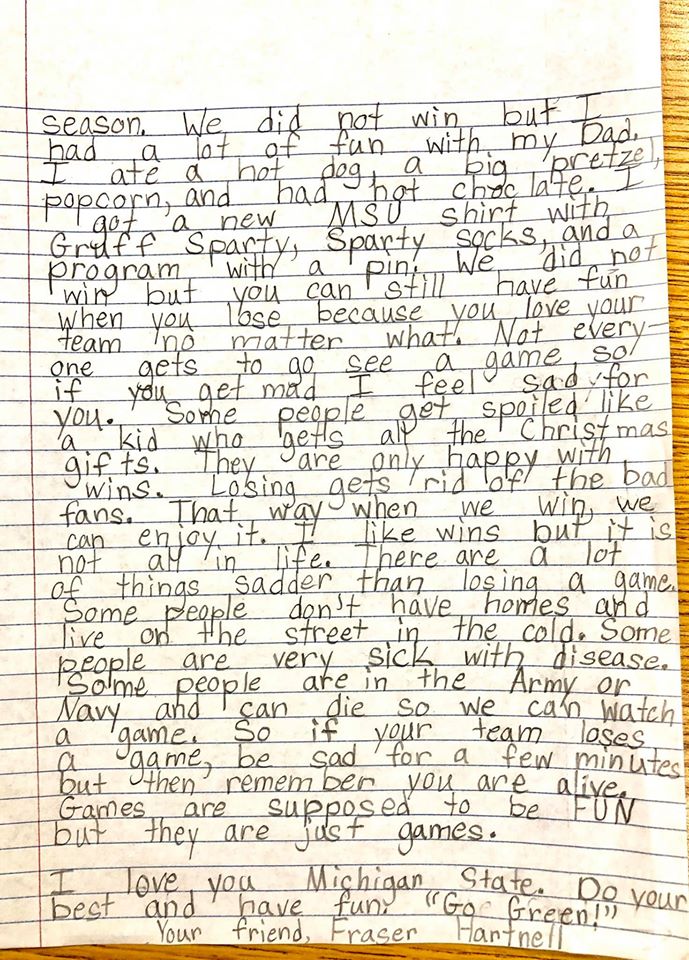 Credit: Ben Hartnell / Facebook
Here is Fraser's letter in its entirety:
Dear Coach Dantonio, Mr. Lewerke, MSU football, and Spartan fans:
My name is Fraser Hartnell, and I am nine years old. I have been a Spartan fan all of my nine years. My Grandpa and Dad went to MSU, and I hope I can go there. I need to write you a letter because my Dad writes letters to people who are sad or who need a smile. I think there are a lot of MSU people who are sad right now. They need smiles. I am not sad. I am happy because I love you guys no matter what.
Dear Coach Dantonio: My Dad and I say "Chase it" every day and not "Good bye" when he takes me to school. This is from the Rose Bowl. It means to try hard every time. You are an awesome coach. When my Grandpa was alive he said the same thing. He said you, Duffy, and George did a lot. I did not know George or Duffy, but their names are in my MSU Sports Almanac. You have more wins than they do but my Dad says there is more to sports than wins. When my Grandpa died, you sent a letter to my Grandma and a letter to my Dad. You do not know my Grandma or my Dad, but you knew they were sad and wanted them to smile. I have not seen my Dad cry many times, but he cried when he got your letter. That was very nice of you. The Big Ten should give you 100 extra wins for doing that. I hope my letter makes you smile.
Dear Mr. Lewerke (#14): I know your name is Brian but my Dad says I have to say Mr. when I talk to people older than me. It is respect. You are my favorite football player. Thank you for waving and saying "What's up" when I saw you before the Illinois game. That was awesome. I play quarterback and have the same haircut as you! I like how you never give up. You broke your leg and hurt your shoulder but you came back. I like when you throw a TD and run with both arms in the air. I know it hurts to throw interceptions, but I have done it too. We all throw interceptions. I did not give up because you can't be a good QB if you quit when you do that. It's like basketball. My Dad tells me if you miss your first shot, make the second. If you miss your second shot, make the third. If you miss your third, make the fourth. You keep trying until you make it. I know you will throw more TDs because you will keep trying.
Dear MSU football: My favorite uniform is the all white. Santa got me the all white uniform and a helmet for Christmas for me to play in my backyard. Every Saturday my Dad and I watch your games. My Grandpa used to bring KFC over and watch with us. Some people say MSU is not playing good but they are wrong. Sometimes you win. Sometimes you lose. If you have fun, it is not losing because you get to play your favorite sport. Remember I cheer for you all the time so do not be sad.
Dear Spartan fans: I went to two MSU football games. I went when I was four years old but do not remember. It is hard to remember when you are four. I went to the Illinois game this season. We did not win but I had a lot of fun with my Dad. I ate a hot dog, a big pretzel, popcorn, and had hot chocolate. I got a new MSU shirt with Gruff Sparty, Sparty socks, and a program with a pin. We did not win but you can still have fun when you lose because you love your team no matter what. Not everyone gets to go see a game so if you get mad I feel sad for you. Some people get spoiled like a kid who gets all the Christmas gifts. They are only happy with wins. Losing gets rid of the bad fans. That way when we win, we can enjoy it. I like wins but it is not all in life. There are a lot of things sadder than losing a game. Some people don't have homes and live on the street in the cold. Some people are very sick with disease. Some people are in the Army or Navy and can die so we get to watch a game. So if your team loses a game, be sad for a few minutes but then remember you are alive. Games are supposed to be FUN but they are just games.
I love you Michigan State. Do your best and have fun. "Go Green!"
Your friend, Fraser Hartnell
Please consider
making a donation
to
Sunny Skyz
and help our mission to make the world a better place.
Click Here For The Most Popular On Sunny Skyz
LIKE US ON FACEBOOK!