How This Simple Car Sticker Is Making A Huge Impact
February 2, 2019
Amie Mickey bought a bumper sticker for her car two years ago that says "You Matter" to brighten someone's day – but she had no idea the impact it would have on others.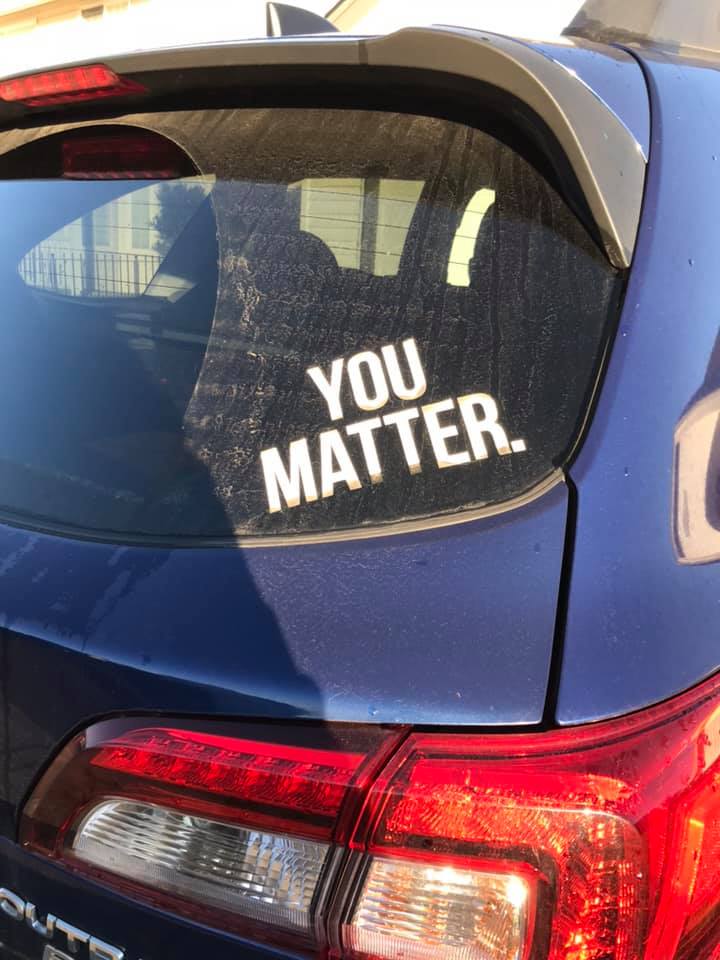 Credit: Amie Mickey / Facebook
This is what she wrote:
"It's been a couple of years with this sticker on my car. It's getting tattered as the weather and trips through the car wash have taken its toll. One thing that has surprised me since putting this sticker on my car is how much it has impacted people. I wondered if people would notice it, would it brighten someone's day? Most of the stories I have about this sticker involve men and boys. That's the most interesting to me.
Let me share: I've had a complete stranger leave a note on my car telling me 'I matter too' with a thank you for the reminder.
I had a man driving the coolest hot rod ever on interstate 5, pull up along side me, waving me down, repeatedly giving me a thumbs up, while mouthing: You Matter! And Thank You. His body language gave away how serious he was about letting me know the impact it had on him.
And then today.
Today I was in the drop off lane at Hannah's middle school and a boy came to my window and said 'That's deep.'
I roll my window down and say 'What's deep?'
He said, your sticker, you matter. He looked at me in the eye and said 'seeing this made me feel special and feel good about myself.'
I almost cried! I told him, 'You have a great day Bud!'
Two words: YOU MATTER. ITS SO SIMPLE."
You can order this bumper sticker here.
Please consider
making a donation
to
Sunny Skyz
and help our mission to make the world a better place.
Click Here For The Most Popular On Sunny Skyz
LIKE US ON FACEBOOK!