A Mother Of Three Boys Wrote The Perfect Response To 'Are You Going To Try For A Girl?'
January 7, 2016
To my fellow Moms of boys,
As I was on my way home this morning from dropping off the two oldest boys at school, I had some quiet time alone to reflect on my life as a mom of three boys. It certainly can be chaotic at times, but it is also such a blessing. I pray that both moms with and without boys will read this. As I listened to the radio, the host said, 'choose one word to focus on this year,' my word is joy. It is my goal to share the joy of having boys.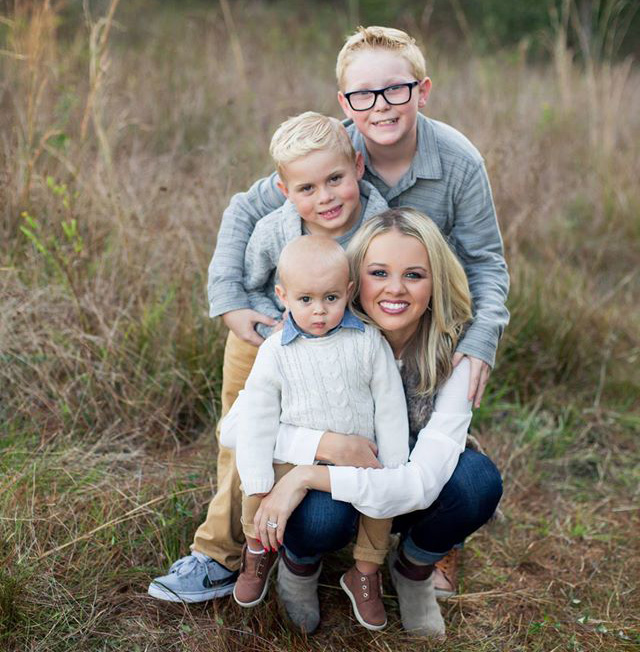 Photo: Lyndsey Rodriguez, via Love What Matters
I often get asked or told:
1. Are you going to try for that girl?
2. You should try for a girl of your own, because boys are only good until you have that daughter-in-law.
3. When boys leave home, they don't come back, but a daughter always will.
4. How do you deal with a house full of boys?
So this morning, I started to reflect on my life with a house of boys. Will I try for that girl? NO! Would I like more children, yes, but if God gives me another boy, I will be just as thrilled. I look at raising boys as a privilege. God chose a strong woman to raise good men! It is my job to hold them accountable to ensure they become good husbands, good fathers and good men that contribute to society in a mighty way. I believe that I am creating the appetite for what they want in a woman. It is my job to teach them how to be a God fearing, manly man, but also teach them compassion, empathy and how to love others. It is also my job to raise them with good morals and values, and to show them how to love their wife.
They are going to know the value of a dollar, they are going to work hard and know nothing in life comes easy. I expect straight A's out of my boys but if I don't set the expectations, who will? I believe if you work hard in life and have a good attitude, you can do anything.
I pray for the boys daily and it is my hope that I teach them the importance of family unity.They should also be able to see the way that I take care of my parents and how important they are to me. I live it! I want them to live in Gods word and know that this is also important to God. I hope to create a loving, accepting, and inviting place for my boys and their future wives to be. I also plan to set the expectations high and will always hold them accountable for their actions. In my heart, I know my boys love me and will always take care of their mama.
Lastly, how do I deal with a house full of boys? The truth is, we make rolling revisions and accept craziness. Our mornings are crazy. I have two boys that jump out of bed happy and one that takes all the life out of me. When we get into the car and finally calm down from getting ready, we pray and do a children's devotional together. It's important for me to teach them to start their day knowing that God is bigger than anything that should come our way. I believe in allowing my boys to see my faults. I also believe in creating a real picture of marriage. I believe in letting them see both the conflict and the resolution. How can I teach them to solve problems in life if I can't show them real problems?
My boys are constantly throwing balls in the house, fighting, wrestling, annoying each other, putting fingerprints all over my glass doors, walking in the house with soaking wet socks. With all of the craziness that comes with boys, I'll take it. Again, God gave them a strong woman to mold a BRIGHT future. I know one day I will miss the rambunctiousness, so I am choosing to live in the moment and embrace each milestone that we cross together.
To my boys future wives, I promise to teach them love, respect and how to be sensitive to your emotions. I promise to teach them to have a good work ethic and to look for all of the opportunities in life that God has given them. They will know that words matter just like actions. It is important to tell you how beautiful you are and to use encouraging words. Also, to approach each day with a level of enthusiasm that is unknown to mankind.
To my boys, you not only get to see me at my best, but also my worst. There isn't a day that I wish you were a girl or wish I had a girl. I'm thankful God entrusted me with your precious lives. I will work hard to teach you right from wrong and to remain joyous in every situation that comes our way. I vow to live in the moment with you.
(h/t) Love What Matters.
Please consider
making a donation
to
Sunny Skyz
and help our mission to make the world a better place.
Click Here For The Most Popular On Sunny Skyz
LIKE US ON FACEBOOK!