I Just Went On A Date With A Guy Who Tried To Rob Me
September 23, 2015
I can't possibly tell anyone I know about this story, so here it goes...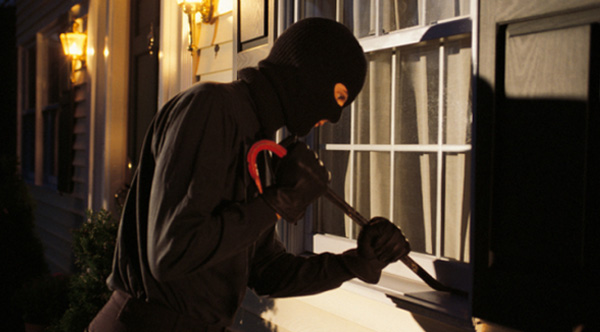 Two years ago, I returned home from my father's funeral. As soon as I opened the door to my apartment, a guy holding a crowbar came out from my kitchen holding my TV. I live in the city, so robberies are common.
The guy began shouting at me and he clumsily dropped my TV and began holding the crowbar like it was a baseball bat. I was so stunned at what was happening that I didn't move.
The guy screamed at me to empty my pockets. From the stress of the last few days with my father passing away, I simply started crying. Not out of fear at what was happening, but because this was literally the worst time of my life. The worst moment. The worst minute and second.
While crying hysterically, I gave the guy my wallet. I just sat on my floor and hugged my knees and told him, through my tears, to "take whatever you want." He hesitated, looked down at me. He dropped my wallet and sat down beside me.
Immediately, he began to comfort me. He began to apologize. He put my TV back on the table and told me it wasn't damaged. He told me that he lost his job and that his mom needed medicine that he couldn't afford and that they were homeless.
He told me all of this while I just wailed; I cried for my father, who was lost, I cried for my future, for it was uncertain, and I cried because my home had been intruded on in the most violent way.
For a good 10 minutes I sat in the floor with a guy who had every intent to rob me, telling me that it would be okay and that he was sorry. He begged me not to call the police. I just started screaming at him to get out.
He ran away so fast that he left the crowbar. I threw it after him as he ran down the street.
Two days later, I came home from work and he was sitting in front of my door. I was so terrified that I pulled out my phone, but he had this look on his face of--I'm not sure how to describe it - remorse, regret? He told me that he told his mom what he did, and his mom made me some soup. He handed me this tiny bowl wrapped in tin foil. Again, I was stunned and overwhelmed and angry that I slapped the bowl out of his hands and it shattered on the floor. I told him to leave or I was calling the police. He left. I remember he looked upset. I left the soup and shattered bowl outside my door, almost as a warning for him to not come back.
About three months after that, I got a note in my mail slot from the guy. He told me his mother had passed away and that he was no longer homeless and that he had a job. He wanted to repay me for breaking into my apartment. He wrote down his address and told me that I was welcome to break into his place if I wanted, but he didn't have much stuff.
This all overwhelmed me. I threw away the letter, but I remembered his address. I remember walking by there one day, out of curiosity. It was a ratty apartment building across the city. He was walking up to his room and he saw me. He waved. I turned away and left. He ran after me, apologized again. Told me that he never meant to do what he did. He showed me the program from his mother's funeral that he kept in his wallet. He wasn't lying, she was real. He was real. He was a real person.
I don't know what it was, but I believed him. We slowly began to grow together as people? I can't describe it.
After a year of maintaining communication and learning about who he was, he enrolled in a local community college and began taking courses to earn credits before applying to university. I helped him study for his history class a lot. He's great at math and science, though.
I never invited him over to my apartment, however. No matter how much I got to know him, I was still afraid of him. And he knew that. He knew that I couldn't trust him.
But tonight, we went out for coffee because he said he had an exam in his world civ class. When I got there, he said he forgot his book. We just talked for a bit, we laughed, and then he told me he wanted to cook for me. On a whim, I decided to invite him to my apartment. After picking up some things from the grocery store, he came over. I was so nervous that I was shaking. He noticed, he squeezed my hand, and then he made dinner.
It was amazing. We talked, we laughed, we sat in the floor and watched a movie on the TV he tried to steal. We made jokes about it.
And then he told me that he missed his mom. I gave him a hug. Then he left.
I don't know what I feel, but I do know that I can't give up on people anymore.
Some people just have the sh*t end of life. Maybe things have a way of working themselves out?
And I miss my dad, too.
Via exigents.
Please consider
making a donation
to
Sunny Skyz
and help our mission to make the world a better place.
Click Here For The Most Popular On Sunny Skyz
LIKE US ON FACEBOOK!