Bullying Made This 12 Year-Old's Life Miserable... Until JJ Watt Did Something Incredible For Him
September 23, 2014
J.J. Watt is one of the best defensive lineman the NFL has ever seen, but what few people know is that before his successful career in professional football, Watt endured bullying from his classmates. He was constantly picked on and frequently told he was too small to play the sport he loved. However, he was determined to overcome adversity and, through hard work and perseverance, he learned to believe in himself, developed his athletic skill and went on to become the talented and respected defensive lineman that he is today.
Watt, whose mantra is "Dream big; work hard," has never forgotten the challenges he faced growing up, and he is dedicated to providing today's youth the support and inspiration they need to excel. He recently met 12-year-old Billy, who is harassed daily for the way he looks, talks and walks.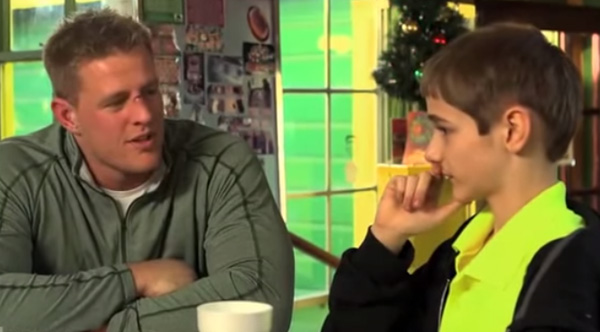 YouTube Screenshot / NFLCU
Billy dreams of playing football. In fact, he wanted to sign up for his school's football team but kids kept making fun of him, telling him he was too small and not good enough to play. Lacking confidence and support, Billy took what the bullies said to heart and chose to give up the sport he loves.
Watt surprised Billy by taking him to the YMCA, where he was invited to play football. For the first time, Billy felt like a valuable member of a team. He regains his belief in himself so he can continue to pursue his dream...
And the story gets even better. On the YouTube page, Jacqueline Santamaria posted this comment:
"After watching this video, I reached out to the producers of the show and my company and I will be working on this little guys teeth. Yes, as a Houstonian and fan of JJ, this clip was viewed by me mainly because of JJ… But I work in the dental field and quickly noticed that Billy needed orthodontic treatment, and my attention and heart were quickly won over by Billy. Billy is coming in Thursday for his first consultation."
And a couple months later, she posted this update:
"He has been having braces for almost two months now. He is very charismatic and feeling more confident. He even mentioned to us that he had two girlfriends (LOL). Things have changed for this little guy, all for the best."
Credit: YouTube
Please consider
making a donation
to
Sunny Skyz
and help our mission to make the world a better place.
Click Here For The Most Popular On Sunny Skyz
LIKE US ON FACEBOOK!