Postal worker sends gift to girl who wrote to God
May 2, 2012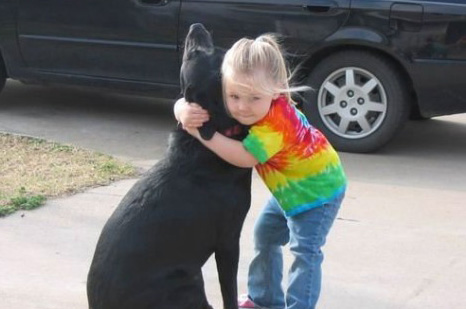 There are angels everywhere, and in this case, working at the post office.
Four year old Meredith was really upset after the passing of her dog, Abbey. She cried and cried to her parents about how much she missed Abbey. She asked if she could write a letter to God to make sure that Abbey got to Heaven.
Meredith's parents decided to write the letter, and placed it in an envelope addressed to God/Heaven. They put their return address on it and placed a few stamps. Meredith insisted that enough stamps were placed on the letter since Heaven was so far away.
For a few days Meredith continued to ask if God had received her letter. Her parents could only tell her that they believed so.
Then, out of nowhere the miracle came to their front porch. A package wrapped in gold was on their front porch only a week after sending the letter. The return address said God, and it was addressed to Mer.
Inside the package was Mr. Roger's book, When a Pet Dies. Taped to the inside was the letter Meredith's parents help write her to God, and the picture of Abbey that they placed inside.
There was also this handwritten note...
Dear Meredith,
Abbey arrived safely in heaven.

Having the picture was a big help. I recognized Abbey right away.
Abbey isn't sick anymore. Her spirit is here with me just like it stays in your heart. Abbey loved being your dog. Since we don't need our bodies in heaven, I don't have any pockets to keep your picture in, so I am sending it back to you in this little book for you to keep and have something to remember Abbey by…

Thank you for the beautiful letter and thank your mother for helping you write it and sending it to me. What a wonderful mother you have. I picked her especially for you. I send my blessings every day and remember that I love you very much. By the way, I'm easy to find, I am wherever there is love.

Love, God
A true feel good story when a stranger takes the time out of his/her life to make a little girl's day that they never even met.
Please consider
making a donation
to
Sunny Skyz
and help our mission to make the world a better place.