Spanish Historians Claim They've Found The Holy Grail
April 1, 2014
Spanish historians claim they've discovered the 2,000-year-old Holy Chalice, the biblical cup that Jesus Christ used during the Last Supper.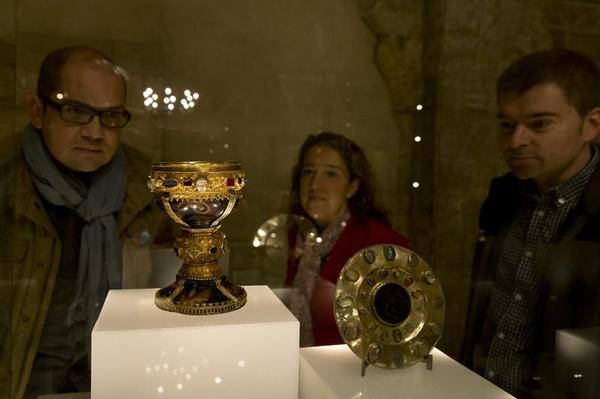 CESAR MANSO/AFP/Getty Images
Margarita Torres, a medieval history lecturer at León University and Jose Ortiza del Rio, an art historian, penned a new book claiming that years of research has led them to conclude that Christ's chalice is somehow inside a medieval goblet that has been on display in Spain for 1,000 years, Daily Mail reported.
Residing inside the Basilica of San Isidoro, a church in Spain that is located on the site of an ancient Roman temple, the goblet — known as the Infanta Dona Urraca — belonged to Queen Urraca, who died in A.D. 1126.
Torres and del Rio's theory, which they document in their new book, "The Kings of the Grail," certainly seems wild, though the two say they have evidence from two Egyptian scrolls that corroborates their claims.
Unveiling their findings last Wednesday, the two explained that they found documents referencing the chalice at Cairo's University of al-Azhar while researching the history if Islamic remains at the Basilica of San Isidoro, the Irish Times reported.
The documents, written in Arabic, reportedly say that Muslims stole the chalice from Jerusalem and that it was given to Christians in Egypt. Then, they claim it was somehow sent to King Fernando I of Castile as a gift, disguised with jewels and other adornments.
The historians admit that they cannot prove the chalice touched Christ's lips, nor can they pinpoint the first 400 years of its history. That said, they claim to have used a scientific dating method to determine that the chalice was likely made between 200 B.C. and A.D. 100.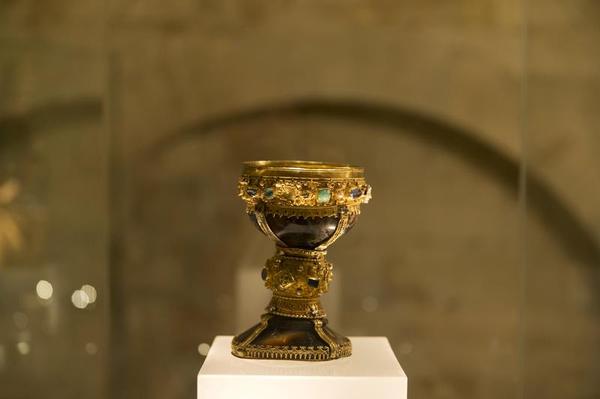 CESAR MANSO/AFP/Getty Images
"The only chalice that could be considered the chalice of Christ is one which went via Cairo to León, and this chalice did so," Torres told the Irish Times.
She added, "This is a very important discovery because it helps solve a big puzzle. We believe this could be start of a wonderful stage of research."
Since news of the purported finding was made last week, the church has had to remove the goblet from display.
The Holy Chalice has long been a focus of interest, with hundreds of parties claiming to have ownership of it. The Valencia Chalice, which is at Saint Mary of Valencia Cathedral, in Spain is just one of the many believed by some to be Jesus' goblet.
Doubt will most certainly surround this chalice as it has all the others, though the historians remain firm in their contentions.
Please consider
making a donation
to
Sunny Skyz
and help our mission to make the world a better place.
Click Here For The Most Popular On Sunny Skyz
LIKE US ON FACEBOOK!