Baby is born in the car on the way to hospital
April 2, 2012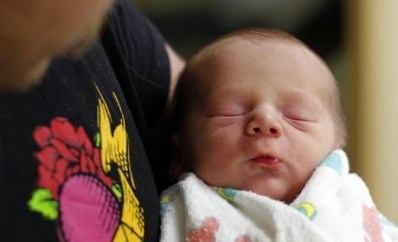 Christy Henry might not have had pain medication or a doctor early Friday morning, but she now has a tale to tell of giving birth to a baby boy while flying 85 mph down the freeway — and it was totally worth it.
"My wife is such a rock star, to deliver her baby into her own hands," proud daddy Matt Henry, 31, said hours later.
At 6.17 pounds and 19.5 inches, baby Liam appeared happy and healthy after being born in the front passenger seat of a Toyota RAV4. He is the couple's second child.
Four days overdue, Christy, 29, woke up her husband at midnight and said the time had come. By the time he dropped their 22-month-old son, Ryder, off at a friend's house and returned home, his wife's contractions had worsened.
The couple made the long walk from the 41-foot boat they live on at the J Street Marina in Chula Vista to their car, having to stop every 50 feet for another contraction.
Matt sped up Interstate 5 toward the hospital.
"All of a sudden, I hear what sounded like a loud water balloon popping. She said, 'My water just broke,'" he recalled.
He drove even faster. Then he heard the words, "I just had the baby." He looked over and saw the crying boy she was holding up.
"It's 2:03," Christy told her husband, noting the time on the dashboard clock.
He called 911 but decided to keep driving to the Kaiser Permanente hospital in San Diego rather than stop and wait for an ambulance.
When he pulled up and announced the baby's birth, hospital staff and waiting-room patients ran outside and swarmed the couple's SUV to see the boy. Once in the emergency room, dad got to cut the umbilical cord.
"It's obviously not the way we planned it, but the Lord had us in mind," Matt said. "We didn't panic. He had a great plan and we have a great story."
At EastLake Church in Imperial Beach, where Matt is a pastor and Christy runs the children's ministry, the congregation will be able to meet the latest addition to the family on Easter Sunday.
Please consider
making a donation
to
Sunny Skyz
and help our mission to make the world a better place.
Click Here For The Most Popular On Sunny Skyz
LIKE US ON FACEBOOK!