A Woman Was Feeling Depressed. Her Doctor Prescribed Her A Cat
October 19, 2023
Today's good news story comes from Grottoes, Virginia.
A woman suffering from depression received a rather unconventional prescription from her heart doctor.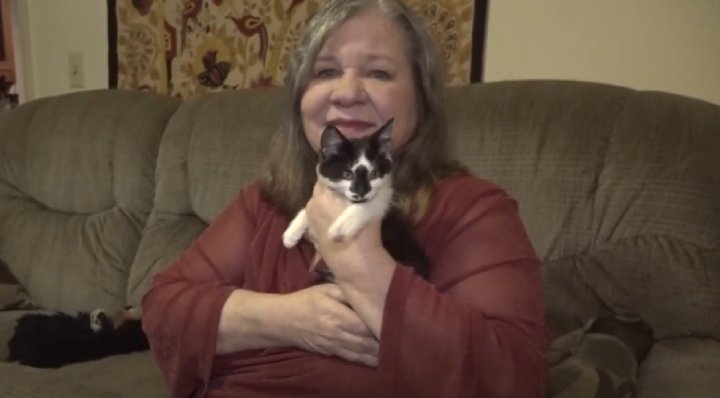 Robin Sipe / Credit: WHSV/Gray News
Robin Sipe, a local resident, has been under the care of Dr. Earl King, a renowned pulmonary physician, for several years due to ongoing lung issues. Dr. King had become an integral part of Sipe's healthcare journey, having saved her life on multiple occasions.
Their recent appointment, however, took an unexpected turn. Sipe walked into Dr. King's office feeling profoundly sad and emotionally distressed. Dr. King, not only concerned about her physical health but also her emotional well-being, inquired about the cause of her depression. Sipe revealed that she was grieving the loss of her beloved cat.
In an extraordinary display of empathy and a unique approach to treatment, Dr. King 'prescribed' a novel solution to her emotional struggles - a new cat.
"I recommended that she consider adopting a new cat, and I actually wrote her a 'prescription' for it. Cats and dogs can play a crucial role in a patient's comfort, well-being, and even cardiovascular and lung health," Dr. King told WHSV.
Sipe left the appointment feeling both touched and inspired by her doctor's unconventional advice. As fate would have it, on her way home, she stumbled upon a three-legged kitten named Earlene at a local farm. Earlene had suffered an injury shortly after birth, causing her to lose most of one of her front paws.
Despite her unique circumstances, Sipe and Earlene formed an immediate and deep bond, offering each other the companionship and support they both needed.
"I live alone, and she's become my cherished companion. We share a love for play, and we bring joy and comfort to one another. We have mutual respect," Sipe shared.
Sipe not only hopes to provide Earlene with a loving and nurturing home but also to pay forward the same care and compassion that Dr. King showed her during her moments of need.
"He was not only compassionate and caring but also went the extra mile for me. I hope that everyone can have a doctor in their life as exceptional as Dr. King," Sipe expressed.
In the spirit of giving back, Sipe plans to take Earlene on visits to facilities that support veterans and individuals dealing with limb loss, sharing the love and companionship that they have found in each other.
Watch the video below.
Please consider
making a donation
to
Sunny Skyz
and help our mission to make the world a better place.