Couple Extends Heartwarming Friendship To Lonely Boy Who Knocked On Their Door
July 17, 2023
A couple in Amarillo, Texas, extended a warm welcome to a lonely young boy who recently knocked on their door in search of friendship.
On July 3, 11-year-old Shayden Walker walked to a neighbor's house looking for children his age.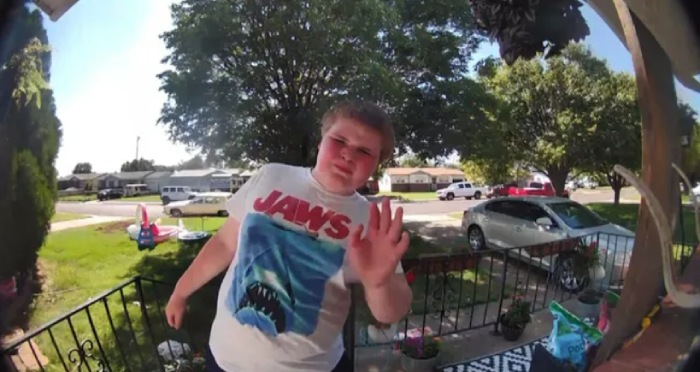 Shayden / Credit: Angell Hammersmith
Brennan Ray saw Shayden on his doorbell camera and struck up a conversation with him.
"Um, I just wanted to see if you knew any kids around like 11 or 12, maybe," Shayden can be heard saying in the video. "I need some friends, like really bad."
Brennan decided to post the video to TikTok, hoping to find Shayden some friends.
"You never know what people are going through until you get a chance to talk to them. This young man is well mannered, kind, and brave. So TikTok can we help Shayden make some friends?" he captioned the video.
Shayden's mother, Krishna Patterson, says her son has trouble connecting with others. He has undergone a series of diagnoses, including autism, oppositional defiant disorder, bipolar disorder, ADHD and others.
After the video went viral, Brennan and his wife, Angel, were encouraged by viewers to launch a GoFundMe for Shayden. In just three days, they raised more than $37,000.
The couple shared an update on TikTok.
Since Shayden became TikTok famous, he has made friends all over the world, including from Hawaii, China, Australia and England.
Brennan and Angel continue to post updates on the once-lonely boy who is now flourishing in his newfound friendships.
The couple and their daughter recently met Shayden for the first time.
"He had the same energy in person as he did over the doorbell camera. A pure bundle of joy," Brennan said.
Brennan says it's important to give everyone a chance because you never know what people are battling internally.
"He is a beautiful soul," he said. "His happiness is infectious and his smile is infectious. He's a good kid."
As the community continues to rally around this incredible act of kindness, this story serves as a powerful reminder that a small gesture of friendship can have a profound impact on the lives of those who feel isolated.
@angellpaigee We got to spend some of our day taking shayden to some interviews, and just hanging out with him. we love this kid and love spending time with him. After our interviews, we took shayden to get his favorite fast food and he had miltiple people recognize him, hug him, and tell them hes not alone in this world anymore. Thank you all for being so kind to shayden. Lets continue to be great, spread kindess, and show love!!! He is #soloved #shaydenwalker #makinghistory #friendship #love #kindness #stopbulling @Brennan Ray ♬ Count on Me - Bruno Mars
Please consider
making a donation
to
Sunny Skyz
and help our mission to make the world a better place.