'The Great Kentucky Hoard': Kentucky Man Discovers Over 700 Civil War-Era Coins In Cornfield
July 12, 2023
A Kentucky resident had an extraordinary stroke of luck when he stumbled upon an unexpected treasure buried beneath the soil of his cornfield.
The man — whose identity and location have not been revealed to the public — unearthed over 700 well-preserved Civil War-era coins that have captivated both historians and collectors alike.
The trove of coins is being hailed as "The Great Kentucky Hoard."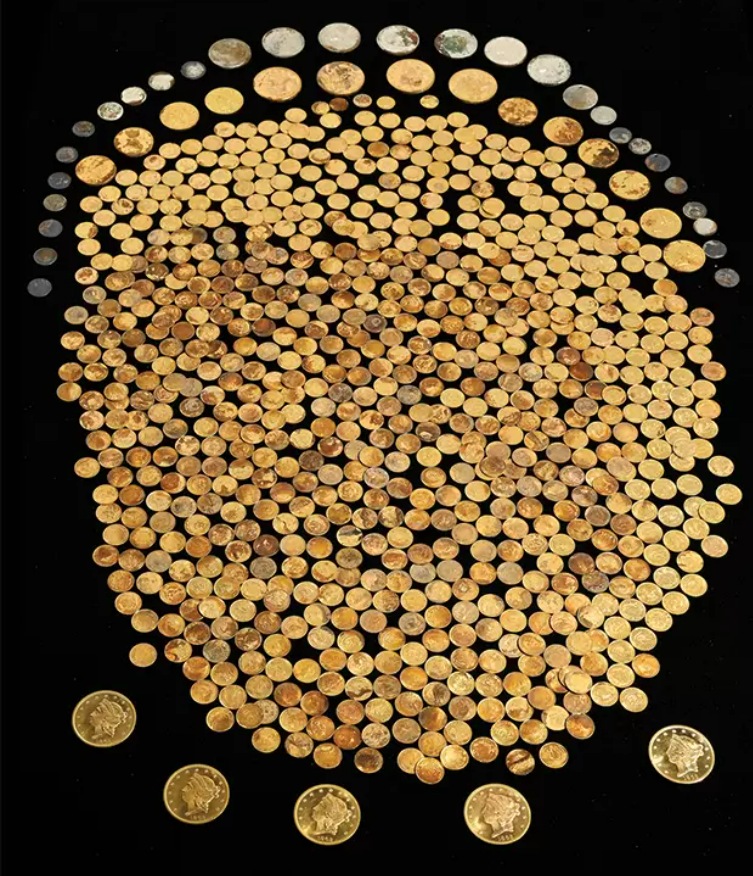 Over 700 gold dollars found in Kentucky / Credit: govmint.com
According to GovMint.com:
"This hoard consists of U.S. Gold Dollars in Type I, Type II and Type III with the date range of 1854-1862. The Gold Dollars make up 95% of this hoard. Also found are about twenty $10 Liberty's with a date range of 1840-1862, and eight $20 Libertys dated between 1857 and 1862.
But—likely the most amazing discovery in this hoard is about eighteen 1863-P $20 Gold Liberty coins, one of the rarest dates in the $20 Liberty series! This is a coin that often commands a six-figure price."
The $20 Liberty coins do not include "In God We Trust" which was added in 1866 after the end of the Civil War.
"I am always excited when someone calls asking for advice about a rare coin discovery. The opportunity to handle the 'Great Kentucky Hoard' is one of the highlights of my career," said Jeff Garrett, one of the nation's top experts in US coinage. "The importance of this discovery cannot be overstated. The stunning number of over 700 gold dollars represents a virtual time capsule of Civil War era coinage, including coins from the elusive Dahlonega Mint. Finding one mint condition 1863 double eagle would be an important numismatic event. Finding nearly a roll of superb examples is hard to comprehend."
While the exact origins and circumstances surrounding the burial of the coins remain a mystery, local experts believe that they might have been hidden by a soldier or civilian during the turbulent times of the Civil War.
Many wealthy Kentuckians are rumored to have buried huge sums of money to prevent it from being stolen by the Confederacy.
According to folklore, the famous frontiersman Daniel Boone buried a cache of coins for safekeeping in Kentucky. And outlaw Jesse James is thought to have buried $50,000 in gold coins in Kentucky.
Where are the coins now?
The coins were certified by the Numismatic Guaranty Co. (NGC) and sold to GovMint.com, an authorized dealer for coins that are authenticated, certified, and graded by NGC and Professional Coin Grading Service (PCGS).
"We are deeply honored and tremendously excited to have been chosen as the exclusive provider for the public sale of the remarkable coins that are part of the Great Kentucky Hoard. This extraordinary opportunity allows us to share these historic coins with collectors and enthusiasts, ensuring their preservation and appreciation for generations to come," said Bill Gale, GovMint.com Founder and President.
The coins will be available in the coming months.
A video of the initial discovery can be seen below.
Please consider
making a donation
to
Sunny Skyz
and help our mission to make the world a better place.