This Man Is On A Mission To Complete 143 Acts Of Kindness In 40 Days
July 5, 2023
A man in Cincinnati has embarked on a mission to carry out 143 acts of kindness within a span of only 40 days.
Meet Kevin Bonecutter.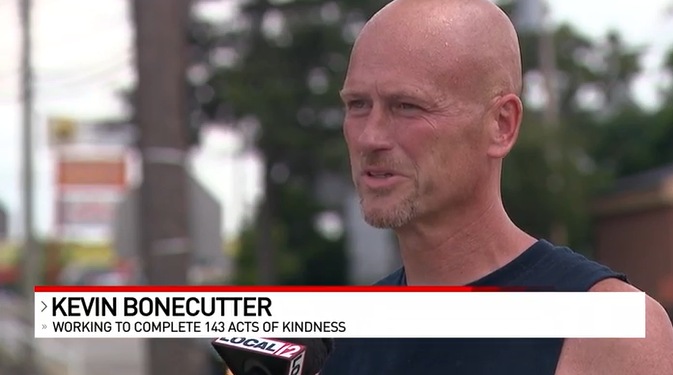 Credit: WKRC / ABC News
On June 1, Bonecutter completed his first act of kindness. Since then, he's been cutting grass at vacant homes and businesses, picking up trash and handing out free food and snacks.
A local news station met Bonecutter at one of his first projects.
"It was a median triangle that had a foot and a half of tall grass, and was just full of garbage and a bush that had been run over by cars multiple times," he told WKRC. "And I thought, 'How can I make this better?' and then I cut the bush down. But then as I kept driving by it, the grass kept coming and nobody else was cutting it."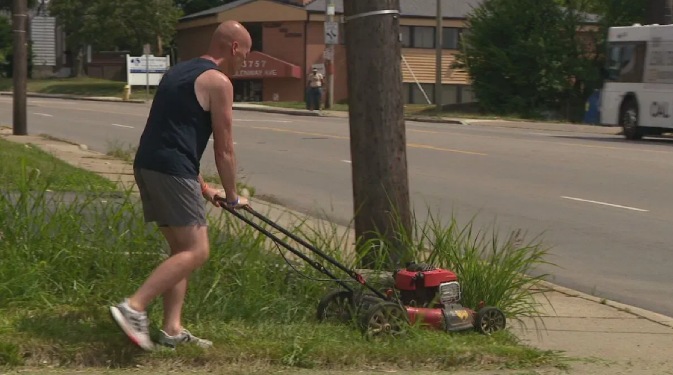 Credit: WKRC / ABC News
On July 4, Bonecutter raised money for pediatric brain tumor research. He ended the day helping an elderly man in the rain.
"I was driving down the street, it was pouring down rain and there was an elderly man walking with a walker. I pulled over and had the opportunity to drive him to the store and home. It's been a great opportunity to meet and engage with the community," said Bonecutter.
Why 143?
The number 143 holds special meaning, it was another way that Mr. Rogers, one of Bonecutter's heroes, would say 'I love you.' Each number represents the number of letters in each word.
I(1) LOVE(4) YOU(3)
"The whole idea is to be out here spreading 143 random acts of kindness, but really spreading love and kindness throughout the entire community," said Bonecutter. "I want to inspire other people to also say, 'Yeah, I want to do this as well,' and let it be a ripple effect. There's enough negativity, let's start some positive ripples and see how far it can go."
Please consider
making a donation
to
Sunny Skyz
and help our mission to make the world a better place.