First Baby Beaver Born In 400 Years In Staffordshire
July 2, 2023
Staffordshire is celebrating the birth of the first baby beaver in over 400 years.
The momentous occasion marks a significant step in the reintroduction efforts of beavers, one of Britain's most iconic and historically significant mammals.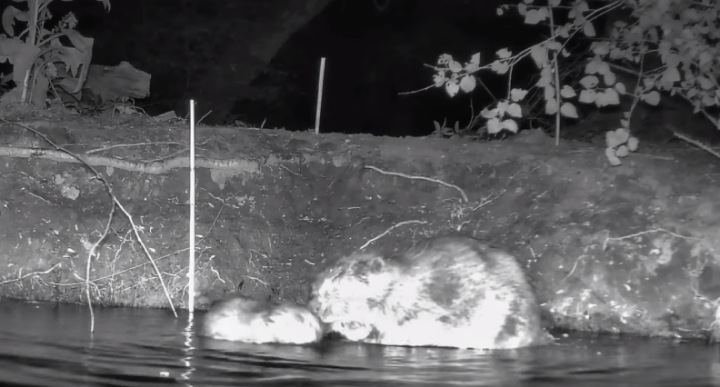 Credit: Trentham Estate / Facebook
"We are absolutely thrilled to share a special moment that marks a significant milestone in our conservation efforts here at Trentham Estate," Trentham Estate wrote on social media. "Today, on the exact 3-month anniversary of their reintroduction, we are delighted to announce the arrival of our first Beaver Kit since these magnificent creatures returned to our heritage Gardens."
Beavers breed once a year, mainly from December to April and litters of usually two to three kits are born in May or June. The young learn to swim within hours and leave the lodge at 1 – 2 months. They are weaned in their first summer but may not become independent until two years old.
This birth represents a major success for Trentham Estate's conservation program.
"We are thrilled that the beavers have bred and so soon too," said Harvey Tweats, a Beaver & Wildlife Ranger at Trentham.
"The kit appears fit and healthy, and it is incredible news for the estate and Staffordshire as a whole. This project demonstrates just how successful the relocation of beavers to suitable landscapes can be. We're proud to be bringing back this important keystone species to England and can't wait to see the new addition exploring their surroundings."
Carol Adams, Trentham's Head of Horticulture and Biodiversity, has also been instrumental in the project.
"This is such amazing news and a positive step in establishing a keystone species back into a historic landscape, it will be fascinating to see how the kits get to grips with their surroundings and how the adult beavers take to parenting a larger family," she said in a statement.
Please consider
making a donation
to
Sunny Skyz
and help our mission to make the world a better place.