'I Do Believe In Angels': Delivery Man Saves Elderly Woman Stuck In Window For 5 Hours
June 29, 2023
A newspaper delivery man has become a local hero after he rescued a 78-year-old woman who had been stuck in a window for five agonizing hours.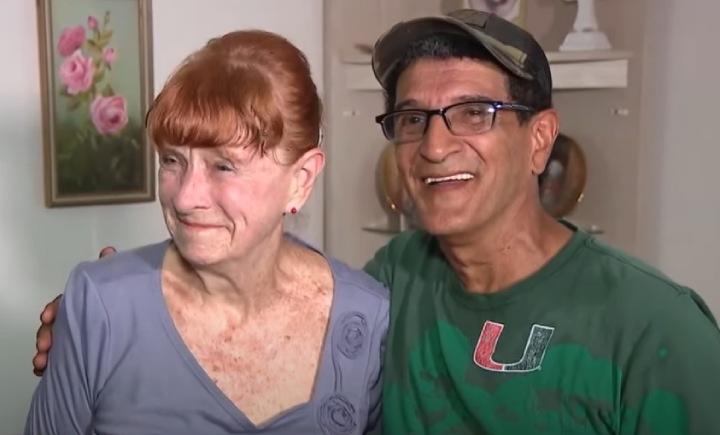 Nancy and Jose / Credit: Fox 13 Tampa Bay
The story unfolded when the woman, identified as Nancy Reyburn, found herself trapped in a precarious situation as she attempted to break into her own home through a window after she had locked herself out. In her desperate efforts to get inside, she became stuck.
"Because of surgery, I had with two hip replacements, I can't get past mid-part of my leg," Reyburn told Fox 13. "I'm reaching around the more moving I did, the worse I felt."
She was stuck in the window for five hours. No one could hear her and hope was running out.
"I was asking God, 'please this is not the way I want to be found'," Reyburn recalled.
And just when it seemed that all hope was lost, out of the corner of her eye, she saw the blinking orange light on top of Jose Sanchez's car.
Sanchez said he was on his normal paper route early Tuesday morning when he heard screaming and saw Reyburn stuck in the window.
"How I screamed, I have no idea," she said.
Sanchez stuck by her and called 911, and help was finally on the way. Some are calling him the neighborhood guardian angel.
"I'm touched, because I care for these people in this park, they're like my family, and they're retired, and I try to watch out for them," Sanchez said.
"Yes, I do believe in angels and people are put in a place for that time and that night, morning was my time to be helped by Jose," Reyburn added.
Watch the good news video below.
Please consider
making a donation
to
Sunny Skyz
and help our mission to make the world a better place.