'Out Of Nowhere A Voice Said I Got You': Guardian Angel Aids Teen In Car Crash With 18-Wheeler
May 26, 2023
In a heart-stopping incident that unfolded on a busy highway, a guardian angel seemingly appeared out of nowhere to protect a teenage driver involved in a catastrophic car crash with an 18-wheeler.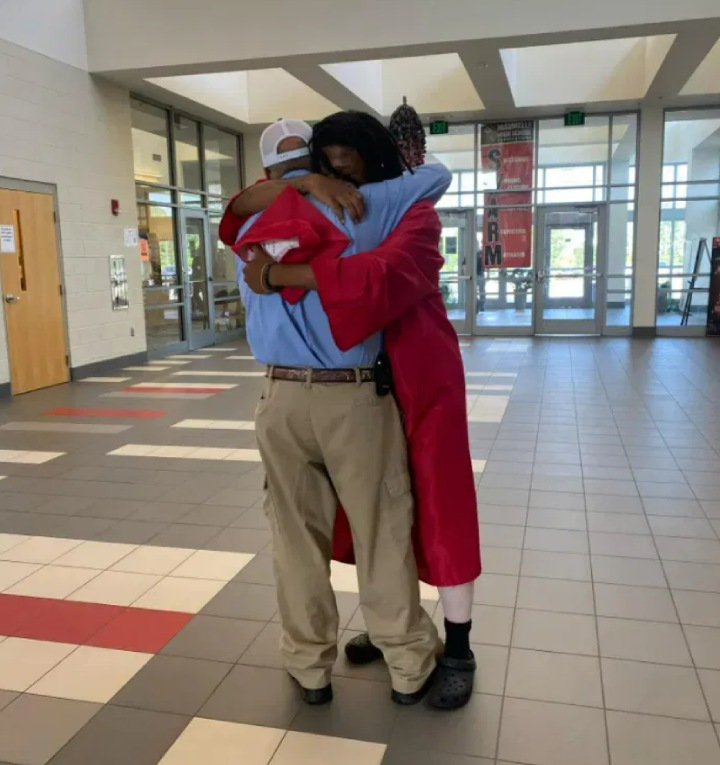 Harvey and Darrell
Just hours before his high school graduation ceremony, Harvey Shelton was involved in an accident near the Military Drive exit in North Little Rock, Arkansas.
"I was driving on my way home, coming from my family that visited me to come congratulate me on graduating," said Harvey. "I was driving behind this white Jeep. They had swerved out of the lane at the last moment. I saw a semi-truck with caution lights on. I tried to get out of the way and couldn't get out of the way in time."
Pinned underneath the semi-truck, the front of his car and parts of the drivers side had been crushed but he was able to stay calm thanks to who he calls his guardian angel.
"He said he was scared, couldn't breathe, holding his hands out the window asking for help," said Harvey's step-mom Mauzie Shelton. "And out of nowhere a voice said 'I got you, and will wait with you till help arrives' and you held his hand, keeping him calm."
"He grabbed my hand and said 'I am here. I am going to stay here until the fire department gets here.' He just kept saying 'I am here. I am praying for you. They will be here soon'," Harvey added.
First responders rushed Harvey to the hospital where he received 40 stitches for a large gash in his leg.
During this time, Mauzie was on a mission to find Harvey's angel.
"Darrell is a white man, mid-late 40 to early 50s, with reddish hair, wearing a blue company shirt, name outlined in red," she wrote in a Facebook post. "Our son Harvey and we would like to thank you for your unconditional compassion. You didn't have to stop, you didn't have to wait, and you didn't have to hold his hand so he wouldn't be alone but you did! And for that we will be forever grateful. Y'all our baby was alone and afraid, and someone took the time to be there when we couldn't."
The family was able to find Darrell and he was in attendance at Harvey's graduation ceremony.
Maumelle High School recreated a graduation ceremony for him and his friend, who was by his side in the hospital.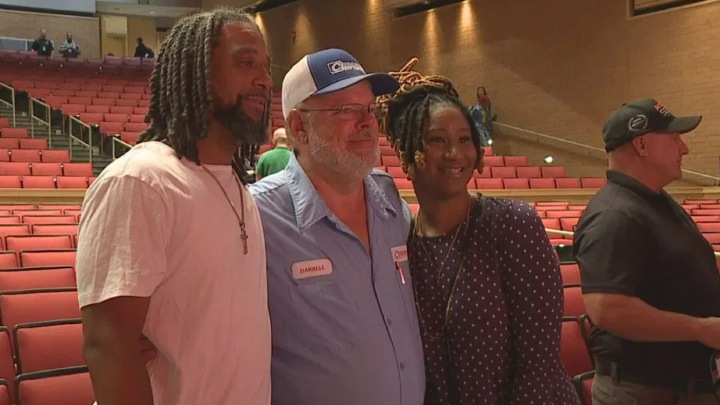 Darrell with Harvey's parents / Credit: KATV
Please consider
making a donation
to
Sunny Skyz
and help our mission to make the world a better place.
Click Here For The Most Popular On Sunny Skyz
LIKE US ON FACEBOOK!