Doctors Performed Brain Surgery On A Baby Before She Was Born
May 8, 2023
A baby girl who developed a life-threatening brain condition was successfully treated before she was born.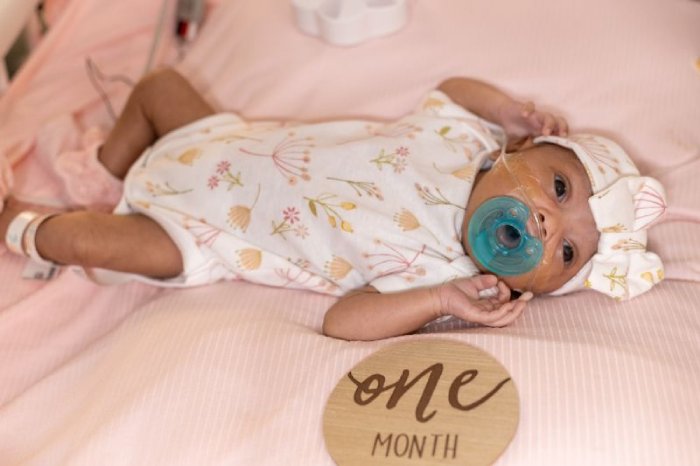 Credit: The Coleman family
The baby's condition, known as vein of Galen malformation, was first noticed during a routine ultrasound scan at 30 weeks of pregnancy. The condition occurs when a vein connects with an artery in the brain. These two types of vessels have different functions and should be kept separate. Arteries ferry high-pressure flows of oxygenated blood from the heart, while thin-walled veins carry low-pressure blood back the other way.
When the two combine, the high-pressure blood flow from an artery can stretch the thin walls of the vein.
"Over time the vein essentially blows up like a balloon," said Darren Orbach, a radiologist at Boston Children's Hospital in Massachusetts, who treats babies born with the condition.
The condition can result in brain damage, heart problems, and breathing difficulties after birth. It can be fatal.
On March 15, at 34 weeks, 36-year-old Kenyatta Coleman underwent an experimental operation at Boston Children's Hospital.
Orbach and his team used ultrasound imaging to help them guide a needle through Coleman's abdomen, the uterus wall, and the fetus's skull and into the malformation in the brain. They fed a tiny catheter through the needle to deliver a series of tiny platinum coils into the blood-filled pocket. Once each was released, it expanded, helping to block the point where the artery joined the vein.
The baby girl was born healthy a couple of days later weighing 4 pounds and 1 ounce. She is now seven weeks old and thriving and there's no indication that she needs any additional interventions.
Doctors around the world are thrilled with the results.
"This is a really exciting breakthrough," said Greg James, a pediatric neurosurgeon at Great Ormond Street Hospital in London. .
"It's giving a chance to kids who would otherwise have very little possibility of survival," said Timo Krings, a neuroradiologist at the University of Toronto.
"This is a very elegant and exciting solution to a difficult problem," said Ibrahim Jalloh, a neurosurgeon at Cambridge University Hospitals NHS Foundation Trust in the UK.
Watch the video below.
Please consider
making a donation
to
Sunny Skyz
and help our mission to make the world a better place.
Click Here For The Most Popular On Sunny Skyz
LIKE US ON FACEBOOK!