Dog Returns Home After 166-Mile Alaskan Sea-Ice Odyssey
April 13, 2023
It was a heartwarming reunion for a family and their dog who took an epic trek across 166 miles of frozen sea ice before he was safely returned to his home in Gambell, Alaska.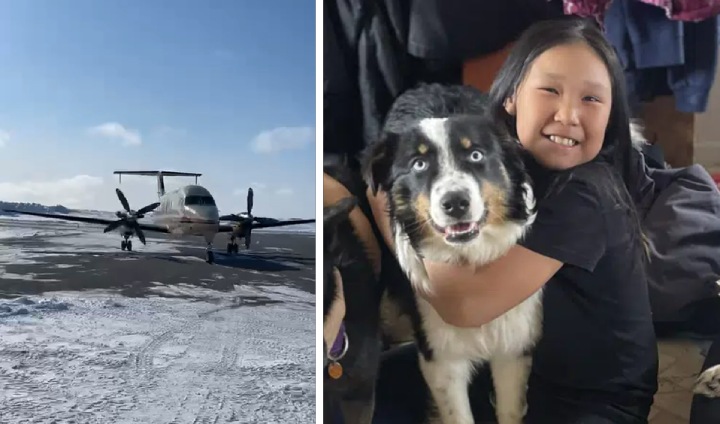 Nanuq / Credit: Mandy Iworrigan
Mandy Iworrigan, who lives in Gambell on St. Lawrence Island, said she was visiting Savoonga in March with her kids when two of the family's three dogs, Starlight and Nanuq, disappeared.
Each of her three kids has a dog of their own, and they are treated more like a little sibling than a pet, Anchorage Daily News reported.
Three weeks later, Starlight showed up in Savoonga.
"My girls went to go play out, and they said, 'mom, mom, mom -- there's a dog that looks like Starlight,'" Iworrigan said. But it was not a look-a-like. Their dog had somehow gotten herself three dozen miles to the next town over. "I was like, 'Stop the snowmachine! Starlight! What are you doing in Savoonga?'"
But Starlight's brother Nanuq, a 1-year-old Australian shepherd belonging to her 8-year-old daughter Brooklyn, was still nowhere to be found. Iworrigan looked around town the next day, to no avail, so she left to go back home with some friends keeping an eye out.
About a month after Nanuq disappeared, people in Wales, 166 miles from Gambell on Alaska's western coast, began posting pictures on Facebook of what they described as a lost dog.
"My dad texted me and said, 'There's a dog that looks like Nanuq in Wales'," Iworrigan said. She got on Facebook and found the pictures.
"I was like, 'No freakin' way! That's our dog! What is he doing in Wales?'" she said.
She used airline points to get her dog back to Gambell on a regional air carrier last week and filmed the happy reunion.
The events of Nanuq's journey will likely always be a mystery.
"I have no idea why he ended up in Wales. Maybe the ice shifted while he was hunting," Iworrigan said. "I'm pretty sure he ate leftovers of seal or caught a seal. Probably birds, too. He eats our Native foods. He's smart."
In spite of being gone from home a month during the tail-end of winter, Nanuq is in good health, Iworrigan said — save for a swollen leg with two large bite marks from an animal she can't quite identify.
Wolverine, seal, small nanuq, we don't know, because it's like a really big bite," she said, using the Siberian Yupik word for a polar bear, as well as the dog's namesake.
"If dogs could talk, both of them would have one heck of a story," Iworrigan said.
Please consider
making a donation
to
Sunny Skyz
and help our mission to make the world a better place.
Click Here For The Most Popular On Sunny Skyz
LIKE US ON FACEBOOK!