Good Samaritans Rescue 83-Year-Old Man And His Dog From Icy Lake
February 14, 2023
A group of Good Samaritans rescued an 83-year-old man and his dog from a car that had fallen into an icy lake.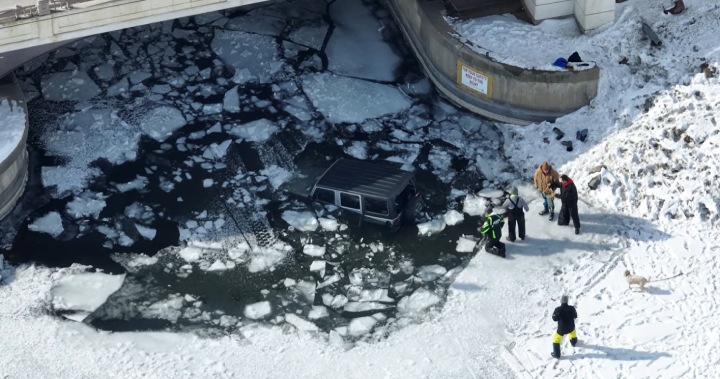 Credit: Drone Photographs by Tom Gustafson
On Feb. 4, a Jeep went through the ice under the Hwy 71 bridge in Dickinson County, Iowa.
Five men helped pull the driver, Thomas Lee, and his dog from the vehicle.
Joseph Salmon, 17, was ice-fishing with his mom when he saw the Jeep crash through the ice and into the water.
"As I was running, I called 911 [and] ran over there. And for a second, we just... I was standing on the shoreline, and another guy came down, and we were like waving at him like trying to tell him, get out, get out of the Jeep," Salmon explained. "And he was kind of in shock, didn't really know what to do. He just kind of sitting there."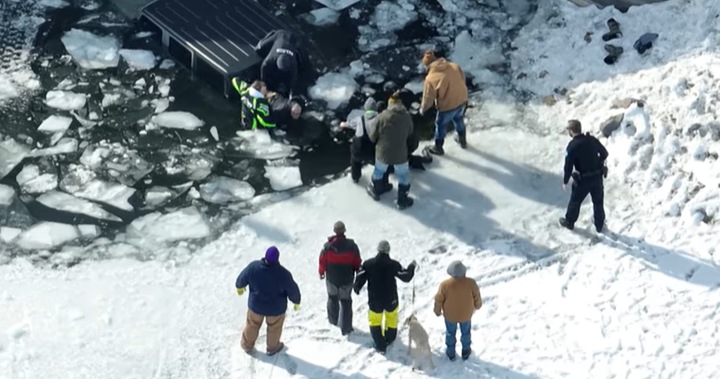 Credit: Drone Photographs by Tom Gustafson
Salmon used a knife to break the back window and tried getting Lee out, but the man's foot was trapped.
"So I went all the way into the Jeep, into the front of it, pulled his leg out, pushed on the bottom of it to push him up. And I crawled back out, to have more room for him to come. And as he was coming between the seat and the roof of the Jeep... It's a very- it's not a very big gap. And he couldn't get through that," Salmon told Tucker Carlson.
"So I went back in the Jeep. I pushed him back towards the front and pushed him up. So on a jeep back seat, there's like a lever on top of it. I pulled the seat down. So I pushed them back. I flipped the seat down and grabbed by under his shoulders and started pulling them out."
Lee was transported to Lakes Regional Healthcare and "is doing well", the Dickinson County Sheriff's Office said in a statement. The dog was dried out and is also doing well.
Salmon was treated for minor cuts from the broken glass.
Please consider
making a donation
to
Sunny Skyz
and help our mission to make the world a better place.
Click Here For The Most Popular On Sunny Skyz
LIKE US ON FACEBOOK!