Wrong Number Leads To 20-Year Friendship Between Florida Woman And Rhode Island Man
December 1, 2021
Over 20 years ago, Gladys Hankerson was trying to call her sister who lived in Maryland. But instead of dialing the area code 410, she dialed 401.
The mistake ended up connecting her to Mike Moffitt from Rhode Island.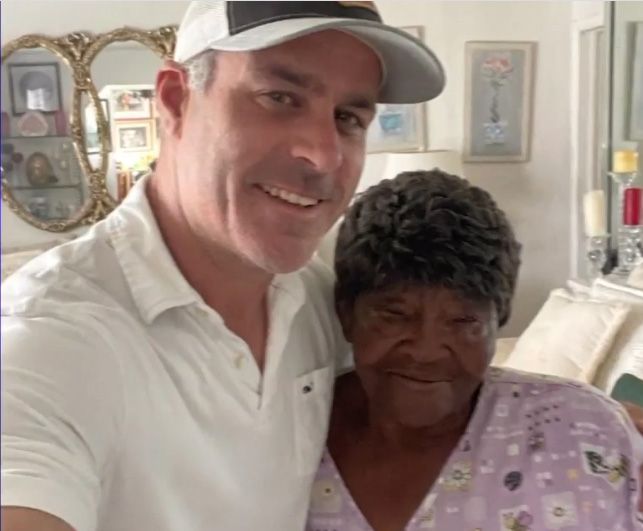 Mike Moffitt and Gladys Hankerson
"At first, it was just like her saying, 'Oh I'm sorry!' and she's really Southern, very hospitable, polite, very sweet, she's like, 'I'm so sorry, child!' and then she hangs up real quick," said Moffitt.
Well, she called again a few more times over the next few weeks.
"Finally I just grabbed it and said, 'Wait wait wait, before you go, who are you, where are you from, what are you trying to do? And we started talking," Moffitt said.
Hankerson, who lives in Delray, Florida, told him she had been trying to reach her sister.
"I told him, 'I'm sorry I was trying to call my sister,' and he said, 'This is Mike,'" Hankerson said. "I said my son passed away and he said I'm so sorry and he talked real nice to me and I talked real nice to him, and after that I had his phone number and I put it down on paper and I always called him."
Hankerson said Moffitt came at a difficult time in her life, when she was divorced and after she lost her son. But she said Moffitt always lifted her spirits.
The two stayed in touch by phone over the years, chatting about their children — Hankerson is the mother of 10, Moffitt, a father of three.
"She had her son call at one time to let me know that somebody close to her passed away. He was like, 'My mom just wanted me to call and let you know,'" Moffit said. "All of a sudden [our relationship] became not like a superficial check-in call ... I understood what it meant to her."
Last week, on the day before Thanksgiving, the pair finally met in person when Moffitt was on a trip to Florida with his wife and children.
"Oh it was such a great day, that was the happiest Thanksgiving there was, that made my day," Hankerson said. "I wish more people could be like that, you know? That would be so nice, the world would be better too, people would be better."
After their meeting, Moffitt shared the photo of him and Hankerson in a Facebook post that's been shared more than 800 times, writing, "There are incredible people in this world that are a wrong number phone call away."
Please consider
making a donation
to
Sunny Skyz
and help our mission to make the world a better place.
Click Here For The Most Popular On Sunny Skyz
LIKE US ON FACEBOOK!