Wildlife Officers Remove Tire That Was Around Bull Elk's Neck For 2 Years
October 13, 2021
The saga of the bull elk with a tire around its neck is finally over.
For two years, the elk was seen with a tire around its neck. After several attempts, wildlife officials have freed the animal of the hindrance.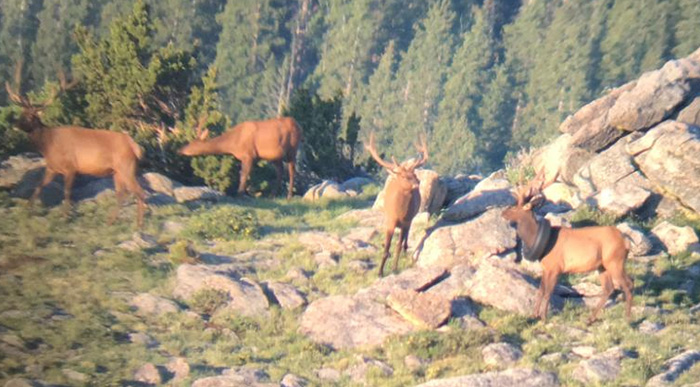 Colorado Parks and Wildlife
The bull elk was first spotted by a Colorado Parks and Wildlife (CPW) officer in 2019 while conducting a population survey of sheep and mountain goats.
Since then the wild animal has been spotted a handful of times by trail cameras and was known to travel between Park and Jefferson counties.
"Being up in the wilderness, we didn't really expect to be able to get our hands on the elk just because of the proximity or the distance away from civilization," CPW officer Scott Murdoch said in a press release. "It is harder to get the further they are back in there and usually the further these elk are away from people, the wilder they act. That certainly played true the last couple of years, this elk was difficult to find, and harder to get close to."
On Saturday evening Colorado Parks and Wildlife officers received a call from locals who spotted the elk near Pine Junction on CR 126. The officers successfully located the 600-pound animal, tranquilized him and removed the tire.
Officers had to cut off the antlers to slide the tire off.
"It was not easy for sure. We had to move it just right to get it off because we weren't able to cut the steel in the bead of the tire," Murdoch said in the news release. "We would have preferred to cut the tire and leave the antlers for his rutting activity, but the situation was dynamic and we had to just get the tire off in any way possible."
Once the tire was off, wildlife officers Swanson and Murdoch were surprised to see the condition of its neck after having that tire on it for over two years.
"The hair was rubbed off a little bit, there was one small open wound maybe the size of a nickel or quarter, but other than that it looked really good," Murdoch said of the bull's neck. "I was actually quite shocked to see how good it looked."
Swanson and Murdoch estimated that the bull elk dropped roughly 35 pounds between the removal of the tire, his antlers and the debris that was inside the tire.
Please consider
making a donation
to
Sunny Skyz
and help our mission to make the world a better place.
Click Here For The Most Popular On Sunny Skyz
LIKE US ON FACEBOOK!