Woman Donates Kidney To Husband's Ex-Wife Two Days After Wedding
June 3, 2021
Two days after Debby-Neal Strickland married Jim Merthe, Debby donated a kidney to James' ex-wife Mylaen Merthe.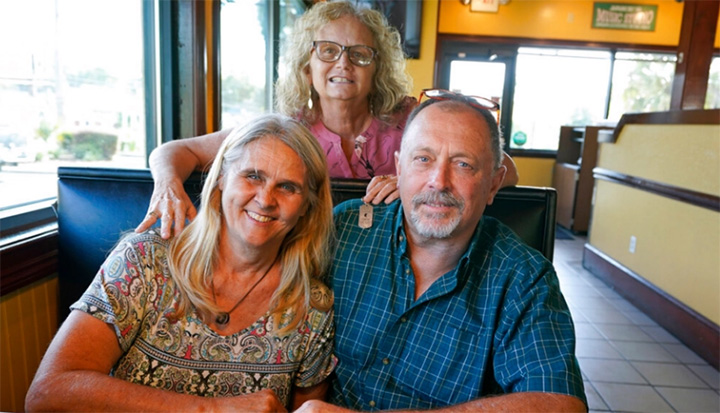 Today's good news story is a testament to how love and compassion can triumph over division.
Mylaen, 59, had long struggled with kidney disease. By last year, she was ghostly pale with dark circles under her eyes, dragging herself through the workday with no energy. By the time she was admitted to the hospital in November, her kidneys were only functioning at 8%.
Jim and Mylaen have been divorced nearly two decades, but they got along well as they raised their two children.
Knowing that Mylaen was about to become a grandmother for the first time, Debby volunteered to donate a kidney.
She imagined Mylaen's daughter giving birth, "and her mom not being there. I just couldn't not try to change that," she said. "God told me, 'You're a match and you need to do this'."
After months of testing and COVID delays, the transplant was set for two days after Jim and Debby's wedding. They married November 22.
"It was the most amazing day of my life, until two days later. That was also the most amazing day of my life," Debby said.
As soon as she regained consciousness, the new bride asked about Mylaen. A few floors below, Mylaen was also pleading with the nurses — "I need to see her. That was the first thing out of my mouth."
Debby could already see the difference. The circles under Mylaen's eyes were gone, "she looked so alive and revitalized."
Now, Debby and Mylean call each other kidney sisters. They pray for each other and are even planning a big family trip to Lake Rabun, Georgia, this summer.
"This is what the world is about. Family. We need to stick together," Mylaen said. "She saved my life."
Please consider
making a donation
to
Sunny Skyz
and help our mission to make the world a better place.