Doctors Said He Was Going To Die Of COVID-19. His Family Had Other Plans
May 25, 2021
A man in Quebec has finally returned home after spending nearly nine months in the hospital and rehab, and two months in a coma.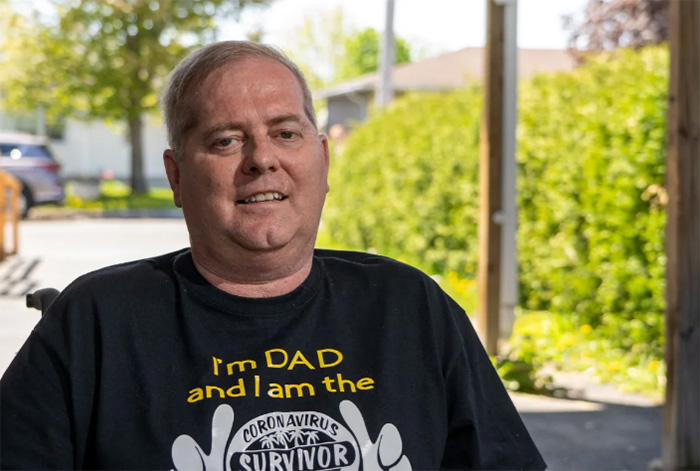 Peter Simard / Credit: CBC.ca
Peter Simard, 59, remembers not being able to breathe. In fact, he called his mom to tell her he's going to die.
"I heard him say 'Mom, I think I'm dying'," his wife Céline Lafrenière recalled. "It was not a joke, you could see he was struggling to breathe."
Céline called 911 and Peter was admitted to the COVID-19 ward of Hull Hospital. A couple days later he was moved to the COVID-19 intensive care unit where he was the only patient.
A week later Peter was put in a medically induced coma and on a ventilator.
On October 3, doctors arranged a meeting with his wife and children and told them the medical team had run out of options.
"The doctor said, 'Peter is going to die. There's nothing we can do. He's going to die'," Céline recalled.
But the family wasn't ready to let him go.
"They had decided that it was over, and I was not ready for that," Céline said. "I said, 'You read about miracles every day, why can't he be one?'"
Shortly after the meeting, they began administering a steroid typically used to suppress the immune system and decrease inflammation in conditions such as asthma.
"That bought him time. It saved his life," Céline said.
Peter opened his eyes for the first time. He was conscious but unable to move or communicate. Within six or seven weeks of waking from the coma, he began to speak.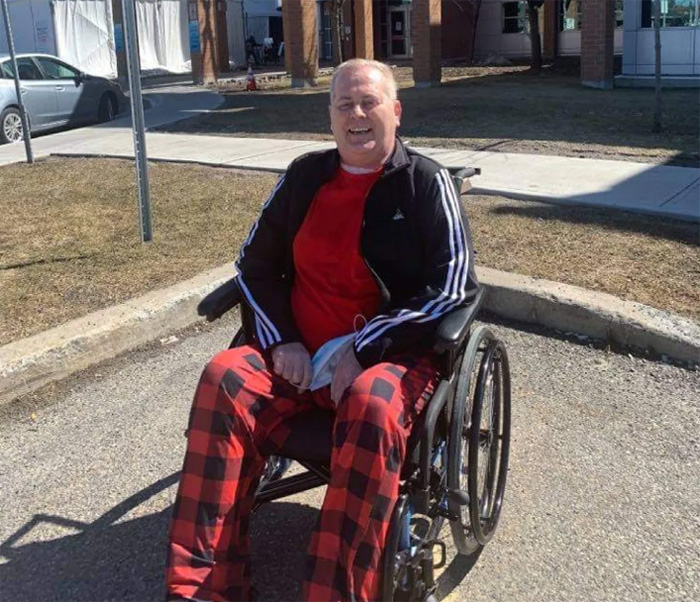 Peter Simard / Credit: CBC.ca
His miraculous recovery continued at a rehabilitation center, where he earned the nickname "The Cowboy" because of his gung-ho attitude.
"I exceeded every expectation that they set for me because I wanted to come home," Peter said.
He credits his faith and his family and holds no ill will toward the doctors who thought he would die.
"The message is not … that the doctors were wrong. The doctors didn't know," he said. "My kids weren't ready to let me go, and I wasn't ready to go."
Watch the video below.
Please consider
making a donation
to
Sunny Skyz
and help our mission to make the world a better place.
Click Here For The Most Popular On Sunny Skyz
LIKE US ON FACEBOOK!