Couple Hosts Delivery Driver For 5 Days After Her Car Got Stuck In The Snow
February 23, 2021
A delivery driver in Texas is feeling blessed after staying at a couple's home for five days when her car got stuck in their yard amid the winter storm.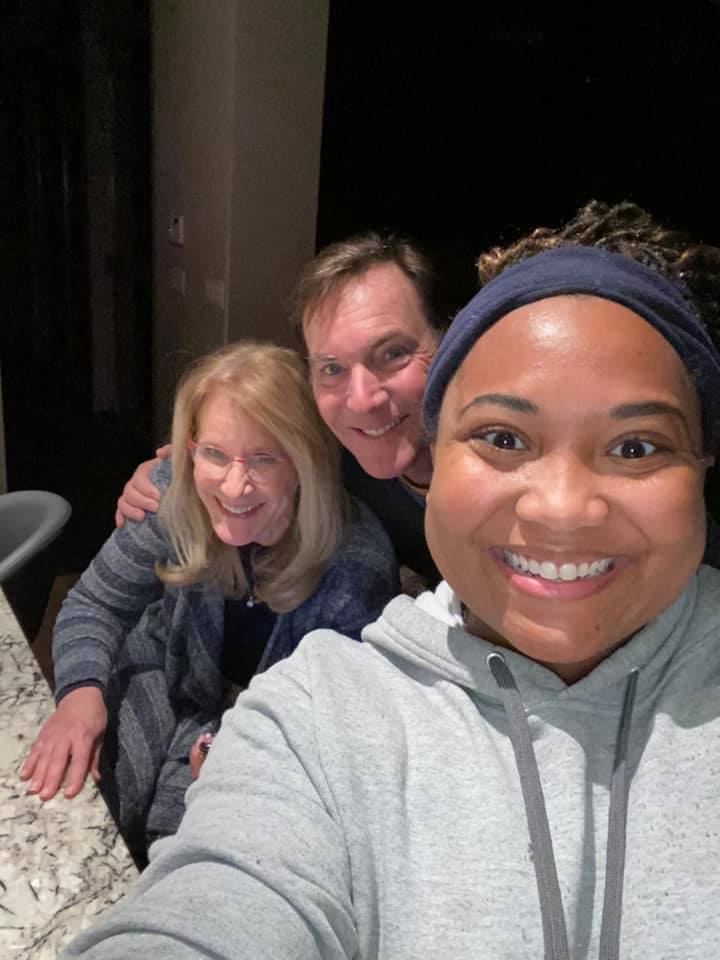 Chelsea Timmons
Nina Richardson and Doug Condon checked on Timmons to try to help get her vehicle up the driveway, but it was stuck. They invited her inside to wait for a tow truck.
Five days later, Timmons was still living with the couple.
In a Facebook post on Thursday, Timmons shared her amazing experience with the couple:
Day 5
Stranded with a Stranger
Story time. So if you know me, you know that on the weekend I work for delivery services. This particular weekend I was In Austin delivering groceries, making some extra money as everyone tried to prepare for the Winter Storm. Goal was to do some runs in the morning, head home around noon. Be Home before the snow hit Sunday night. I intended to sip some wine , and eat some Valentine's Chocolate and wait out this storm. Well things didn't go as planned AT ALL!!
I accepted my last run at around 11 am. Road Conditions were becoming poor so it took me a little over an hour to pick up their order and arrive at their home. Their home sat lower than the main road so their driveway was at an incline. I begun my descent down the hill. Very cautiously. I crept downward remembering to tap my brakes and not slam them in Icy conditions. I tapped, but the car continued at the same speed. Tapped a bit more aggressively yet the speed seemed to accelerate. I panicked and slammed my brakes, but my car continued forward down the driveway. I realized I had lost control of the car. I just braced myself for impact as the car slide towards their home.
I closed my eyes and every imaginable worse case scenario flashed through my head. Then I opened my eyes to see the car roll into their flowerbed, hit their slumped tree and then stop. Luckily I didn't have enough momentum to cause damage. I was safe, car was undamaged, their property was safe... but that tree was a goner!
I unloaded groceries and informed them of the situation. I was able to get my car turned around but the slope was COVERED in ice and my wheels just spun and my car slide back down attempted after attempt. We decided to call a tow truck and not risk damage to my car or their Home!
AAA said it would be an hour or 2 for a truck to arrive. They agreed to let me wait inside. Hours passed, no tow truck. Repeatedly made calls to AAA with no answers given. Finally around 6pm AAA said my location was "inaccessible due to current conditions".
I tried to get an Uber/Lyft/Taxi just to get me to the hotel a few miles away so I could stay for the night. But obviously if tow trucks weren't getting through, neither were cars. Conditions worsened and options dwindled and eventually the couple offered their guest bed room to me for the night!
These people let a complete STRANGER stay the night! Not only that but cooked me a STEAK DINNER! definitely not how I imagined my Valentine's Day!
Well the saga continues. It is currently DAY FIVE and I am still here! Thanks to some heavy sweeping (TX =no snow shovel) we cleared the driveway and were able to get my car up the incline. So I no longer need a tow. But the road conditions were still horrible! Cars weren't even making it out of the neighborhood safely. Power was going out across the city, stores were closed or empty, hotels overrun by people seeking warmth.
Every morning, when I suggested leaving to a hotel.. "could you make it there safely?" "What would you eat?" "What if they lose power" "isn't the guest room better than the Hampton Inn?"
They basically have refused to let me leave.
Every morning after they say -"no worries, stay a bit longer." - I go to "my" room and shed tears of joy.
Their home still has water and power so we are clean and warm. They have groceries (I know, I delivered them) so we are fed.
How AMAZINGLY BLESSED am I right in this moment?!
Blessed that HEB curbside delayed their Saturday delivery and pushed it to Sunday
Blessed that I hit "Accept" before the timer ran out.
Blessed that out of all the places for my car to get stuck, that it was in their flowerbed and not a ditch.
Blessed they were willing to let the "Delivery Driver" into their home in the midst of a pandemic.
Blessed that during the time of a food shortage, they were willing to share their meals.
Blessed that they liked my coconut cake! (I baked them a cake to show my gratitude)
Completely BLESSED all the way around!!
God truly #Anchored me during this storm and sent me amazing Guardian Angels.
Looks like one more night here. Tomorrow's weather will be warm and I can make it back home.
I can't believe everything that has happened. Beyond grateful that I have been able find comfort with strangers during this unprecedented Winter Storm.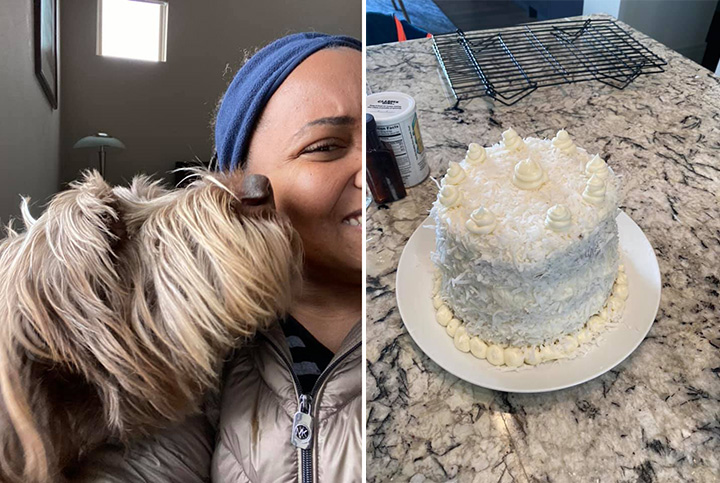 Chelsea Timmons
As for Condon and Richardson, they never thought twice about their decision to let Timmons in, and hope that others would have done the same for a stranger in need.
"We would hope that if our daughters were in a situation similar to Chelsea, that there would be someone that would treat them like we treated Chelsea," Condon said. "I don't think we ever thought twice about it."
Timmons safely made it home on Friday, but Condon and Richardson plan to stay in touch with her.
"She just became kind of part of the family pretty quickly," Richardson said.
Please consider
making a donation
to
Sunny Skyz
and help our mission to make the world a better place.
Click Here For The Most Popular On Sunny Skyz
LIKE US ON FACEBOOK!