How Knitting Is Helping Men Recover From Addiction
December 22, 2020
Men at the Phoenix Society recovery center in Surrey, BC, are learning how to knit to help break the cycle of addiction.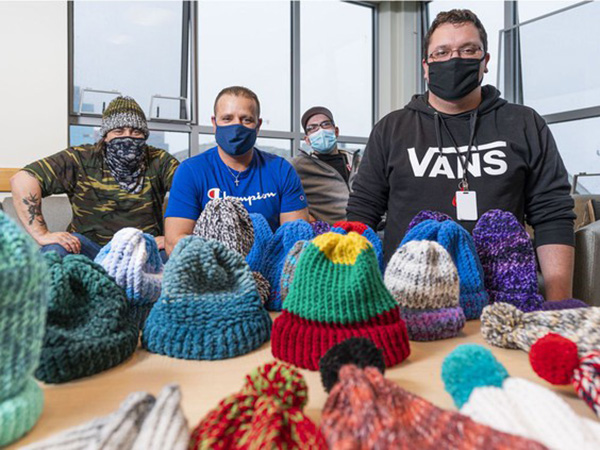 Phoenix Society / Credit: Richard Lam
Little did Nelson Mendonca know that picking up a pair of knitting needles in prison would lead to him accidentally creating a group of so-called "toquers" at the recovery facility he would end up at.
"At first I thought, 'People are going to think I'm weird or whatever'," Nelson Mendonca said. "Once I started knitting in public, I didn't really care what people think. I enjoy doing it and I'm going to do it."
As many as 10 men at a time are now knitting yarn together. They've made about 200 toques (hats), which have ended up as gifts to loved ones and as donations to a women's recovery house.
In many ways knitting is a metaphor for starting something new and changing things, one stitch at a time.
"It's the one thing in my life that I cannot cheat, manipulate, cut a corner or find a shortcut around," Nelson explained. "I have to follow each little step one by one by one. It makes me realize that to get results, I have to follow the routine, the positive routine. I can't veer from it, because I won't end up with the result I want. The most satisfaction for me that's come out of it is when you give someone a toque, or teach someone how to make one, and they mail it out to their kids or someone else."
Mendonca, who's been in and out of prison for over 20 years, says he's the happiest he's ever been.
"So you'd walk into our group and see 10 guys knitting," he chuckled. "Or walk in and a bunch of guys are watching Scarface and they're all knitting."
Ben Slaney is just one of the many men who have joined the endeavour.
"I came over here because of issues with opiates. I've learned a lot of tools to help me battle this giant," Ben said of his time at Phoenix. "This 'toquing' that we call it, was a great way to get to know the guys. It became therapeutic for me. It's a great way to give back. I've sent some along to family members, some to the girls upstairs, some to the donation box. I really like giving them away."
Please consider
making a donation
to
Sunny Skyz
and help our mission to make the world a better place.
Click Here For The Most Popular On Sunny Skyz
LIKE US ON FACEBOOK!