A Woman Pretended To Be A Magical Fairy In A Little Girl's Fairy Garden
December 18, 2020
At the beginning of the pandemic, a 4-year-old girl named Eliana was feeling a bit lonely so her family helped her create a fairy garden outside of their home in Los Angeles.
A local photographer, who was going through a tough time, noticed the garden and decided to spread some cheer.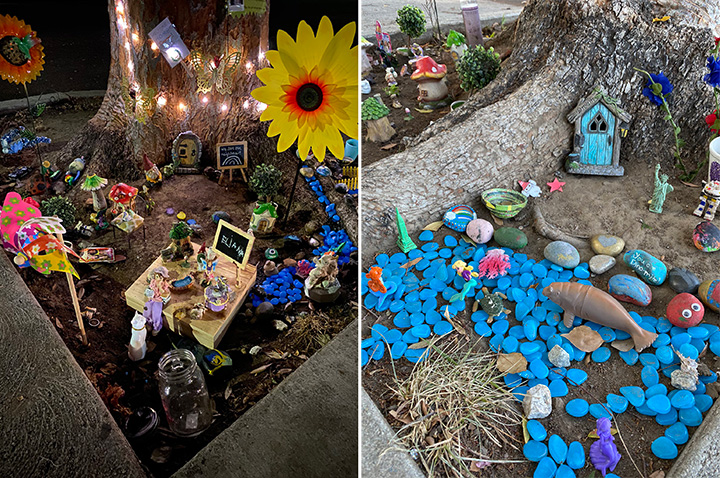 Credit: @saysthefox / Kelly Victoria
"At the beginning of the pandemic I went through some painful personal stuff and would often go out at night for long walks because no one was around and I couldn't sleep anyway," Kelly wrote on Twitter.
"One night I was walking down my street and noticed that someone had set up a few little objects in a tree planter and upon closer inspection I realized it was a fairy garden with a little note about the 4 year old girl who felt lonely in quarantine and wanted to spread some cheer."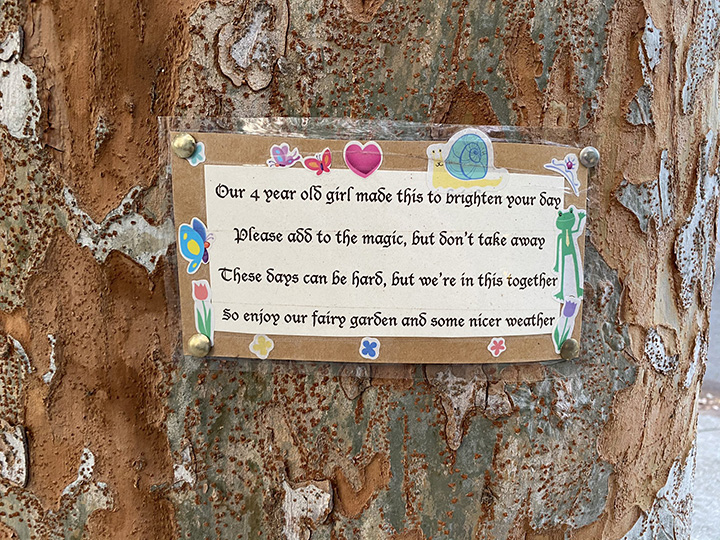 Credit: @saysthefox / Kelly Victoria
Kelly wrote a note to Eliana pretending to be a fairy named Sapphire that had come to live in the tree.
"[I] said I would gift her with a magical fairy dice if she did 3 things for me," Kelly said.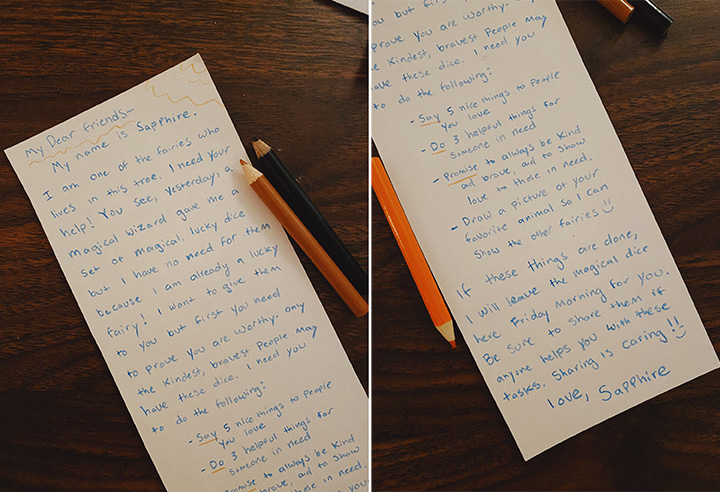 Credit: @saysthefox / Kelly Victoria
Kelly put the note in a small vial filled with glitter and placed it in the garden, unsure if she would get a response.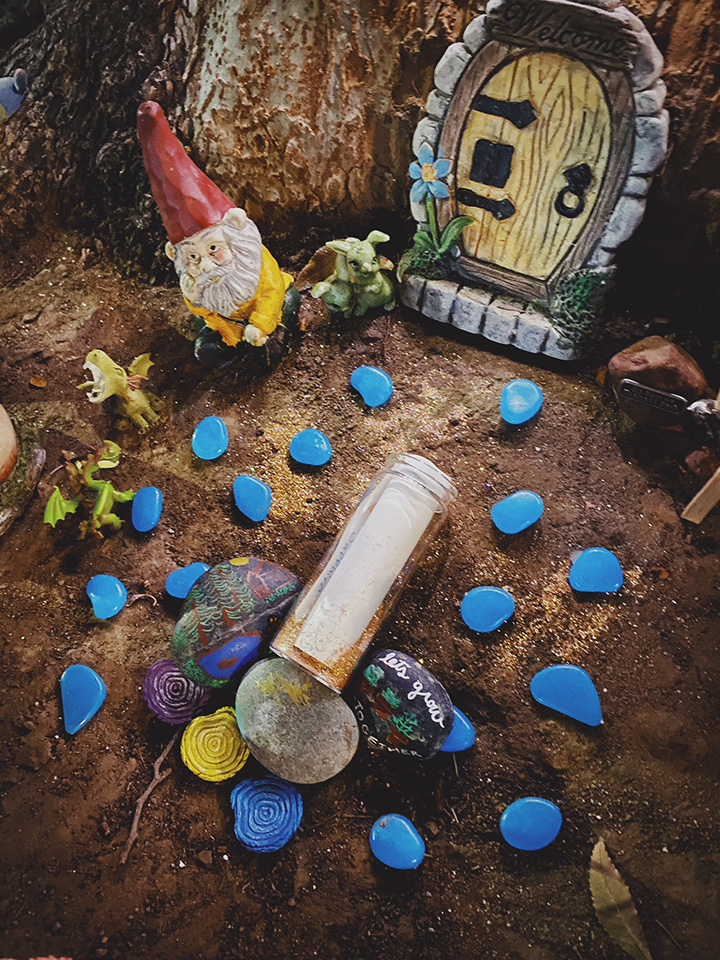 Credit: @saysthefox / Kelly Victoria
The next day, she found a handwritten letter from Eliana explaining she had completed all of Sapphire's tasks.
Kelly said she "immediately burst into tears".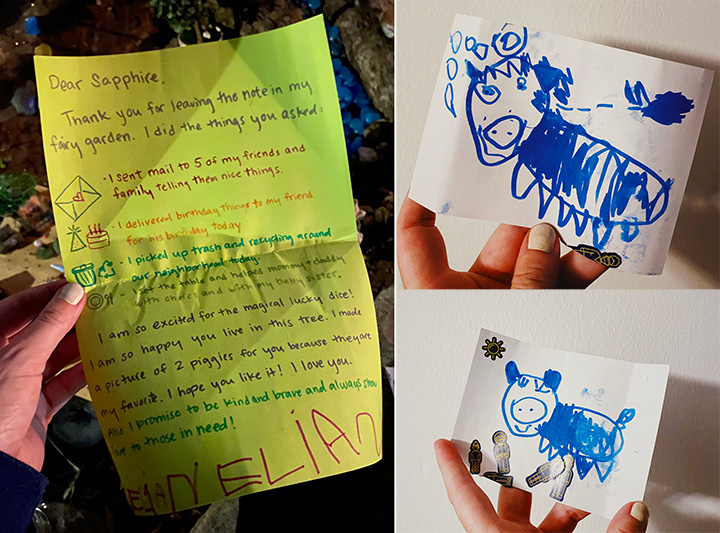 Credit: @saysthefox / Kelly Victoria
"So I left a bunch of my die that had small imperfections and left her another note and also a little extra note for her parents with my name and phone number so they could contact me and know I wasn't some creep leaving notes for their small child," Kelly said.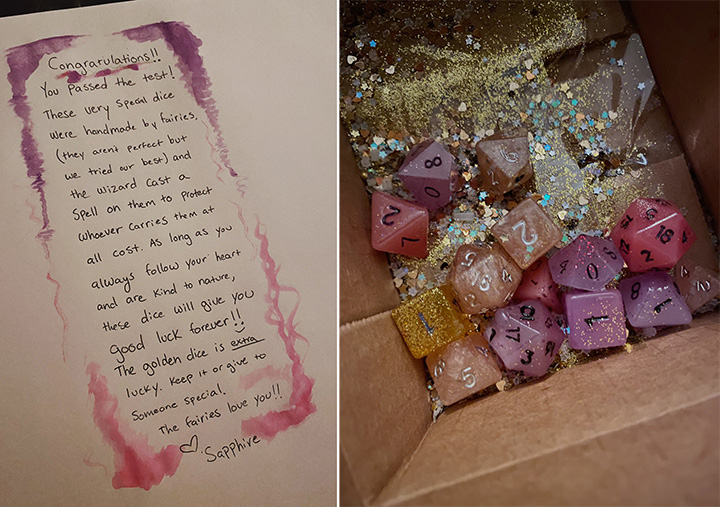 Credit: @saysthefox / Kelly Victoria
"Doing this every night gave me purpose in a horribly painful and lonely time," Kelly confessed. "I looked forward to my days again and I started ordering art supplies and little trinkets to leave her."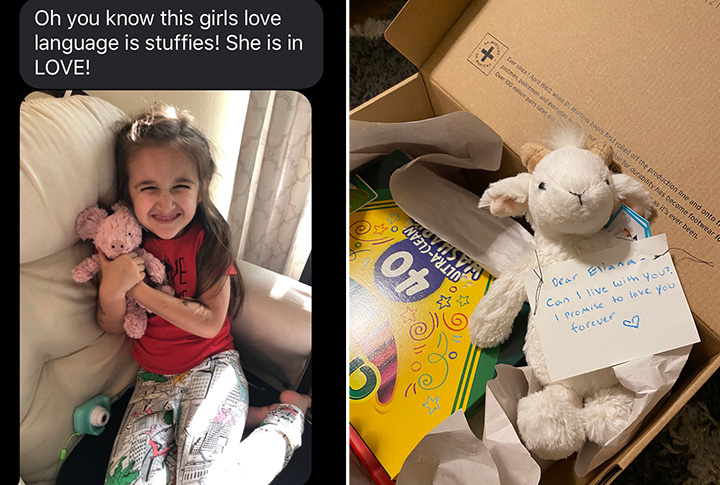 Credit: @saysthefox / Kelly Victoria
"We wrote back and forth throughout the last 9 months, helping each other feel less lonely and I got to chat with her mom via text to make sure my gifts were a little more personal."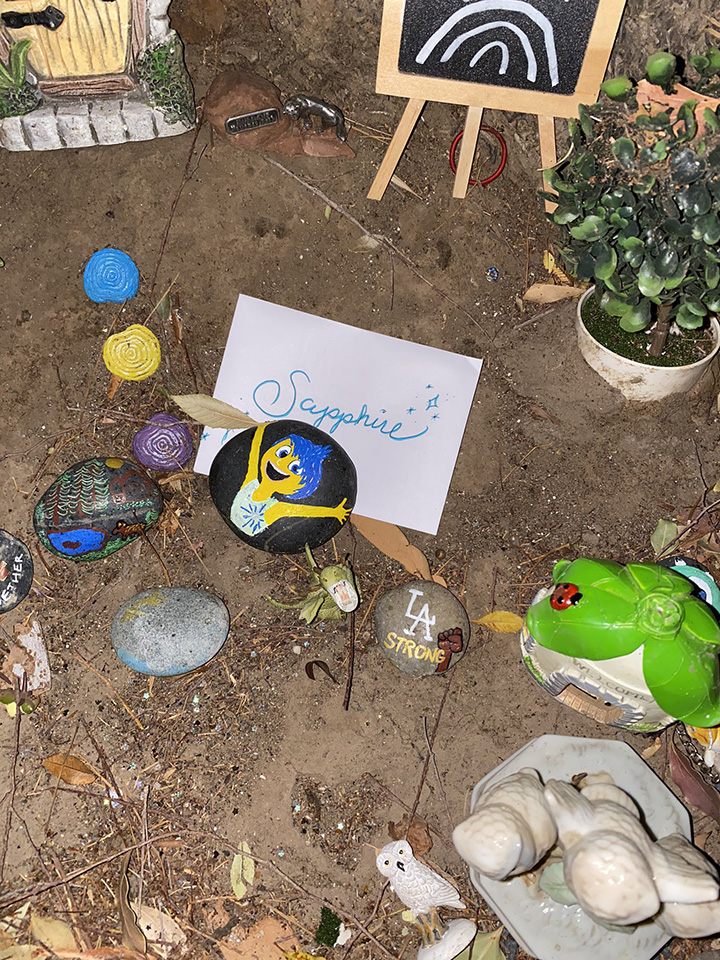 Credit: @saysthefox / Kelly Victoria
"In the past month her mom sent me a text letting me know that they had closed escrow on a new house a little further away and would have to leave the fairy garden behind in the care of their neighbors.
She also mentioned that Eliana was having a tough time with it so I made sure to include some support in my letters and told her I had to move as well so she'd feel like we were both going through it together. Her mom said it was helping her so much and they really wanted to try to see me somehow before they left."
After a few days of planning with Eliana's mother, Kelly showed up dressed as a fairy.
"I left one last note this morning saying I had to move out today and made up a little story that when fairies move houses, they grow to the size of a human just for one day to move all of their belongings."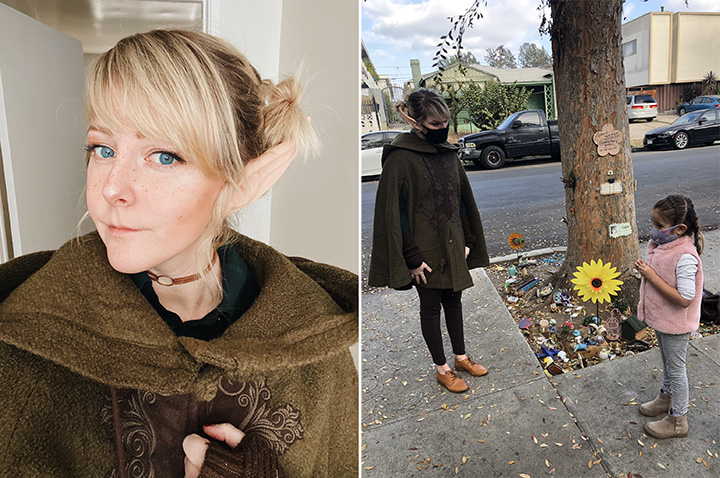 Credit: @saysthefox / Kelly Victoria
"We got to sit and talk for about an hour and she asked me a million questions about what life is like as a fairy, some I had prepared and others I hadn't. It was incredible and one of the most important and impactful afternoons of my life thus far," Kelly said.
"I hope one day when she's older she can understand that I truly needed her as much as she needed me these past few months."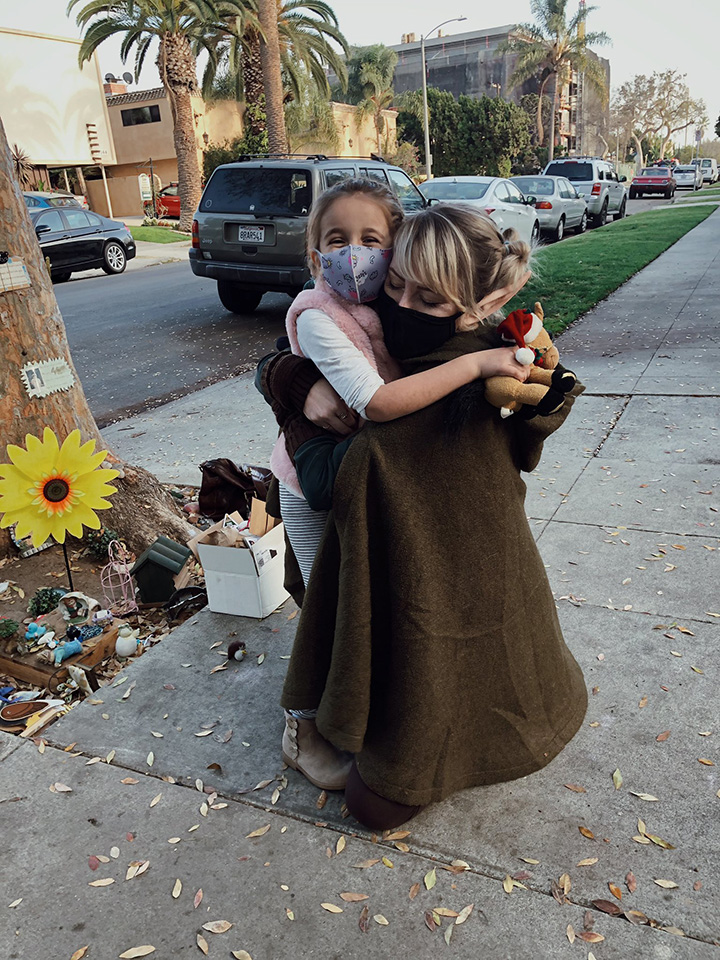 Credit: @saysthefox / Kelly Victoria
Since posting the story to Twitter, Kelly's inbox has been flooded with kind messages from strangers.
"I am completely at a loss for words about all of the kind messages I've received since posting my Sapphire and Eliana story," Kelly wrote in an update. "My eyes have been full of tears since I woke up yesterday.
I don't think our story really changed anyone per say, I think it just reminded all of us of a part of ourselves we've ignored as we've grown up, especially as we've all had to navigate through such a difficult year.
Everyone is capable of being a Sapphire.
I don't deserve any praise, Eliana is just as incredible and definitely helped me more than she realizes right now. I'm no different from anyone, everyone can be someone's Sapphire.
If you had told me back in April that any of this would've happened, I never would've believed you.
It's easy to get lost in depressive thoughts and feel like you can't crawl out. It just takes one little act of kindness to immediately give your days purpose again and then before you know it, you look back and don't even remember how it felt to be in that much pain.
There's really no magic like brightening a child's day. I've lost people very important to me to that darkness and I only wish they had had a little more magic to cling to.
This isn't just about me, children are all we have and they could use a little extra magic right now too.
Thank you all for your kindness and support. I'm still completely at a loss for words."
Kelly added that Sapphire and Eliana will continue writing letters to each other from time to time.
Please consider
making a donation
to
Sunny Skyz
and help our mission to make the world a better place.
Click Here For The Most Popular On Sunny Skyz
LIKE US ON FACEBOOK!