Sanitation Worker Gets Accepted To Harvard Law, Writes Open Letter To His Brother
July 15, 2020
A sanitation worker in Maryland has been accepted into Harvard Law School calling it "the most surreal moment of my life."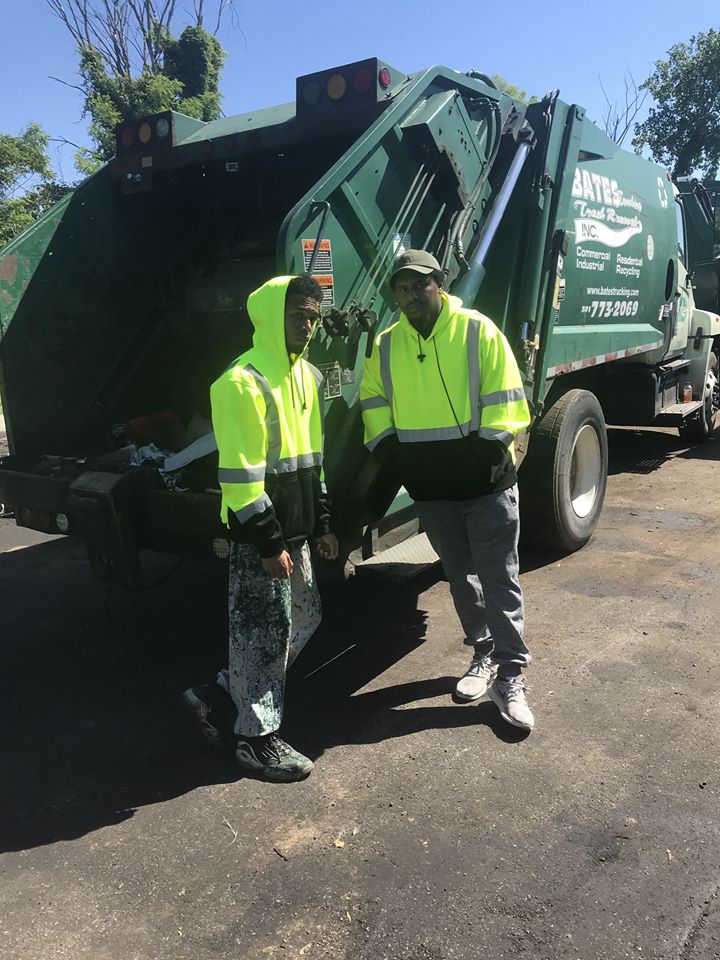 Rehan Staton / Facebook
Rehan Staton, 24, said his family had a privileged life in Bowie, Maryland. But when his mother left the country and his father lost his job, things took a turn for the worse.
Rehan was 8 years old at the time. His father started working up to three jobs at a time. Food became scarce, and sometimes heat was a luxury the family could not afford.
The issues at home affected Staton's grades, which suffered during his time in middle school.
During his high school tenure, Staton trained to become a professional boxer. However, his junior year he suffered rotator cuff injuries and did not have health insurance, so the injuries derailed his boxing career.
"At that time, I was really involved in sports, and I thought sports would be a way out of poverty,'' he said. "Support from my father and support from my brother, if it wasn't for those two, it would've been impossible."
He shifted his focus to academics and applied to several colleges but was rejected by all. As his body recovered, he took a job as a trash collector at a local sanitation company.
His co-workers uplifted him and urged him to go back to school.
"They would say, 'You're smart. You're too young to be here. Go to college, and come back if it doesn't work out,'" he told GMA. "Teachers, church leaders, and other upper-echelon people known for being a role model in society were the ones that never saw anything in me," he continued. "It was the sanitation workers that lifted me up to make me even want to go to school."
Staton said coworkers put him in touch with a professor at Bowie State University, a school that previously rejected him, but the professor was impressed and convinced administrators to reverse their decision.
But going to school meant Staton's older brother, Reggie, needed to drop out of college to support the family.
"My brother knew I'd be stuck if I didn't jump on this opportunity and go to school because of my grades," Staton told GMA.
Staton earned a 4.0 GPA and later matriculated to the University of Maryland, where he became immersed with campus life and ultimately spoke at graduation for the class of 2018.
The entire time, he continued to work in sanitation to make ends meet.
After graduation, he landed a job at a political consulting firm in Washington, D.C., took the LSAT and applied to several law schools.
He was accepted to four law schools including Harvard, where he's enrolled for the fall 2020 semester.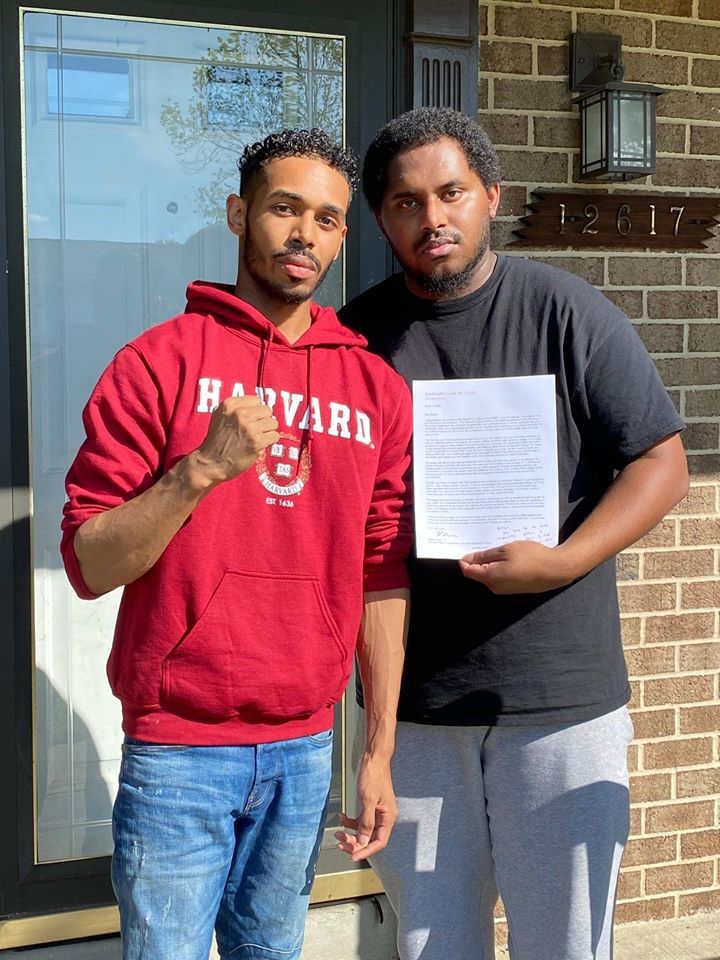 Rehan Staton / Facebook
In a letter posted to Facebook, Staton credited his brother Reggie for his success:
An Open Letter to My Older Brother,
It goes without saying that I never thought I would be accepted to Harvard Law School. I find it sort of humorous because there was a time when you were the only one who thought I would even go to college. Crazy right? With that being said, it's crazy how I was recently called "self-made." If you chuckled, I know, it made me laugh too. However, the comment made me not only want to thank you, but also to reflect on the doors you opened for me.
We both know that after mom abandoned us, our lives became very turbulent. I was thinking about it today, but I don't think I ever realized how it forced you to grow. I remember in 7th grade there were countless times our electricity would get cut off and we didn't have much food to eat. Do you remember that was the year my teachers tried to place me in special education because of my bad grades? How was I supposed to concentrate under our circumstances? After you found out what was happening you started to find ways to get me food so I wouldn't be miserable in class. I will never forget it, in the 3rd quarter of 7th grade I made honor roll for the first time since mom left. Although it was dope, I was so turned off by school I barely celebrated. At this point, I was more excited about having more energy to train for sports.
Remember when I was in 10th grade and that summer I ran a 1:52 for the 800m after we trained throughout the summer? It's crazy because I even started like two seconds late! We all thought I was about to become a phenom and break records. I kept telling you that USC is going to give me a full ride by the time I am senior. You kept telling me how I would change all our lives once the season started. But life screwed us again. That protein supplement I took for strength training over the summer destroyed my stomach. My stomach began to reject everything I ate and now I'd catch cramps just by walking. We could not even afford to get me the proper medical treatment and I had to accept what happened. I'll never forget that day that lady at the front office said I lied about why I was kept coming late to school. When I called you and told you that she said I lied, I couldn't believe how quickly you got to the school and demanded that she apologize and give me my note. Even though they kicked us out of the building, I felt very loved and protected. But after we left, I started to think about my poor physical state and started to feel as if I became a burden to everyone. I started to cry and told you that I hated myself for letting everyone down and that I'll never be able to go to USC (or anywhere). You pulled over and told me, "Man stop that. Just stop. First, you didn't let anyone down, we just have to figure this out. Just shut up and breathe. You were built differently, you always become the best at everything you do. I don't know where you're headed, but I know it will be big." I was always grateful for what you said. However, I don't think that you understood that my mind would not allow me to believe you.
Over the next year, my body began to function normally again. You even helped me develop a fighting style that did not aggravate those stomach cramps. All of that training paid off and I went onto win many championships with a long undefeated streak. Eventually, we moved away from martial arts and transitioned into boxing and even got me a well-respected trainer that trained two Olympic Gold Medalists. However, life once again did not cut me a break. After I injured both of my shoulders, I had to stop fighting. To add insult to injury, all of the schools I applied to denied me. You tried to lift my morale as you always did. Nothing worked this time. I was not motivated to do much of anything besides keeping my job to help dad. I'll give you credit for refusing to accept that, and what you did next changed my life forever. You knew that dad needed help with the finances to keep our home, and you knew if I kept working, I would never go to college. When you found out that I met a connection that could get me into Bowie State, you literally dropped out of school after your sophomore year so that I could have a chance to rebuild my life.
After dad suffered his stroke working three jobs to help me through school, I promised you that I would excel. That's why the happiest moment of my life was standing at the podium as Maryland's Commencement Speaker. I felt like I was finally able to pay my homage to both of you for your sacrifices.
I will always remember right after the Commencement Speech, you looked me in my eyes and told me, "You just opened the door to Harvard." I said, "Bruh, you trippin. USC is my dream school anyway." After the Commencement, we were so excited about all the different job opportunities that I had lined up, and when the New York Times bestselling author connected with me to help me write my own book. But like before, I literally lost EVERYTHING after I got extremely sick in May of 2019 and remained sick the rest of the year. I hate thinking about the time I cried to you telling you about how I always drop the ball, how I always find a way to fail, how I am cursed, and how something always comes completely out of the blue and knocks me off track. It killed me thinking that our dad had a stroke attempting to send me to school and it was now in vain. I fought so hard to get us out of poverty. Everything I did at school, I did it for us to have a better life. However, I literally put us in a worse situation because you all had to keep pushing back the mortgage to take care of me. We almost lost everything (AGAIN) and it would have been all my fault! I didn't know what to do. However, after Dominic showed me Steve Harvey's "Apollo Story" it gave me the hope to keep pushing despite our bleak situation. I called you over the next day and told you, "I don't have anything left to lose, I still want to go to law school." Most people told me to let it go for now and just chill. But you saw the look in my eye and knew that I had to do this. The next weekend you literally bought and dropped off my LSAT material and said, "Put in that work, don't waste my money." I was nauseated 24 hours a day and I had to keep listening to Gary Vaynerchuk's motivational videos to keep me going through the study sessions when I wanted to quit. As time went on, literally everyone from law school advisors, professors, and friends advised against me applying to all these schools because they said, "You're applying too late in the cycle." But you said, "Don't worry about applying too late. Bet on yourself." If it were not for you and a few others, I would have never got accepted to Harvard, Columbia, or the University of Pennsylvania's law school. But even more so, I would have never gotten the closure of getting into my dream school of USC.
You put yourself in a profession where people would look down on you so that people could look up to me... You tell me, how can I not laugh when people say that I'm "self-made?" Straight up, I wouldn't have made it here without you. And even though our troubles are far from over, I promise you that I'll always stay in the fight. I love you, big bro.
"I hated every minute of training, but I said, 'Don't quit. Suffer now and live the rest of your life as a champion." – Muhammad Ali
Sincerely,
Rehan Sujeewa Staton
A GoFundMe page to help pay for Staton's law school expenses has raised over $180,000.
Please consider
making a donation
to
Sunny Skyz
and help our mission to make the world a better place.
Click Here For The Most Popular On Sunny Skyz
LIKE US ON FACEBOOK!