God Only Gives Special Children To Special People
September 5, 2013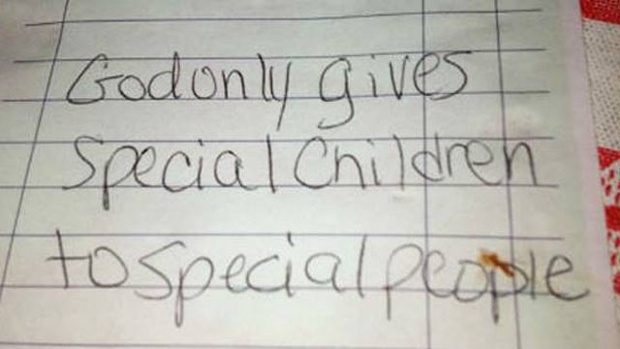 A dinner out turned into an experience of a lifetime for a North Carolina family thanks to one stranger's heartfelt gesture.
Ashley England and her family want to thank a customer who paid for their meal Friday night and left behind a touching note about their special needs son. A photo of the note has gone viral, shared with thousands of people on Facebook.
England told CNN her family, including husband, Jason, 8-year-old son Riley, 4-year-old brother Logan, the boys' grandmother and their great-grandmother were together at the Stag & Doe restaurant in China Grove, North Carolina, for a family meal when their special needs son, Riley, started to get frustrated. He was hungry and couldn't get the Netflix on his mom's phone to work.
Since Riley suffers from epilepsy and is non-verbal, England said, it's hard for him to communicate and he screams and acts out when he's frustrated. England said he started to make screaming noises, beat on their table and threw her phone, catching the attention of some nearby customers.
Although a few customers were looking, it wasn't the worst experience her family has had out in public since Riley's condition was diagnosed when he was a toddler, England said. But she was frustrated, she said, and in the past few weeks it has been really tough controlling Riley's behavior.
So what happened next was just what the family needed.
As their waitress was delivering food to the family's table, England noticed another waitress, Tonya Griffin, walk up with a few tears in her eyes. She passed along a message from another customer that the England family says they will never forget.
Griffin told the family, "your meal's been paid for and he wanted me to give you this note." The note written on a customer's order slip read, "God only gives special children to special people."
England told CNN the gesture was really needed and it made her cry. "I just broke down, the past month has just been so hard."
She added, "To have someone do that small act towards us shows that some people absolutely understand what we are going through and how hard it is to face the public sometimes. They made me cry, blessed me more than they know - I felt like out of all the rude negative comments that we are faced with - these outweighs them. The people who care. He just doesn't know what we've been going through and how much it was needed at the moment."
---
Sources: KITV.com, CNN WSMV.com | Image: KITV
Please consider
making a donation
to
Sunny Skyz
and help our mission to make the world a better place.
Click Here For The Most Popular On Sunny Skyz
LIKE US ON FACEBOOK!