Toddler Hugs Pizza Delivery Man Who Just Lost His Daughter
February 27, 2020
A pizza delivery man in Rhode Island received an unexpected hug at a time he needed it most.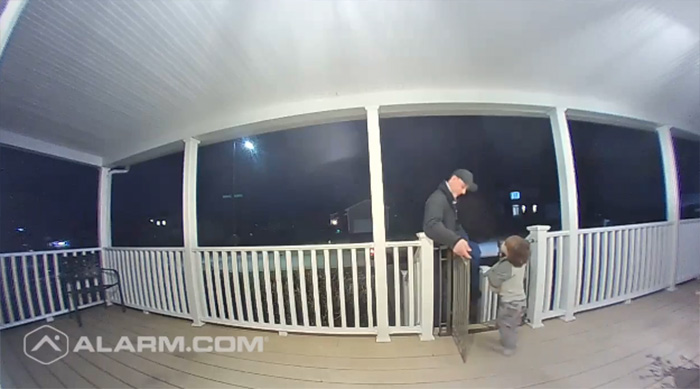 On February 15, Lindsey Sheely ordered delivery from Wicked Good Pizza in West Warwick. After paying for the food, her 2-year-old son Cohen ran outside to say goodbye.
"Last night when we got our pizza (and ranch) delivered, Cohen ran out to hug the delivery guy and tried to give him a kiss, too! We thought it was so sweet and funny, then realized that our doorbell might have caught the interaction on camera, and it did!" Sheely wrote on Facebook.
The day after she posted the heartwarming video, Sheely received a personal message from the pizza delivery man, Ryan Catterson.
When Catterson, who saw the video through a mutual friend, asked if he could share it on Facebook, Sheely visited his profile. She discovered a GoFundme page for the funeral expenses of his 16-year-old daughter Alyssa, who passed away unexpectedly a week ago.
"Little did we know what Cohen's hug to this stranger would mean," Sheely wrote in an update. "Someone showed Ryan the video I posted to my IG, so he messaged me, and I found him on FB so he could share the video. Through this, we found out that Ryan unexpectedly lost his daughter recently, and that hug from Cohen was a little blessing from God. I believe in divine appointments and know that Ryan was the one to deliver our pizza for a reason."
Catterson, 38, told NBC 10 how much that hug meant to him.
"It was the perfect timing for it, I had been telling my kids and the whole family how much I needed hugs before they came and then that sweet little boy gave me one," he said. "It was almost as if the universe or my daughter had known and sent it to me."
Catterson continued, "We get really caught up in the fast pace of life, and I think sometimes that causes us to lose sight of what actually matters, which is mental wellbeing. You never know when the last time you see someone you love will be, so I hope tonight every parent out there takes a few minutes to explain to their children how much they love them. Hug them a little tighter than usual, talk to them about their feelings, and teach them how to deal with pain in healthy ways."
Watch the video below.
Please consider
making a donation
to
Sunny Skyz
and help our mission to make the world a better place.
Click Here For The Most Popular On Sunny Skyz
LIKE US ON FACEBOOK!