This Veterinarian Wanders the California Coast Treating Homeless People's Pets For Free
February 25, 2020
Dr. Kwane Stewart has been a veterinarian in California for over 20 years.
But for the past few years, he's been passionately motivated to impact the lives of homeless pets and their owners.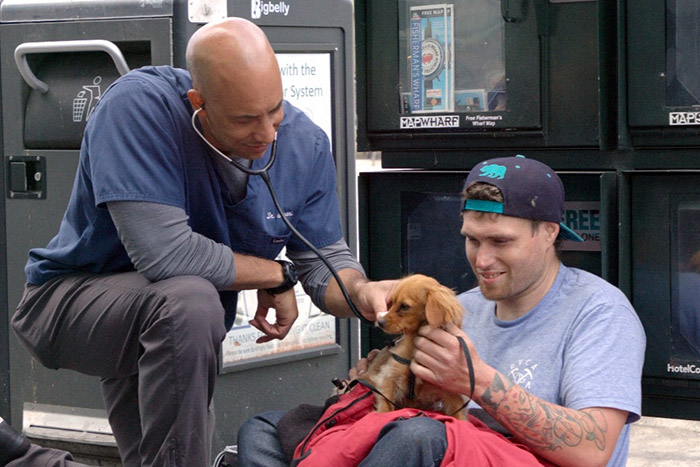 Nine years ago, Stewart spent an afternoon offering medical care to the pets of people experiencing homelessness in Modesto.
During this experience, he learned that these animals provided more than companionship to their owners — they also offered love, hope, and security.
"About 25% of our homeless population own a pet, and I knew that if I set up a table at a soup kitchen I could help a small group of animals," he said. "So that's what I did. I called over anyone who was holding their pet and told them I'd take a look and vaccinate or treat their pet if I could."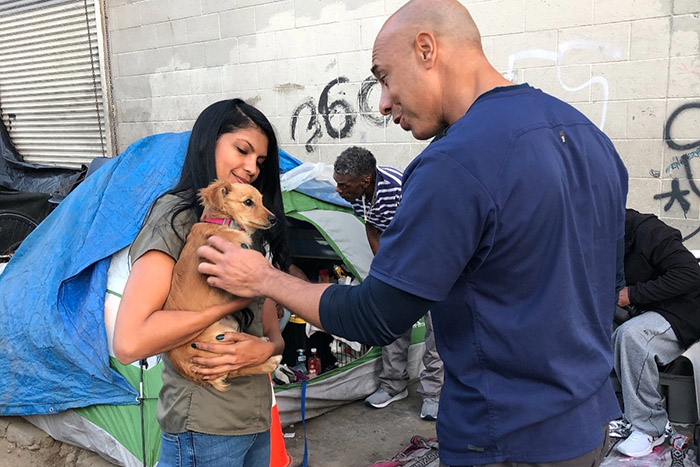 After examining more than a dozen animals on that first day, he realized there was a need for this type of medical care in his community. What started as a few hours of volunteer work slowly became part of his regular routine.
"That first experience was one of the most rewarding moments for me," said Stewart. "When you give back, there is something you get in return that feels much larger. I knew I wanted to keep doing it."
He has since devoted his free time traveling up and down the California coast, wandering through the city streets so he can treat homeless people's pets.
But paying for vaccines and other medications out of pocket can get expensive, especially if the animal needed surgery. So, he launched a GoFundMe page to raise money for his mission.
"I don't ever want to have to turn anybody away," he said. "The look on people's faces when they get their pets back, especially after a surgery or a life-saving procedure — those are moments I'll remember forever."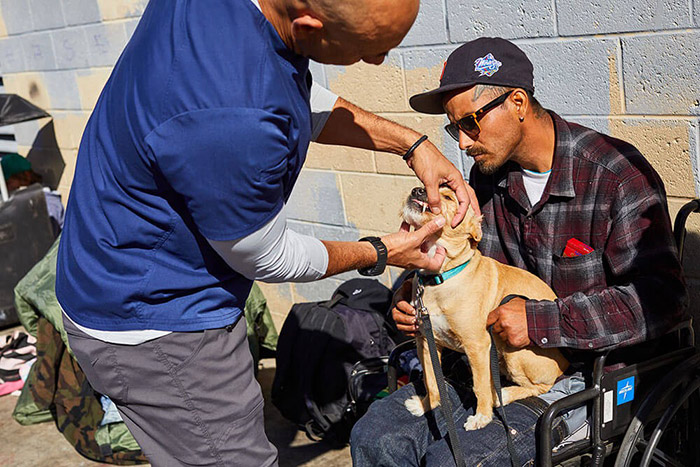 Stewart was officially named the GoFundMe Hero of February.
He has helped heal more than 400 homeless pets and hopes to continue spreading empathy and awareness around homelessness through his work on the street. He also hopes his mission will encourage other veterinarians to volunteer their time and expertise to help those in need.
"Anyone has the power to help. You can volunteer at a rescue shelter. You can donate money or time. As that generosity spreads, it helps fuel the positive energy in the world."
Watch the video below.
Please consider
making a donation
to
Sunny Skyz
and help our mission to make the world a better place.