Once Homeless Medical School Student Hopes To Help Those In Need
August 27, 2013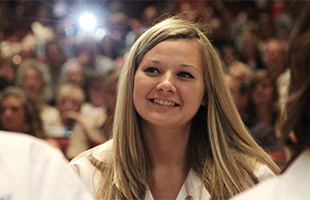 As Kayla Kinker stood onstage and put on her white coat, her induction into the medical profession put Kinker one step closer to her goal of helping people who are struggling. She can relate because six years ago she was living in a homeless shelter.
Kinker, 24, began her first year of medical school at the University of Kentucky two weeks ago. Her journey hasn't been easy, but she's willing to share the story if it will help inspire others, especially teenagers who might not have a place to sleep or clean clothes to wear.
"Whatever I wanted to do, I had to make it happen for myself," said Kinker, a 2007 graduate of Covington Holmes High School. "No one was going to hold my hand to make it happen."
She spent her high school years jumping from apartment to apartment, from friends' couches to family members' homes. She estimates she moved 17 times.
"I felt like I was the adult in the household, taking care of everyone," Kinker said.
She often lived in a one-bedroom apartment with her mother and brother, and strangers came and went, she said. They were mostly men who were friends of her older brother, said Alan Kees, Kinker's uncle.
Drugs also came in and out of the house, and Kees said it wasn't a safe environment for a high school girl. Kinker lived with him multiple times over the years, he said, but often had difficulty getting to school because he lived farther away.
The summer after eighth grade, when she was 14, Kinker began working to support herself. But she couldn't keep anything valuable in her home out of fear it would be stolen, she said. When she would hide food, someone would always find it.
Kinker rarely had clean clothes — there was no washing machine where she lived, and she couldn't drive to a laundry because the family didn't have a car. She couldn't charge her school-issued computer because often there was no electricity.
Kinker said both of her parents, who are separated, did the best they could and always encouraged her to be the best she can be.
"Instead of her mom asking for help, she didn't ask and tried to survive," Kees said of his sister, who is Kinker's mother. "Her mom's always been proud of her. She's just had a tough time supporting her."
Kinker said she didn't fit the stereotype of a homeless person. In high school, she was a cheerleader and acted in school plays. She earned good grades in the International Baccalaureate program.
"If I had spent too much time at home, I would have accepted that reality as my future," she said.
In fall 2006, Kinker came to a point when she had to make a decision: keep up her grades or drop out of school and get a full-time job. She decided to move out of her mother's house for good and into Welcome House, a Northern Kentucky homeless shelter for individuals and families.
"Moving into the Welcome House gave her stability that she had not had," said Jan Ferguson, a retired teacher who has known Kinker since Kinker was a junior in high school. Jan Ferguson's husband, Lenny Ferguson, was one of Kinker's teachers at Holmes High School.
The Fergusons became close with Kinker after they realized she couldn't afford a class ring, Lenny Ferguson said. The Fergusons decided to buy Kinker a ring, which was the start of their relationship.
"She just seems to have that extra little push," Lenny Ferguson said. During his 33 years as a teacher, he said, he hadn't had another student who was as highly motivated as Kinker.
The Fergusons also were there to help her move into her dorm at Berea College in 2007 and have a normal college experience.
"The Kayla that stepped on this campus as a freshman to the one that graduated came a long, long way," said Ron Rosen, a biology professor at Berea. He taught Kinker multiple times and got to know her while she was a laboratory teaching assistant.
Kinker graduated from Berea College in 2011 with a degree in biology. She spent her summers participating in research and medical programs at UK and Vanderbilt. Most recently, she worked as a research assistant at Cincinnati Children's Hospital Medical Center.
In May, Kinker married Dominic Suma, 24, and they enrolled in medical school together.
Both are a part of the Rural Physician Leadership Program, which will train them how to best serve rural regions of Kentucky. They will spend their last two years of medical school working through Morehead State University to get hands-on experience with rural residents who have limited access to medical care.
One day, Kinker said, she would like to open a community health center, perhaps in Kentucky, but would go anywhere she was needed.
She hopes that with her experiences — at one point, Kinker said, she didn't have access to a doctor or dentist — she'll be able to relate better to her patients.
"She does try to inspire those kids who are struggling and don't have a supportive family," Jan Ferguson said. "Her message is always you can do anything you put your mind to."
---
Source: Kentucky.com, By Rachel Aretakis | Image: PABLO ALCALA — Herald-Leader
Please consider
making a donation
to
Sunny Skyz
and help our mission to make the world a better place.