Marine Myles Kerr becomes internet sensation after intentionally losing race to support boy
August 1, 2013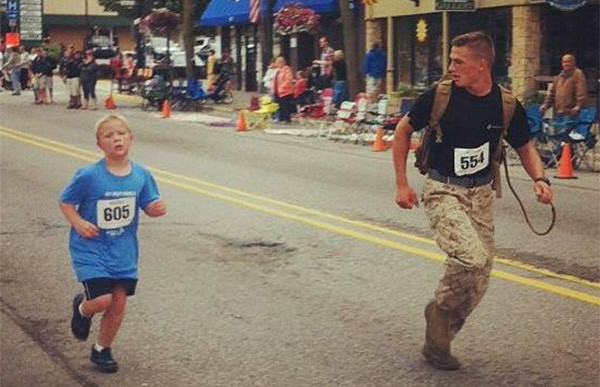 A young Marine is showing us that nice guys really do finish last.
While running in The Jeff Drench Memorial 5K in Charlevoix, Mich., Lance Cpl. Myles Kerr stopped to help out a young boy struggling to finish the race. Kerr, 19, put aside his ambition to beat his fellow Marines and instead helped motivate 9 year-old Brandon Fuchs, who lost his party during the race, to make it to the finish line.
According to the 5K results online, the Marine ended up with the slowest time in his age group.
Now, thousands of social media users are now celebrating his act of kindness after Seals Of Honor, a Facebook group commemorating the life of Navy Lt. Michael P. Murphy who died fighting in Afghanistan, posted a photo of Kerr and Fuchs running together.
For the 5k at the Venetian Festival in Charlevoix, Lcpl Kerr opted to run the event wearing boots and utes and carrying a ruck sack. Several minutes after the other Marines he was with had finished, Lcpl Kerr still had not crossed the line. They feared his extreme level of motivation may have caused him injury and/or fatigue resulting in him dropping out of the race. Moments before they ran back through the course to recover their fellow Marine, Lcpl Kerr came around the last turn along with this small boy. The boy had become separated from those who he had started the race with. He asked Lcpl Kerr, "Sir? Will you please run with me?". Throughout the course, Lcpl Kerr urged him on when the boy wanted to give up and ensured that the boy saw the course to completion where he was reunited with his party. By his unwavering commitment to help those in need through his ability to inspire others by his unequivocal level of motivation, Lcpl Kerr reflected great credit upon himself and was keeping in the highest traditions of the United States Marine Corps.
---
Source: Huffington Post | Image: Facebook
Please consider
making a donation
to
Sunny Skyz
and help our mission to make the world a better place.