Divorced Couple's Viral Christmas Proposal Is Touching Hearts Around The World
December 27, 2017
Jeffrey Agan Sr., 52, and Lorrie Agan, 51, of Bowling Green, Ohio, were first married in 1989. They had eight children together before divorcing in 2014.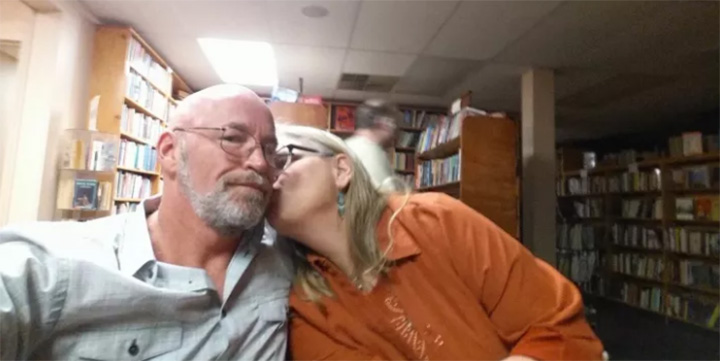 Jeffrey and Lorrie
The two spent the next couple of years reflecting and working on themselves.
For Lorrie, that meant a spiritual path that included a visit to a Native American sweat lodge. Jeffrey, a former truck driver before going back to school for nursing, discovered poetry as an outlet for some personal mental health issues he wanted to tackle.
"They fought, separated, divorced, and it tore the family apart," their 21-year-old son, Jeffrey Agan Jr. said. "Each of us felt like we had to cope with the destruction in different ways, and on our own."
Three years later they started talking again - and then dating again.
On Dec. 22, 2017, Jeffrey Sr. presented Lorrie with a poem that he wrote and then printed out and had framed for her as a Christmas gift.
"He looked really nervous. I thought, 'I know what you're doing dad,'" Jeffrey Jr. said.
So he grabbed his phone quickly to capture the moment.
My parents were married for more than 20 years, divorced, fought a lot, went to work on themselves. Years later, they start dating and as of yesterday, this happened;

Congrats Mom and Dad! True love always finds its way back around. pic.twitter.com/KYk3qc1QK4

— Jeffrey (@Music1996Man) December 24, 2017
The family didn't realize how much it would resonate with others. The video has been watched more than 10 million times.
"So many people are going through painful experiences," Jeffrey Jr. told TODAY. "So, I think what's touched so many people about this video is there's definite proof with this video that true love exists."
Please consider
making a donation
to
Sunny Skyz
and help our mission to make the world a better place.