Newborn Baby Placed Inside Safe Haven Baby Box At Fire Station
November 13, 2017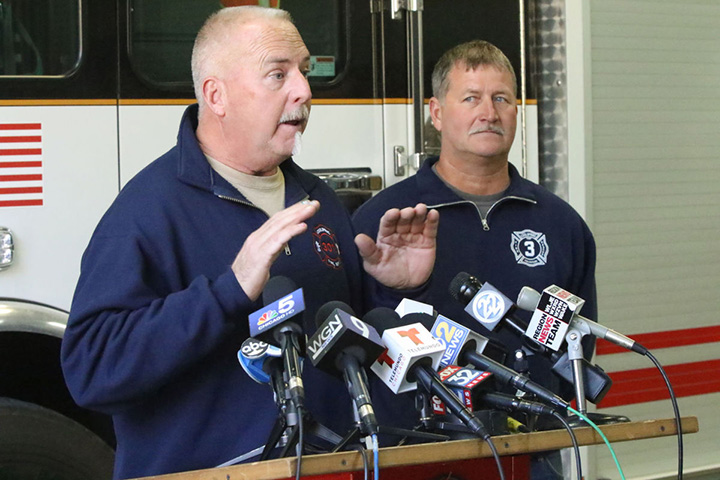 Credit: John J. Watkins / NWItimes.com / The Times
An abandoned newborn baby came as a surprise to Michigan City firefighters expecting a prank, The Times reports.
Coolspring Township Volunteer Fire Chief Mick Pawlik was alerted Tuesday night of activity at the department's Safe Haven Baby Box. He assumed it was someone carrying out a prank.
But as he peeked through holes in the the box, which is mounted in the wall at the station just southeast of Michigan City, his heart began to race.
"I can see this sweatshirt and I seen a little bitty arm," he said. "I opened it up and that baby just looked me right in the eyes."
It is the first time a baby was dropped off in one of the two boxes installed in Indiana.
Medics arrived to recover the baby who appeared to be no more than an hour old.
"The umbilical cord was still on," Pawlik said. "The baby was not cleaned up yet."
The 7-pound baby girl was taken by ambulance to the hospital and appears to be healthy and in good condition, county police said. The child is reportedly in the care of the Indiana Department of Child Services.
Monica Kelsey, who created the Safe Haven Baby Box, said "My heart is full for this little girl that is going to go on with her life. My heart hurts for this mom as well."
The Safe Haven Baby Box is designed to silently contact 911 when it is opened, she said. Motion sensors contact 911 a second time when the baby is placed inside, and the person leaving the baby is given a third option of pushing a button to contact emergency officials.
The drawer is heated to keep the baby warm and can only be opened from inside the building once it is closed with the baby inside.
Kelsey, who works as a volunteer firefighter and medic, said she came up with the idea for the box after seeing similar versions while giving pro-life talks in South Africa. While state law allows babies to be legally surrendered to officials at hospitals, and fire and police stations, Kelsey argued that a case of a baby dying after being left outside an Indianapolis hospital shows the need for a more anonymous alternative.
"Why did this mother not just walk in and hand this child over?" she asked. "It's very clear — she did not want her face to be seen."
Pawlik, who praised the decision to drop the baby off in the safe box, said there are no cameras at the site to identify who visits.
"That box is not there to judge people," he said. "She stepped up to the plate and did the right thing."
Please consider
making a donation
to
Sunny Skyz
and help our mission to make the world a better place.
Click Here For The Most Popular On Sunny Skyz
LIKE US ON FACEBOOK!