She's Upset She Didn't Get To Ask Tom Hanks A Question, Then Her Friend Asks One She'll Never Forget
November 8, 2017
Nikki Young is Tom Hanks' biggest fan. She has followed his career since 1982 when she first saw "Bosom Buddies". When Nikki finally got close enough to meet him at a book festival in Texas, she was devastated that she did not get selected to ask him a question.
She had no idea that the event would become "the greatest moment of my life."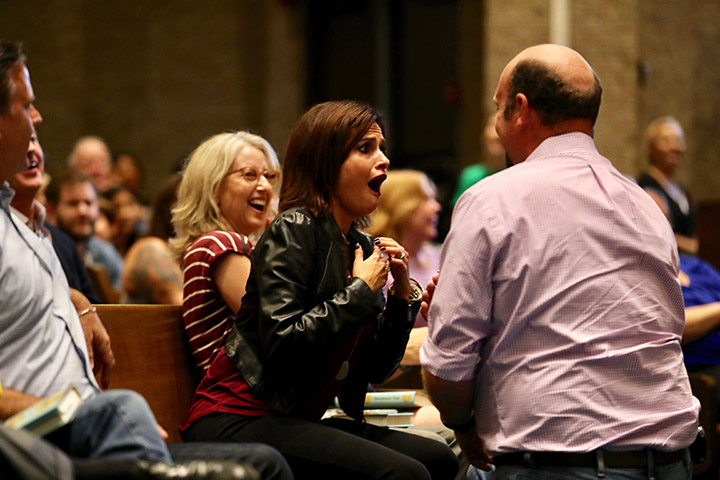 Credit: Texas Book Festival
Nikki shared the touching story on Facebook:
"I have been a fan of Tom Hanks since 1982 when I first saw Bosom Buddies. I followed his career and loved, laughed, cried, and sighed at every movie, every TV appearance, every skit, and more. He was my happy place. Following the incredible reading of Tom Hanks' book 'Uncommon Type' there was a Q&A session. I immediately turned into a bratty child. Pouting because I didn't get to submit a question; I mumbled under my breath to Ryan. He just held my hand and caressed it to calm me down in his usual loving and supportive way, reminding me that Tom Hanks was literally less than 10 feet away from me.
I appreciated the love, but was still pouting—disappointed that I was not one of the lucky people who got to ask a question. A question that I spent years preparing for, role playing with my mother: 'If you got to work with Tom Hanks on a movie or meet him at a party, what would you say?' Over the years, the questions evolved from fan stuff: 'Do you still know the piano dance number from big?'; to more acting craft related: 'What was it like working with Jackie Gleason' So, I was truly disappointed in missing this well-prepared moment.
What happened next, I was not prepared for, but can honestly say has been the greatest moment of my life! I went from disappointment to shock to ugly tears in 10 seconds flat —but, all tears of joy. The man who makes my heart smile presented me with a ring and asked me to marry him. I said yes, of course! Then, the man who has been my happy place for years hugged me and congratulated me and later, even gave me a flower. I got to live a real romantic comedy moment with my love, Ryan McFarling, co-starring Tom Hanks! Talk about true love! To quote Sleepless in Seattle, 'It was a million tiny little things that, when you added them all up, they meant we're supposed to be together."
Watch the video below!
Please consider
making a donation
to
Sunny Skyz
and help our mission to make the world a better place.
Click Here For The Most Popular On Sunny Skyz
LIKE US ON FACEBOOK!