Man celebrates 65th birthday with 65 random acts of kindness
July 16, 2012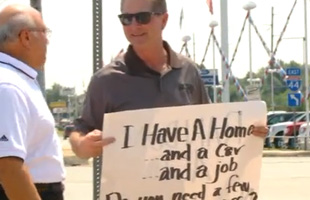 Doug Eaten wanted ideas on how to celebrate his 65th birthday so he decided to ask his friends on facebook. After receiving a long list of ideas, Doug chose one that will change his birthday celebrations for the rest of his life.
He picked "Why don't you do 65 random acts of kindness?" So that is exactly what he did.
He spent 65 minutes on the side of a busy intersection near his home in Oklahoma City holding a sign that said...
"I have a home, and a car, and a job. Do you need a few bucks for some coffee?"
According to his facebook post, he handed out $375 to passing vehicles. Some people took the money with a smile while others refused but thanked him for what he was doing. The reactions were priceless. It confused many motorists because it's often people asking for money when they stand with signs on the side of a road.
One car even drove by a second time to return the favor and handed Doug money. The exchange was what Doug called, "trading blessings".
"This day has been one of the biggest blessings of my recent life," Doug posted on Facebook. "I don't know if I can wait until another birthday to do this again. But what if it became a habit? Or what if everyone or a lot of people did their birthday number of random acts of kindness on their birthday? How good would that be?"
A local news station heard about what was happening and quickly rushed to the scene. They got an interview with the inspirational birthday boy! Check it out below...
Please consider
making a donation
to
Sunny Skyz
and help our mission to make the world a better place.
Click Here For The Most Popular On Sunny Skyz
LIKE US ON FACEBOOK!