Cancer Won't Take My Dad
By Whatkatetoldme.com • June 18, 2014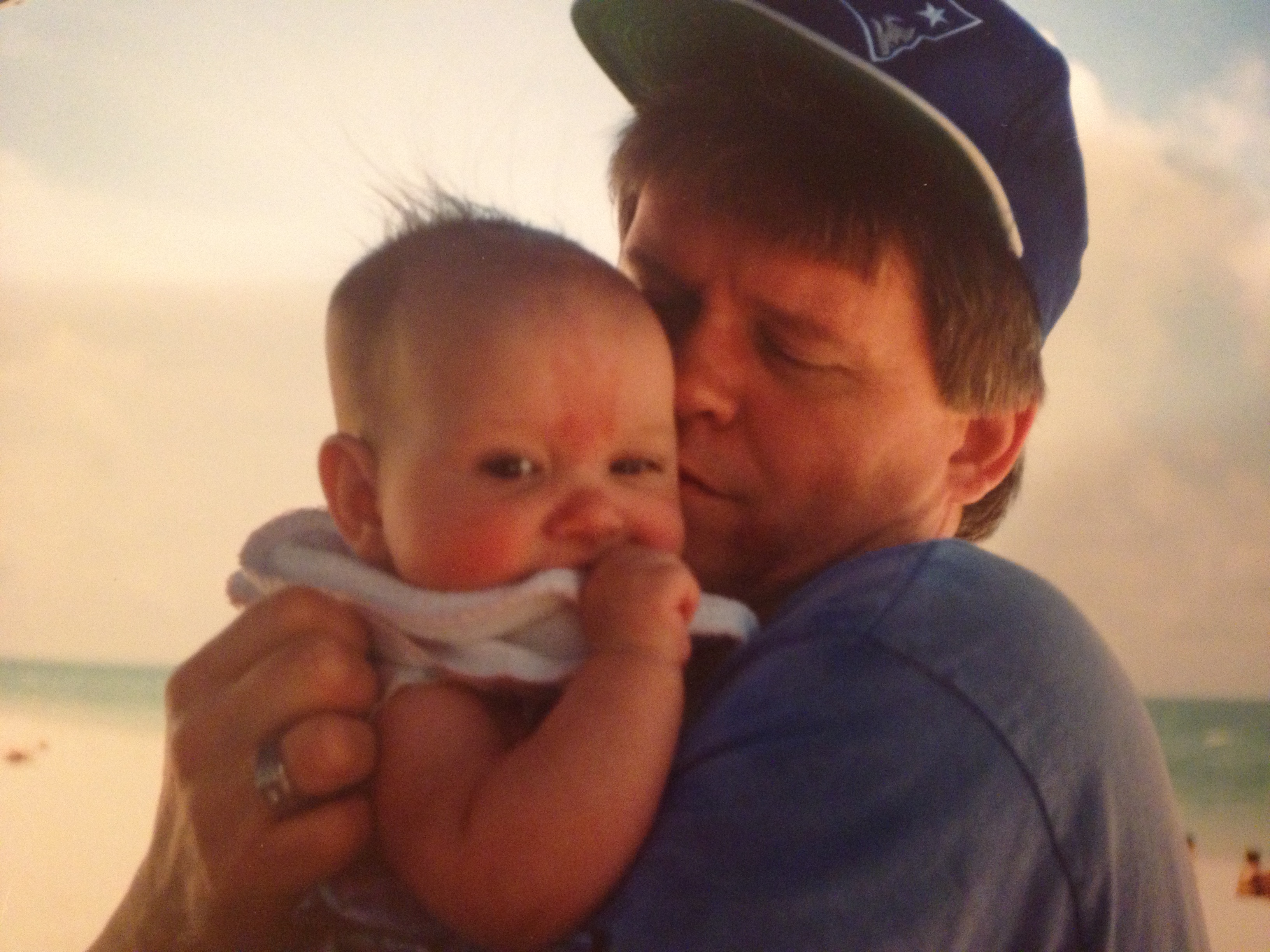 Cancer can take a lot of things. It can take your hope, your strength, or your belief in good. It can take your hair.
Cancer, melanoma to be specific, took some of the skin on my father's back. Later, cancer would take half of my dad's thyroid, then the whole thing. Cancer came a third time to take a patch of skin on the side of his head. But cancer is malicious and selfish. Cancer just came a fourth time to take more of my dad.
My father, Rich (or "Dickie" as my mother fondly calls him), did not grow up to the smooth sounds of Frank Sinatra and Barry White like I did. He wasn't woken up by a fresh mug of coffee or gluten-free chocolate chip pancakes.
My dad was one of five children: three brothers and a sister. When my dad was a few months old, his oldest brother Danny drowned in the Charles River in Boston. His sister, Evelyn, was seven at the time. Evelyn had a life-threatening form of scoliosis and would grow up to experience more brushes with death than the amount of brushes in her art studio. But like my dad, Evelyn is strong. This past April, Evelyn had the esteemed honor of presenting a TED Talks speech. To this day, Evelyn remains one of the most enlightened, spiritual, and ethereal people I know. Shortly after Danny's death, my father's youngest brother Kenneth was born. Kenneth is intellectually impaired (or "retarded" for those morally impaired). My father's childhood had more whiskey bottles than coffee mugs, more belts than hugs. But like his older sister, my father is strong.
So what did my dad do to deserve cancer? What does anyone do to deserve cancer? Why do the medical bills have to be so astronomical? Over the past five years, my dad has been diagnosed with cancer three times. Four times altogether. Each time I have found myself wondering Why him? Why my dad? I continuously catch myself feeling sorry and sad for my family's situation then immediately feel guilty for throwing myself a pity party. Stop listening to Nora Jones and feeling sorry for yourself my inner voice will scold.
My inner voice is right. Solemnly staring out a rainy window as if I were a character on Pretty Little Liars won't make my dad's cancer scars disappear. Listening to Nora Jones and feeling sorry for myself won't give my dad his thyroid back. But it's hard and it's scary. It's hard when people comment on my ivory complexion or ask me what the hell I'm doing when I apply 80+ SPF sunscreen at the beach. Don't you want a tan? My sun-kissed friends stare at me, a perplexed look plastered on their bronze faces. Am I supposed to say I can't? I'm not allowed? "My dad had cancer four times," seems as though it would put a damper on the light party conversation. If my mom had her way, I would be wearing a specially-made, sunscreen-infused t-shirt at every pool party and beach day.
But I was taught never to fear the sun. My father is the strongest man I know despite all he has gone through. He's lived the life and experienced the tragedy of a dozen men but there is always a smile on his sunscreened face.
As I sit outside (in the shade) writing this post, my father plays Barry White on the old Bose speaker and sips a Diet Coke. Cancer took some of my dad's skin and cancer took my dad's thyroid. But cancer won't take my daddy.
PREVIOUS STORY NEXT STORY SHARE YOUR STORY
Please consider
making a donation
to
Sunny Skyz
and help our mission to make the world a better place.
Click Here For The Most Popular On Sunny Skyz
LIKE US ON FACEBOOK!