The Treasure Guards
By Sree Hari • February 23, 2014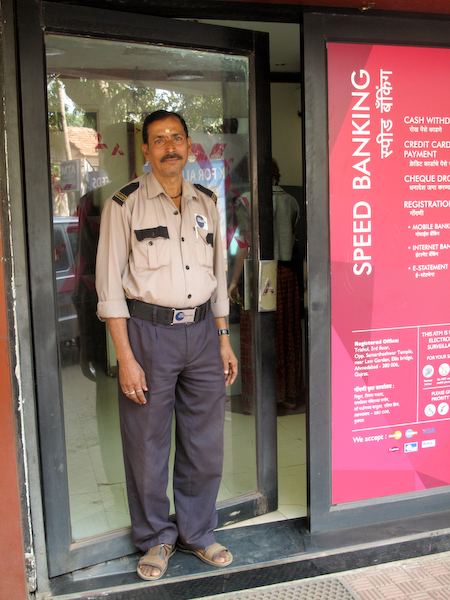 We all grew up listening to various tales about expeditions to unearth hidden treasures. The brave treasure-hunters had to cross daunting seas, fend off hideous monsters and make a lot of sacrifices just to get to the treasure trove. But in order to attain it, they had to face their wildest nightmare- the treasure guards. They were a group of fierce and brutal warriors whose only purpose was to prevent the treasure from falling into the wrong hands. Absolutely dedicated to their cause, they would readily give up their lives to protect the treasure.
No, I'm definitely not going to tell you another boring "once upon a time" fable. As the times have evolved, our perception of treasure in modern times has certainly become less glamorous. The fierce guardians have become non-existent. But we actually encounter treasure chests and the guards on a daily basis- we just don't notice- or rather- the lack of grandeur blinds us.
It was 4 pm on a fine Thursday when I left home. I had promised my cousin that I would pick him up from school at sharp 3:30 and take him to his favourite ice cream parlour. The first installment of my internship salary had been credited and I had been blackmailed by mom to donate the first 100 rupees as an offering in the nearby temple. I rushed to the ATM to take out cash and as I swung open the door, it hit the security guard. I mumbled a half-hearted apology, withdrew the amount and came out. As I was about to get on my bike, I noticed the blank expression on his face. I don't know what prompted me but I dismounted, went to him and asked "I am very sorry sir, Did it hurt?"
His reaction shocked me. He hugged me and started sobbing uncontrollably. After somehow managing to soothe and pry him away, I had a good look at him. His face was criss-crossed with wrinkles making him look terribly old. His frame was terribly lean, as though desperately needing a support. His uniform was dirty and he badly needed a clean-up.
I proceeded to ask him the reason for his tears. He replied, "So many people hit me accidentally and pass, many say sorry and pass by, it's the first time that someone has gotten out of his vehicle to apologise to me. I'm just used to being snubbed and ignored by people who come here."
"Why are you working even though you are so old?" was my shameless remark. He looked at me firmly in the eye and said, "I need to survive, son. I have a crippled daughter to look after. I used to be a driver but now my eyes are failing me and my reflexes are not so sharp. What other job will I get at this age?"
I probed further, "Who looks after your daughter when you are away?" The guard could hardly believe that I was taking so much interest in his case and meekly replied, "My last employers gifted her a wheelchair when I left them. She has learned to manage herself. But still I have to work 18 hrs a day, and God looks after her then."
I automatically took out the first 100 rupee note from my internship amount- I had promised to make an offering in the temple first before doing anything with the money- and put it into his pocket. He refused to accept it and tried to thrust it back into my hand. I told him categorically that I would not budge from that place till he accepted it. I told him that it was a gift of affection and that I would be severely offended by his refusal.
No one wins an argument with me. He finally resigned and accepted it. The amount must be more than his wage for the day. "I have guarded this treasure chest day and night for so many months, yet I have never got a single note from this. God bless you, I will buy a chocolate for my daughter with this and tell her that I met a gentleman today."
None of the lines that I've read on economic equality and class struggles by Lenin, Guevara, Marx or Engels came to my mind then. Just the flashing image of my dad who still works post-retirement for the sake of his only son.
I immediately touched the guard's feet, his efforts to stop me in vain. As I rose, I made mental notes to lie to my mom about having made the offering and to my cousin about the heavy traffic delaying me. And as I walked away, I made sure to hide the tear in my eye from his gaze.
PREVIOUS STORY NEXT STORY SHARE YOUR STORY
Please consider
making a donation
to
Sunny Skyz
and help our mission to make the world a better place.