My Grandma
By Rachel • March 14, 2022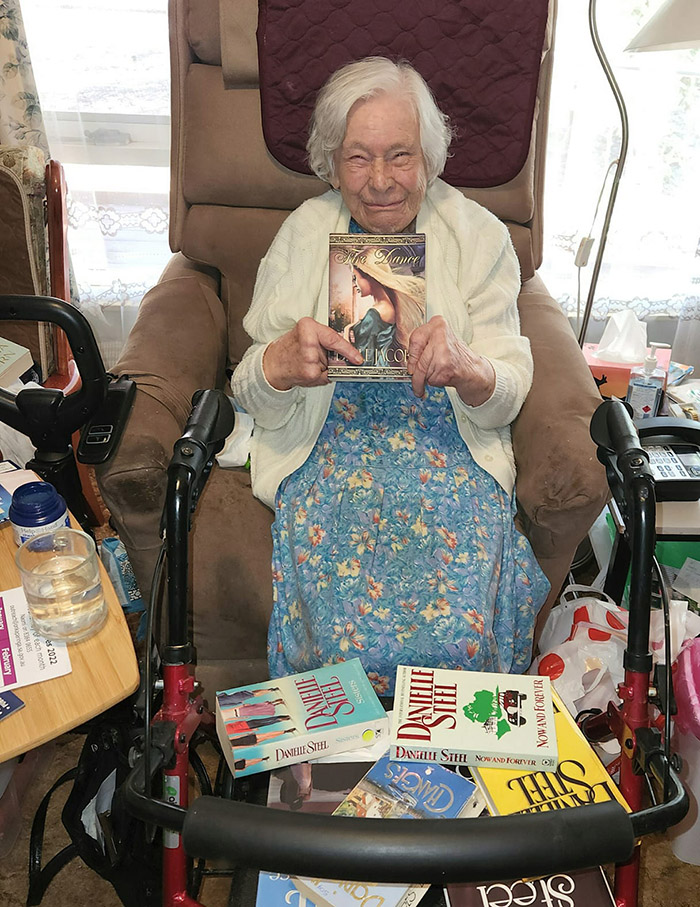 My Grandma is 95 years old, she still lives independently and happily at home....
She has looked after her body her whole life, never drank or smoked a day in her life.
I admire her for so many different things.
She appreciates the little things in life like having cups of tea, staying informed with everything that goes on in the world while sitting in her recliner chair but what she really loves to do is READ!! I remember one time she run out of books she read the Bible three times. Bless her heart.
Every Saturday l drive 70kms to spend the day with her, although she recieves in home help throughout the week. l bring Mum who plays the piano for Grandma and my three kids come also, they run around the home all day and bounce their balls in her driveway.
Grandma says the house comes to life every Saturday. Laughing her head off, she is always laughing. I race around trying to get some chores done, make Grandma's bed and make sure she has enough toilet paper and things while Grandma has her lunch and prepare some lunch for the kids, sandwiches and cake to keep in the fridge for Grandma for later.
Every few weeks l defrost her freezer while the kids squirt each other with the hose out the back and swing around on her clothes line. I try to turn a blind eye cringing while remembering what l was like at 7, 8 or 12 years old.
I give them jobs like taking the bins out or giving Grandma cups of tea.
I keep them busy going down the road to the local beach to burn off some energy.
Grandma says swimming is good for you as the kids give her a big hug goodbye.
Every month Grandma gets a delivery from the Library which she looks forward to very much, two big containers full of books, but she reads so much that l bring her books to read also, most have been Pay It Forward books because it makes Grandma smile. Grandma says that is good, because she passes them onto her friend who then passes them onto her friend.
There have been a few times l may have purchased a couple books when l couldn't find any others and told Grandma they were given to me when l knew she needed books. Besides her smile made it all worthwhile. You see, Grandma has been very good and respected money her whole life and she too raised three children alone, like me.
I've learnt so much from her.
So l try my best to show her Iam trying to be careful too and as we all know it feels so great just to be able to do something to be kind and to make someone else smile for free!!
I have so much to be thankful for, helping her is my greatest privilege.
She tells me she would be lost without me but the truth is l would be so lost without her.
PREVIOUS STORY NEXT STORY SHARE YOUR STORY
Please consider
making a donation
to
Sunny Skyz
and help our mission to make the world a better place.