Young Man Helps Grandpa Fix His Trimmer At Home Depot
By Kiana Vincent • August 16, 2018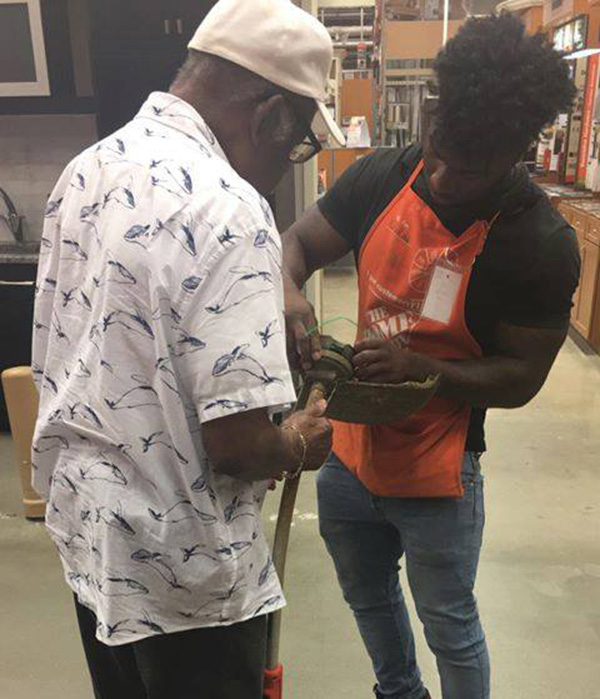 I wanted to share a great story about a young man who went out of his way to help my 83 year old grandfather.
We came to Home Depot (Rhode Island Ave. DC) to replace the spool feed for his trimmer.
We came across QuRan where he showed my grandfather which feed he would need.
We then paid for the feed and proceeded to go to the lawn services kiosk. An employee informed us that the one person who was able to install the feed wouldn't be available for an hour, due to him being on his lunch break.
My grandfather and I were about to leave the store when QuRan stopped us and asked if we needed help. I explained to him that no one was able to help install the new feed for my grandfather's trimmer.
QuRan then insisted that he could help us with our problem.
I'm pretty sure he had other things to do, but he stopped and decided to install the feed and show my grandfather how to do it, step by step.
He was patient when my grandfather asked questions and not once did he get frustrated.
My grandfather asked if he could help him with anything, but he declined and kindly walked off.
Today I wanted to show everyone how awesome QuRan was!
I wanted to make sure he got the recognition that he deserved!
PREVIOUS STORY NEXT STORY SHARE YOUR STORY
Please consider
making a donation
to
Sunny Skyz
and help our mission to make the world a better place.