Turning The Impossible To Possible!
By Derrik Amaral • January 13, 2018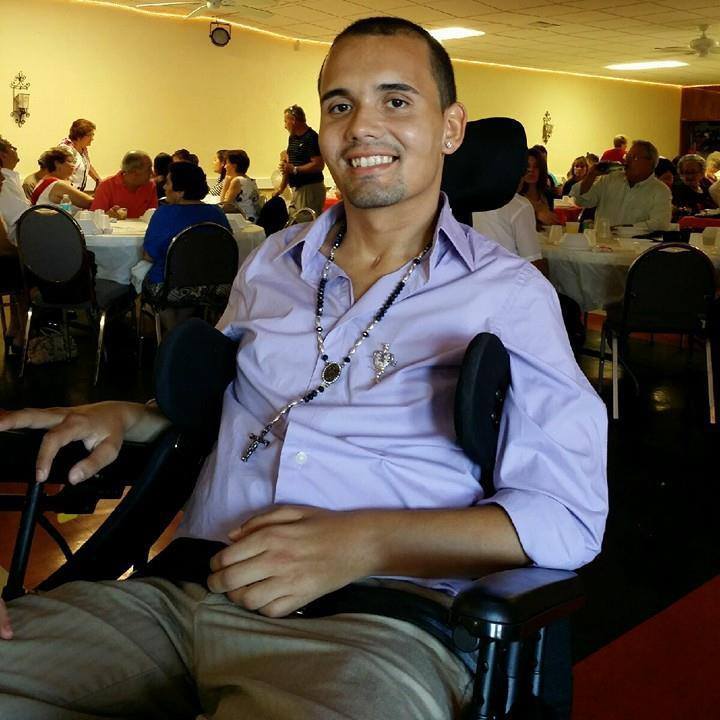 October 31st, 2013 was not just another Halloween for me. While heading back from my break to Oak Hill Hospital in Brooksville, Florida, a vehicle struck my brand new car from behind, a blow that sent me spinning into the busy intersection. The same car barreled into me three more times and amidst the twisted metal and shattered glass I found myself in the back seat of my vehicle and I kept telling myself to wake up. I fought hard to open my eyes for a second. I had lost consciousness. I don't even remember paramedics taking me out of the wreck. It was a miracle I was even alive. Just four days after my 29th birthday here I was about to start the biggest fight of my life.
The paramedics had determined the situation was grave and took me to a trauma unit. I didn't understand what had happened and I thought this was just going to be a "Band-Aid job". I arrived at the hospital with not a scratch or drop of blood on me. My parents were notified of my accident that very early morning and arrived shortly after. I'll never forget my mom telling me everything was going to be okay. Doctors took us into a room and revealed the worst news anybody would ever want to hear. X-Rays and scans showed the horrific damage, my neck was fractured in multiple places from c4, c5, c6, and c7. My neck was hanging by a thread, three centimeters to be exact. I had to be taken into surgery immediately and the surgery lasted twelve hours, my neck had to fused by titanium rods and screws. I woke up from the surgery not being able to breathe on my own. I was surrounded by family but couldn't speak. I couldn't move a finger or toe. I was paralyzed on all four limbs. Doctors concluded I was now a quadriplegic and had told us I was not going to move anything from my neck down.
My family stayed by my side day and night. They prayed for me and even though I couldn't speak I felt my heart in my throat and could feel that same feeling coming from family and friends. I laid in that bed in the intensive care unit for three months, but not one second was I ever alone. I wasn't mad at anyone, I wasn't mad at God, I wasn't mad at the driver who rammed into to my car. I never got an apology but I had to forgive. It was the first thing I had to do to move forward. It took some time but the respiratory team got me to speak and slowly breathe on my own. Without the ventilator it would feel like I was drowning in a pool of water. I had to relearn how to breathe on my own again, one second would turn into five seconds. My first question I asked my doctors was if I was ever going to be able to walk again. The answer was crystal clear and that answer was no. I had a hard time accepting that and wanted to give up. My family never allowed me to give up or quit. No matter how hard or difficult it was they stood strong by my side.
After three months in the intensive care unit, I spent another three months at Brooks Rehabilitation, a neuro recovery hospital in Jacksonville, Fl. I practically had lost every muscle and was very weak. It was at the rehab I saw a glimpse of hope and was inspired by other patients with spinal cord injuries. I also heard many stories of heartbreak. I was blessed to have my family to keep pushing me in my therapy. The first year was slow and I didn't see much progress in therapy. My head felt like a bowling ball and I couldn't hold it up. My blood pressure would drop in a heartbeat. Any idea of walking or even standing was out of the question but we sure did try. I never had imagined spending Christmas and the New Year in a hospital. I watched fireworks ring in the new year from the hospital room window as I laid in bed unable to move or do much but breathe.
Six months after my car accident I was finally given the green light to return home. However, that's when the reality of the situation became clear to me. I had realized my life was now so different, unable to use a phone or a TV remote and unable to feed or bathe myself. I couldn't grip on to anything, a fork or spoon was too heavy to pick up. I had lost my entire independence and now had to rely on others for any help. The tables had turned from taking care of people for twelve years as a nurse assistant to now having people take care of me. It was difficult I cried so much I could fill up buckets with tears. I had dark days, I didn't want anything to do with this new life. I had no choice but to accept it. No matter how difficult things were I never gave up on my faith. I prayed for courage and strength. Shortly after returning home I could finally wiggle a toe and scratch my nose. It was significant moments I'll never forget. The little things we take for granted so often matter the most. Small victories are huge and important leaps. In these past few years I've made progress in my recovery. I had to learn to be patient with myself, to enjoy every moment going forward. I was determined to walk again. Giving up was no longer an option. I fought hard in my recovery and still do to this day. Every day, I wake up and I thank God for another chance in this life. I'm now moving my legs and arms on my own, doing things like working out in a gym, swimming, yoga, pilates, and acupuncture. All of this is proving doctors wrong and turning the page from the impossible to the possible. I'm currently working to further my independence and mobility. This event has been entirely life-changing for me, and every day I am striving to improve my health, quality of life, strength, and hopeful recovery from paralysis. My unwavering faith, supportive family, friends, and team motivate me to continue to work harder. I believe that this obstacle is an opportunity to grow, become stronger, and keep on fighting to hopefully inspire someone else not to give up. Never give up on faith. Never give up on hope.
I am forever BLESSED and GRATEFUL, to everyone who has been part of my journey. Thank you to everyone who has been supportive since day one, especially to those who haven't given up on me, and to those who have prayed for me and my family. I'll never forget all the doctors and nurses, and every physical and occupational therapist who have helped me. Thank you to all my trainers, and all those who have been part of my team. Also want to thank my loving parents, sister, nephews, grandparents, uncles, aunts, cousins, and friends for their incredible support and unconditional love.
Learn more about Derrik's journey on DerrickStrong.com
Derrik's story will air on Lifetime on the new tv series called "This Time Next Year" at 10pm/9c on January 16, 2018.
PREVIOUS STORY NEXT STORY SHARE YOUR STORY
Please consider
making a donation
to
Sunny Skyz
and help our mission to make the world a better place.