Patching Potholes
By Joseph J. Mazzella • April 2, 2015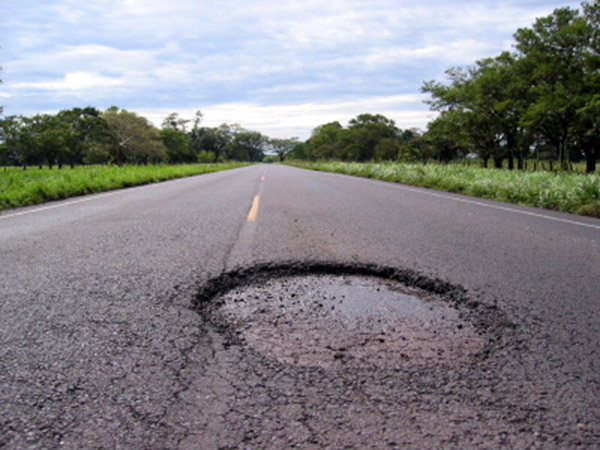 There is an old joke that I hear every Spring here in the mountains of my home. A police officer sees a car swerving erratically on the road ahead. After pulling the car over he walks up to question the driver. The man looks out his car window and says: "I know what you are thinking officer, but I am not drunk. I was just trying to miss all of those potholes."
That joke rang true to me today as I found myself swerving my own car whenever I could to miss the huge holes in the pavement caused by another rough Winter here. Sometimes, though, I couldn't swerve because of the traffic. When that happened I would hit the brakes but still ended up with a bone jarring thud every time my car hit the pothole.
The potholes we get on the road of life are often much worse than the potholes we find on the roads we drive. A pothole on the highway may cost you a flat tire or a piece of your car's tailpipe. A pothole in your life might jar you to the very center of your soul. I have hit more than my share of these over the years too. Poverty, pain, unemployment, sickness, my sons' Autism, and the deaths of my Mom, Nana, and Dad are just a few of the potholes I have hit hard in my journey through life. Yet, as much as it hurt going through them I somehow found myself growing stronger, kinder, more loving, and closer to God after each one.
None of us can completely avoid the potholes in this life. But with the help of God and each other we can all patch them as we go and make the way smoother for those who follow. Don't let the potholes wreck your life then. Become a pothole patcher instead. Fill the holes in your life with the love in your heart. Patch each one with prayer, faith, goodness, and God. Help others to fill theirs as well. And always remember that God didn't promise any of us an easy road through this life, but He did promise that one day He would lead us Home!
PREVIOUS STORY NEXT STORY SHARE YOUR STORY
Please consider
making a donation
to
Sunny Skyz
and help our mission to make the world a better place.