The 'Vampire Squirrel' Has The Fluffiest Tail Of All Mammals On Earth... And It's Absolutely Terrifying
August 31, 2015
The tufted ground squirrel, also referred to as a "vampire squirrel", can only be found in the dense rainforests of Borneo - a large island in Southeast Asia.
Few scientists have set eyes on this rare squirrel, though according to Native Dayak hunters in the hilly jungles of Borneo, these are killer squirrels that attack the jugular veins of their victims - usually small deer. Once the animal bleeds out, the squirrel feasts on the internal organs.
But let's get back to the fluffy stuff...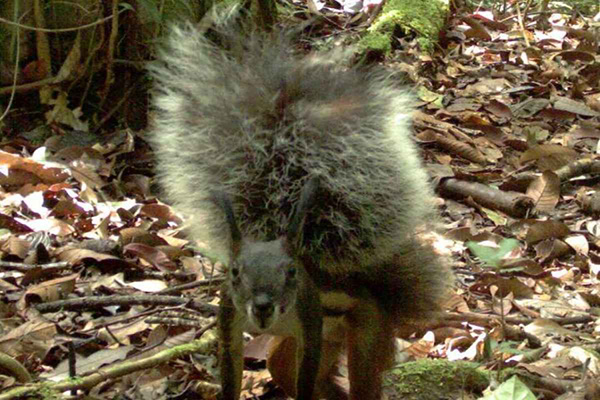 Integrated Conservation​
Over the past several years, a family of researchers - Erik Meijaard of People and Nature Consulting International in Jakarta, remote sensing scientist Rona Dennis, and their daughter Emily Mae Meijaard of the British International School-Jakarta - have collected several camera trap photos of the tufted ground squirrel.
After measuring the tails and bodies of the individuals in the pictures from motion-activated cameras, the trio came to an incredible conclusion: the tufted ground squirrel has the fluffiest tail of any mammal relative to its body size.
In fact, its tail is 130% the size of its own body!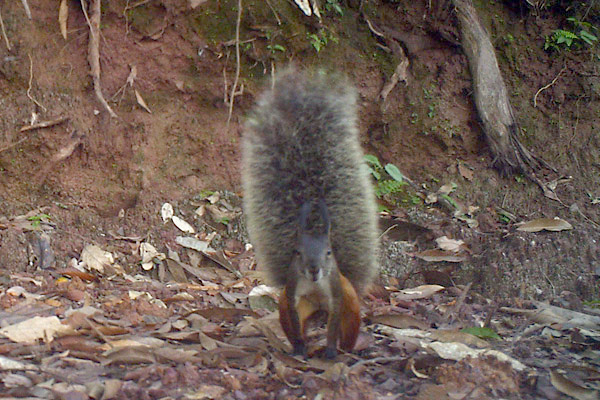 Integrated Conservation​
Why would nature bestow such an outrageously fluffy tail on the vampire squirrel?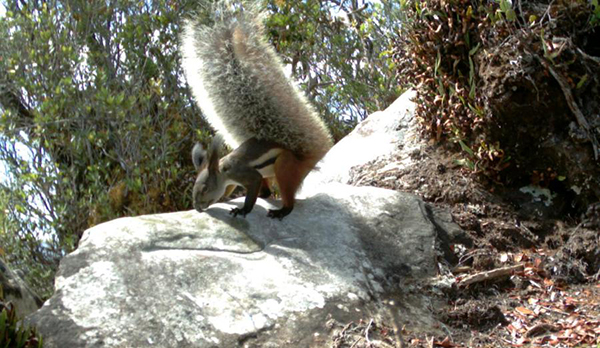 Photo: J. Mathai/ HOSCAP Borneo
According to this latest research:
"In flight, the grey tail, which consists mostly of long fur, obscures the actual body of the animal. This could either confuse a predator in pursuit, or if the predator would pounce on the squirrel it would most likely strike at the tail, which would provide a predator with limited hold."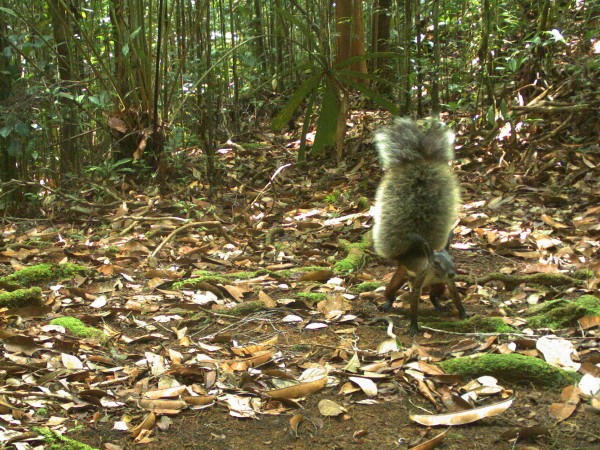 Integrated Conservation​
While the tales of the vampire squirrel may be be taller than their actual tails, you still might want to keep your neck covered the next time you find yourself walking through the jungles in Borneo.
Please consider
making a donation
to
Sunny Skyz
and help our mission to make the world a better place.
Click Here For The Most Popular On Sunny Skyz
LIKE US ON FACEBOOK!