Husband's 'Taylor Swift Jar' Has Wife Paying Every Time She Mentions The Star Or Travis Kelce
November 14, 2023
He's finally had enough.
In the ever-evolving landscape of pop culture, two names have managed to claim the spotlight consistently.
For one husband, the constant mentions of Taylor Swift and Travis Kelce by his wife led him to take a comically creative approach to the situation.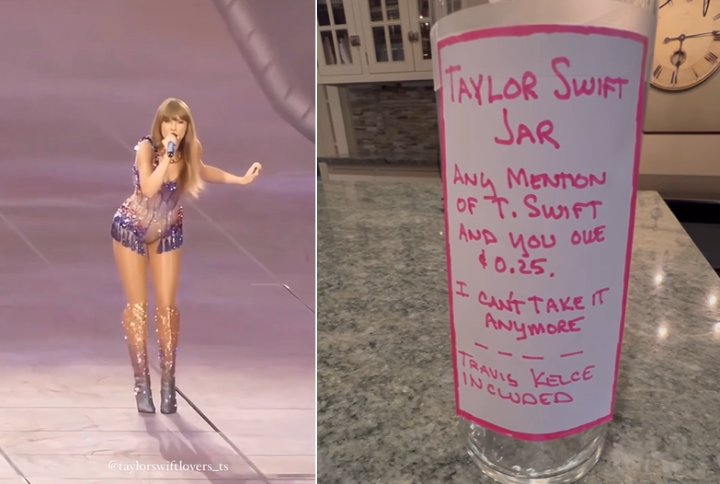 @taylorswiftvietnamfc / @dana.rice.realtor
In a video that has since gone viral, this husband revealed his exasperation with the ubiquity of Taylor Swift and Travis Kelce in his daily conversations. So, he constructed a "Taylor Swift Jar" which states that any utterance of her name would incur a 25 cent penalty.
"Travis Kelce included," he added.
Taylor Swift's music and relationship with NFL star Travis Kelce have undeniably captured the public's fascination, making them prominent figures in current conversations. However, for this husband, the constant updates and references had reached a tipping point, prompting him to take matters into his own hands - or rather, into the jar.
The light-hearted and relatable nature of the video struck a chord with viewers, who shared in the husband's amusing struggle to navigate a world dominated by the Taylor Swift-Travis Kelce phenomenon.
The comments section is filled with laughter, jokes and sympathetic acknowledgments.
"Jokes on him, you're using the money to go see her live," one commenter wrote.
"25 cents is a small price to pay to spread the gospel," another wrote.
"I would need a much bigger jar," a commenter joked.
Please consider
making a donation
to
Sunny Skyz
and help our mission to make the world a better place.