Cop Nearly Dies Alone In His Car, Then A Stranger Stops To Help -- And It Saved His Life
June 27, 2018
A police officer nearly died alone in his vehicle but thanks to his training and the help of a stranger, he's on his way to recovery.
"Sometimes love looks like this..." his sister wrote on Facebook.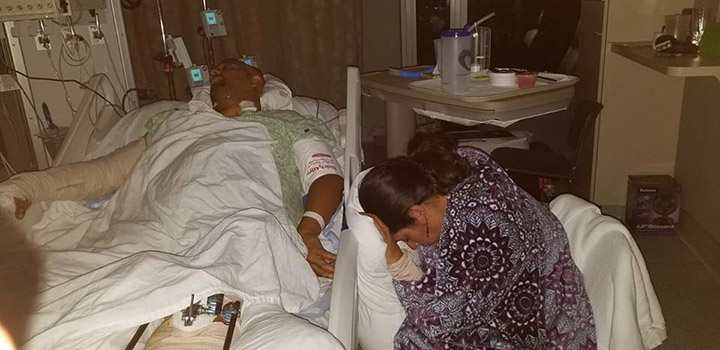 Credit: Alfy Basurto / Facebook
"This is my little brother Carlos and his wife Cindy in the Intensive Care Unit in California. We all took turns sleeping with Carlos, but Cindy definitely put in the most hours in the hospital. There's a lot of pain and suffering in this photo. Of course by Carlos, but also by Cindy. Caring for someone in Carlos's condition wreaks havoc on your mind and body.
On this night I was up really late trying my best to help Carlos so that Cindy could sleep a little more. When I walked back into the room I saw Cindy asleep by his side like this. That's when the thought came to my mind 'sometimes love looks like this – sitting hunched over in a hard uncomfortable hospital chair hoping and praying your spouse gets better.' Love comes in all shapes, in all sizes, colors and sometimes it's sitting by your partner at 3am in the morning.
My little brother is a cop. He was driving home from work late last week. He fell asleep at the wheel and rolled his car several times. Some people stopped to help him. Carlos knew he was bleeding out at the scene. So he asked a man that stopped to help him apply a tourniquet on his arm. Carlos taught the man how to do it while he was trapped in his car. He said the only thought on his mind was he did not want to die in his car. So he forced himselfto remain conscious until emergency crews were able to remove him.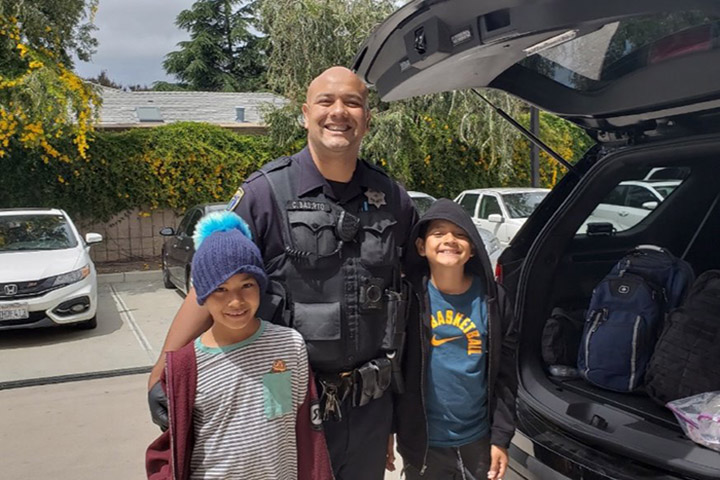 Credit: GoFundMe
Carlos was extracted from his car with the Jaws of Life. When he got to the emergency room the operating doctor said whoever placed that tourniquet on his arm saved his life. He had ruptured the major artery in his right arm and would have died at the scene. Carlos had learned how to apply tourniquets 2 months prior at a police officers' training session.
Had Carlos not attended that training, and had that caring man not stopped to help my little brother, he wouldn't be here today. The nurses said Carlos arrived at the ER, he told staff that he has 4 boys and a wife, and to please take good care of him.
The doctors were afraid they would have to amputate his legs, and maybe he will never use his right arm again. But all of that is put into its proper perspective when we remember at least Carlos is still with us. Thank you to that caring person that helped my little brother to remain on earth with us. We have no idea who that person is. They left the scene before police arrived.
If you know Carlos, he is the nicest of us 3 brothers. I'm definitely the best looking of the 3 brothers J Bad things happen to good people all of the time. It's apart of life. Carlos is one of the sweetest souls you will ever meet. There's no doubt in my mind that Carlos will recover from this and will defy all of the odds.
He already has."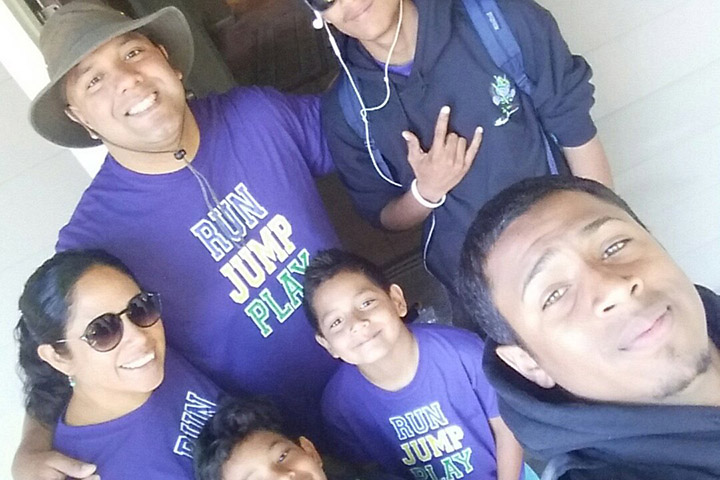 Credit: GoFundMe
Carlos has had four major surgeries so far. Unfortunately, he will still need numerous reconstructive surgeries on his extremities to be able to walk and play with his kids again.
To help with the medical costs, the San Mateo Police Officers' Association set up a GoFundMe page.
Please consider
making a donation
to
Sunny Skyz
and help our mission to make the world a better place.
Click Here For The Most Popular On Sunny Skyz
LIKE US ON FACEBOOK!