Tim Tebow's Act Of Kindness At A Baseball Game Will Warm Your Heart
June 12, 2017
Last night, my wife and 1-month old son decided to venture out to Municipal Stadium in Hagerstown, MD to witness a Hagerstown Suns vs Columbia Fireflies single A Minor League Baseball game. My wife and I are big time baseball fans, so it wasn't a tough sell to get us out to watch a game, especially when a guy named Tim Tebow was the starting left fielder for the visiting team.
Even though we witnessed a great 3-2 baseball game that featured good pitching, error-free defenses and impressive home runs by both teams, it was what happened off the field that really grabbed our attention on this night.
I had heard many things said and read a lot of things written about this Tebow guy (both supporting him and bashing him), but what I witnessed him do in person this night, will always hold more value over what anyone else will ever say or write about in the future.
After the gates opened, we made our way down to our front row seats to get the best view possible to witness "Tebow Mania". In between stretching and warming his arm up, Tebow would take some time to sign autographs and pose for a picture with anyone who asked him. He took more time to do this than any other athlete I have ever witnessed.
As the crowds started filling in the stadium, a sweet girl with Down Syndrome and her supportive, loving sister came down the aisle where we were sitting at and stood at the railing waiting for an opportunity to potentially meet her hero.
She held a sign tightly to her body which was apparent she had taken a lot of time to create. The top of her sign was dedicated to her hero, "TEBOW" with "Night to Shine" written at the bottom. (For those who don't know, "Night to Shine" is a special prom night dedicated for people with special needs that Tebow started.) In the middle of the poster were two beautiful pictures of this girl dressed up at a local "Night to Shine" event that she attended recently.
Just before the game started, Tebow was walking with another teammate back to the visiting dugout just minutes before the National Anthem was sung. Instead of taking a victors walk in front of the thousands of people who were yelling and chanting his name, he stopped and made a sharp turn towards our direction. Out of all the people in the stadium, Tebow singled out this one girl.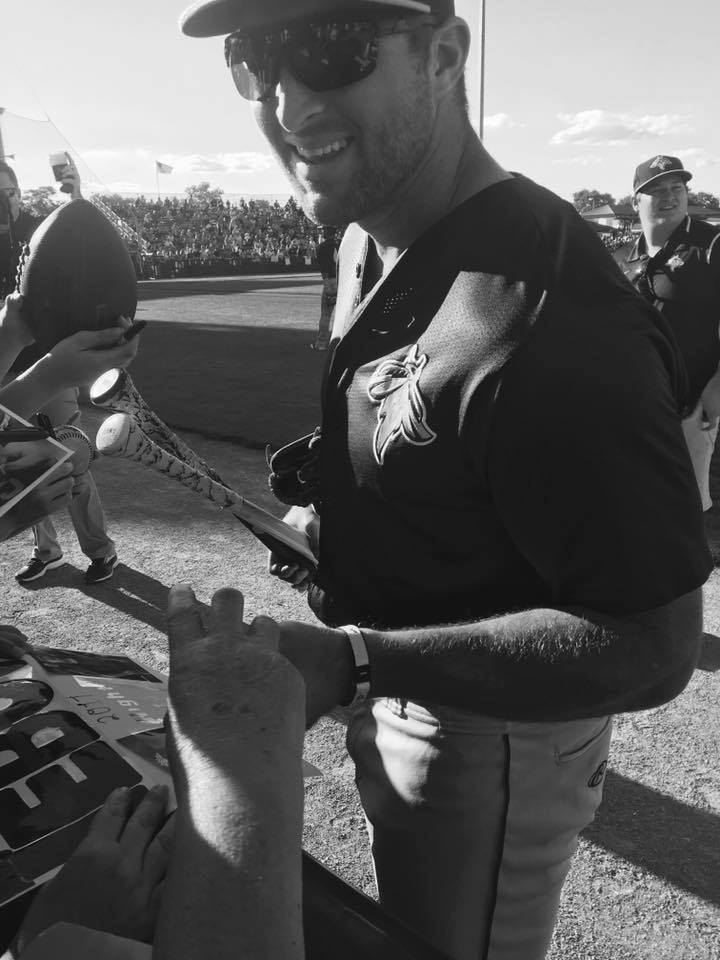 Photo credit: Kevin Liddle / Facebook
As he approached, you could visibly see Tebow's face light up as he seemed just as excited to meet her as she was to meet him. He started off by asking how she was doing and then thanked her for coming out to the game to watch his team play. After that he carefully examined her poster and commented on how beautiful she was before signing her poster for her. It was evident to me that these 30 seconds of interaction with her hero meant the world to her.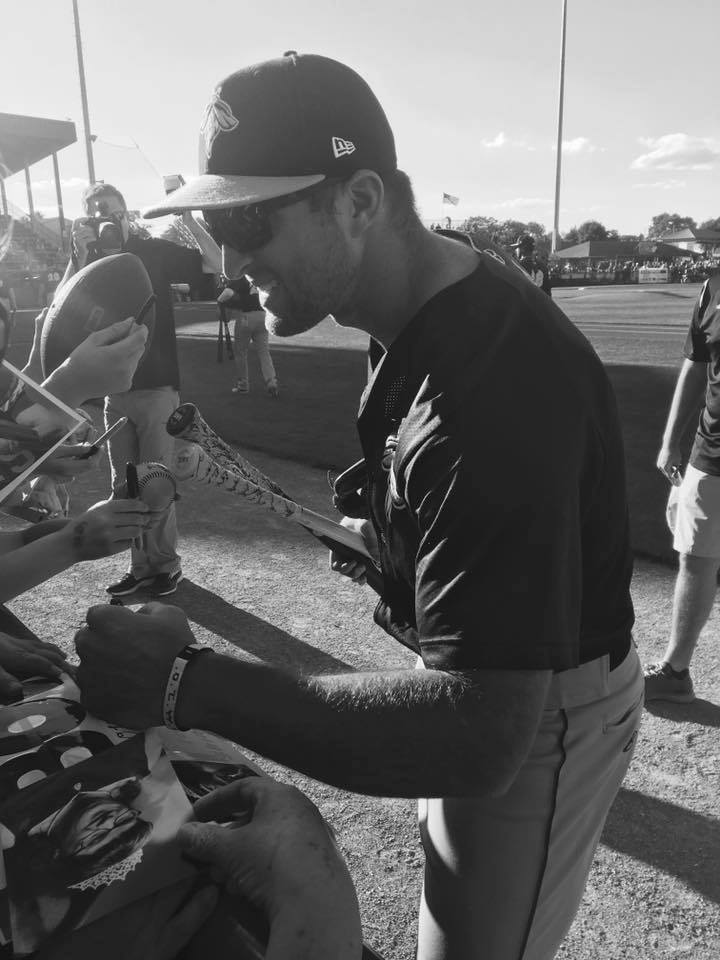 Photo credit: Kevin Liddle / Facebook
As he was walking away, my wife turned to me and said, 'Seeing that was worth way more than any autograph.' She was totally right. It was amazing to me that a man who is as famous as he is would stoop down to humble himself just to make someone's day a little brighter.
It reminded me of Philippians 2:3-4 that says, "Do nothing out of selfish ambition or vain conceit, but in humility consider others better than yourselves. Each of you should look not only to your own interests, but also to the interests of others."
Tebow intentionally humbled himself and entered into this girl's world and treated her as a princess. He understands that there is more to this life than just baseball or football. He gets that life is more about loving people and loving their Creator.
So thank you, Tim Tebow. This world needs more people like you. With all the evil and hate we constantly hear about in our world today, thank you for reminding us that love is stronger than the hate. When my sons grow up, I want them to reflect the character and values that have been instilled into you.
Keep shining Tim.
Please consider
making a donation
to
Sunny Skyz
and help our mission to make the world a better place.
Click Here For The Most Popular On Sunny Skyz
LIKE US ON FACEBOOK!