Woman Driving Notices Trash Bags On The Road. Then She Meets This Wonderful Young Man
April 6, 2017
A woman driving down the road noticed lines of full trash bags on both sides of the road. Then she saw a young man with a bucket picking up trash and felt compelled to turn around and ask him what he was doing.
After he told her why he was spending a Saturday afternoon cleaning up trash, she couldn't wait to share his story with her girl scout troop - and the rest of the world.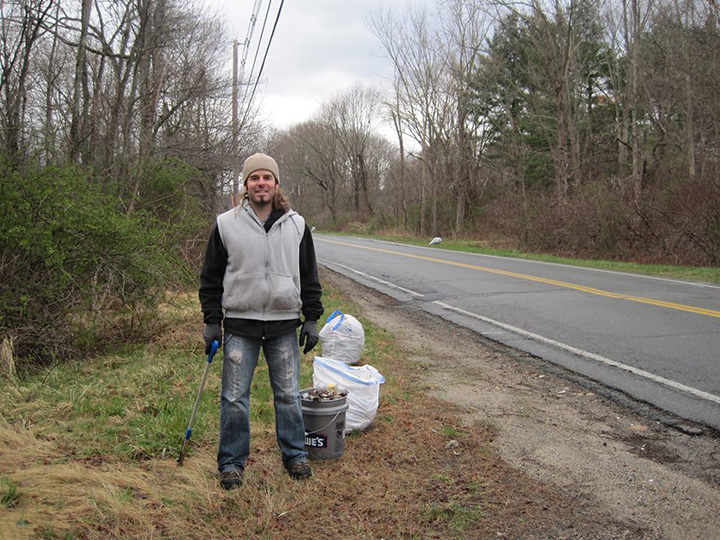 Credit: Kathleen Lynch/Love What Matters/Facebook
Kathleen Lynch wrote on Facebook:
While driving down Spring Street in East Bridgewater, I noticed 12-15 full white trash bags lined up along both sides of the road. Eventually I noticed a young man, probably in his mid twenties, with his bucket in hand, picking up trash. I slowly drove past him, but only for a half mile, as I was eventually compelled to turn my car around and ask him, "Whatcha doing?" He smiled at me with kind eyes and said, "picking up the trash."
"Just because you want to?" I said.
"Well I live right around the corner, I like to fish in this area and there's trash everywhere. There are no houses on this section of the road, so nobody cleans it up."
I told him how great I thought he was for spending his own money on trash bags and his entire Saturday afternoon cleaning up our neighborhood, as I only live about a mile away. I told him I couldn't wait to tell my Daisy girl scout troop about him and the good work he was doing. I thanked him again, asked for his name and for permission to take his picture, and then said goodbye.
His name is Scott Quimby, and he lives in East Bridgewater. He was not doing community service, he simply cared enough to do something about the litter that lines our streets and neighborhoods. With Earth Day right aound the corner, let's keep Scott's story with us. Next time you see a peice of trash on the road, pick it up. Let the last cigarette butt you threw out the car window, be the last. If you don't take the time to recycle, reconsider. Encourage the company you work for to do the same.
Please consider
making a donation
to
Sunny Skyz
and help our mission to make the world a better place.
Click Here For The Most Popular On Sunny Skyz
LIKE US ON FACEBOOK!