She Watches A Soldier In Starbucks Rip Off His Flag. Then He Hands It To A Little Boy
November 15, 2016
Alyssa Galios, a wife and mother from Seattle, recently shared this story on Facebook to help spread the love that she felt this country desperately needs right now. It warmed our hearts and will hopefully touch yours, too.
Via Facebook
"Sitting in Starbucks this morning, happily working away; I'm alone in the corner, my pen scribbling notes in my notebook and my almond milk coffee nearby. You know... the USUAL.
The only other table full this morning, is a momma with her three young kiddos. They are slurping up what I assume to be hot cocoa, laughing a lot, and burning off their sugar highs. But, when the door opens, the kids go silent...
We all turn to look at the two men who have walked in. They're soldiers. Combat boots, clumping. Hats on and uniforms pristine. They pause to look at the headlines of the newspapers by the door, mutter some things among themselves, then walk to the register to place their order.
Nothing out of the ordinary, really, for a Wednesday morning. So, I get back to my writing.
Then, SUDDENLY, no doubt sensing the little pairs of eyes on his back, one of the soldiers turns, walks over to the little boy wearing a Spider-Man sweater, and crouches down to eye level.
He smiles big.
'How is your day going, little man?'
Toddler-sized-pleasantries are voiced. Favorite super heroes are revealed.... Then, after the exchange, the soldier (whom I later will find is named Pedro) stands up, and RIPS the velcro-American flag 🇺🇸 off of his arm.
With a HUGE SMILE, passes it off the the little boy whose face immediately lights up. 😆 The. CUTEST. Thing. I can't help but imagine how excited Austyn (my daughter whom I'm guessing is around the same age as this young toddler-man) would be!!
Then, the other soldier makes his way over and says 'You can have this one, too.' And hands the little boy another badge, ripped straight off of his own coat. 😂🙊😆 So SIMPLE. But it makes me so happy, I feel like I could CRY!
The mom gushes her thanks. The boy stands and does his best salute. I have tears in my eyes. Can't. Help. It.
They pose for a picture before the mom says 'Time for school, let's go.' She thanks the soldiers time and time again as she walks out the door 'Thank you for your service.' 😍
In the end, my curiosity gets the best of me. So, I strike up a chat with the two fellows. I find that Edgar A. Gonzalez and Pedro Cordoba are both dads themselves.
That they've been deployed.
That they've had to be BRAVE.
Edgar says that they find that doing kind things helps them alleviate the stress and anxiety they've experienced, post-deployment.
It's amazing what DOING KINDNESS unto others can do for US, isn't it? I share with them my story of Nick, of living out my worst nightmare three years ago, when my first husband died and left me to raise our 9 month old baby alone. But, how I chose to find and EXTEND kindness anyway.
I was so nervous walking up to them at first that I was shaking. Mainly because I'm the kind of person who smiles at people and often get blank looks back.
But, these guys were open. Honest.
They let me ask for their names.
They let me creepily friend them on Facebook.
I bet that would have let me take a picture with them, had I gotten up the courage to ask. They told me I could share.
Edgar just messaged me and asked that I KEEP ON sharing when I see KINDNESSES and HECK YES, I'm gonna.
Because:
If you are LOOKING for KINDNESS, you will find it.
If you are EXHIBITING gratefulness, it will be rewarded.
If you pay close attention, you CAN and WILL see the GOOD."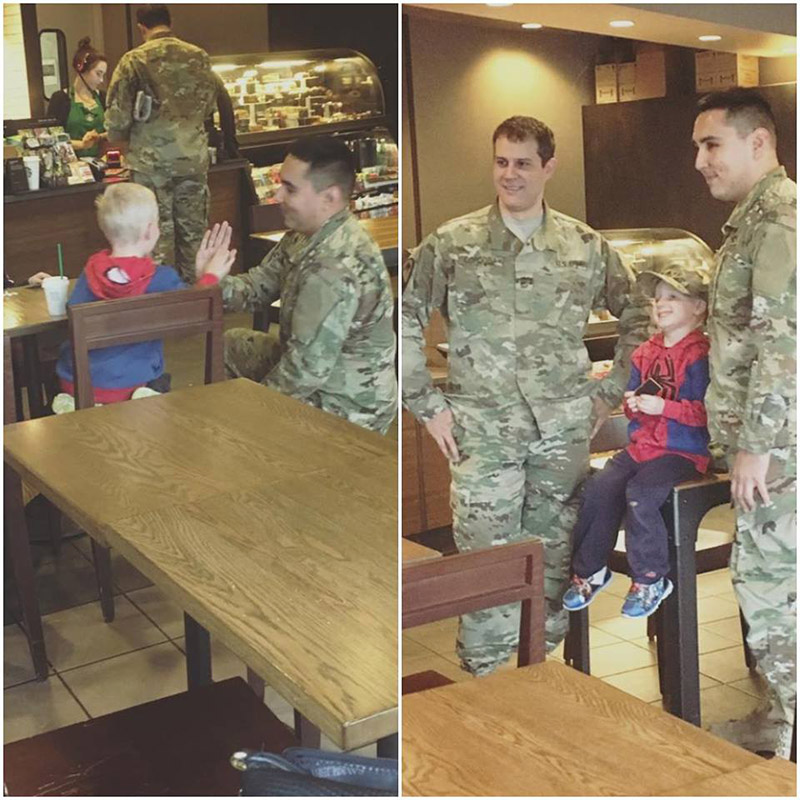 Photo: Facebook / Love What Matters
PLEASE SHARE!! Stories like this need to spread.
Credit: Alyssa Galios on Facebook
Please consider
making a donation
to
Sunny Skyz
and help our mission to make the world a better place.
Click Here For The Most Popular On Sunny Skyz
LIKE US ON FACEBOOK!