See Why This Uber Driver Sent His Passenger An Equipment Receipt From The Cable Company
October 3, 2016
This is a wonderful story about trust and unconditional kindness that happens every day but rarely gets covered on the news. Thanks to social media, people are sharing their own experiences. This is what Daniel Green wrote on Facebook about a recent Uber experience that made his day.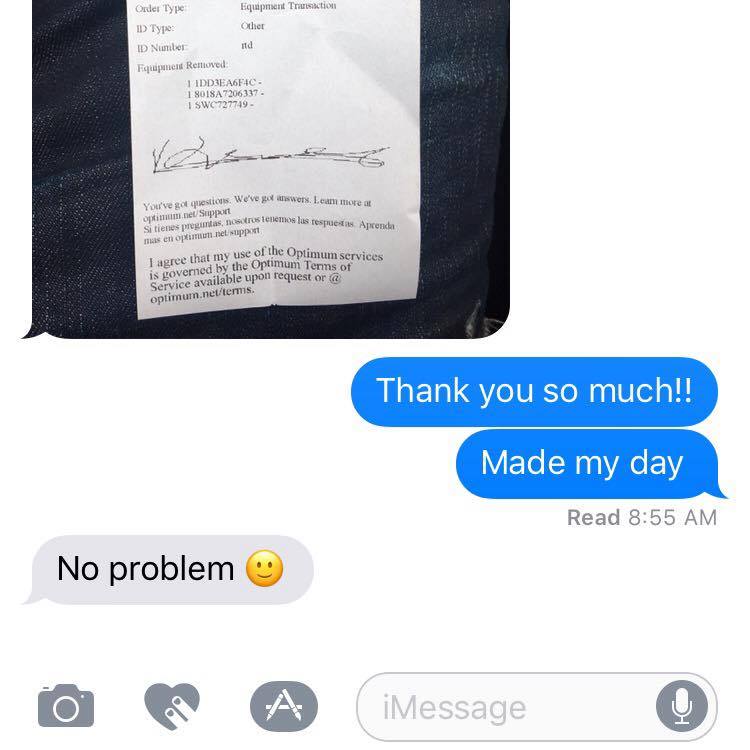 Facebook / Daniel Green
"This morning I had to call an Uber at 8 am, to return old cable equipment to the ends of the earth in Brooklyn and then still try to make it to work on time. My driver was a (presumably) Muslim guy named Ali, and after I got in I explained that I would just be dropping something off, and once we got there would he mind waiting, keeping the meter running and then driving me back to my apartment?
His response: 'Why don't I just drop it off for you?'
Me: 'What?'
Him: 'Yeah, that way it's easier for you, right?'
Me: 'Uh, yes. That would be amazing.'
I leave the equipment in the car and get back out, still standing on my own block, thinking huh... I hope this works out... I wonder how I could track that stuff down if need be. Cut to twenty minutes later - he's driven all the way to the place (faster than the estimated time) and all of a sudden three things happen:
1) I have an email from my cable provider, confirming the return of my items and thanking "me" for stopping by.
2) I get my Uber receipt, showing that the trip cost me less than HALF of what it would have if my driver Ali had just done what I asked him to do.
And then 3) I get a text from him, with a picture attached of my cable receipt. Because he didn't know they would email me, and because he's apparently the most conscientious person in America.
He saved me over twenty bucks (out of his own pocket) and half an hour on my way to work. My wife marveled, 'I don't understand what was in it for him.' I don't either - but I think I just got a little glimpse into what ACTUALLY makes this country great."
Credit: Daniel Green
Please consider
making a donation
to
Sunny Skyz
and help our mission to make the world a better place.
Click Here For The Most Popular On Sunny Skyz
LIKE US ON FACEBOOK!