She Drove 4 Hours To Rescue A Badly Injured Dog. This Is Her Beautiful Story...
May 27, 2016
Written by Stacy
This is a screenshot of the Facebook post my friend made when he found Oberon on the side of road.
I drove four hours to pick up a gross, smelly, dog that would end up being pretty much the love of my life.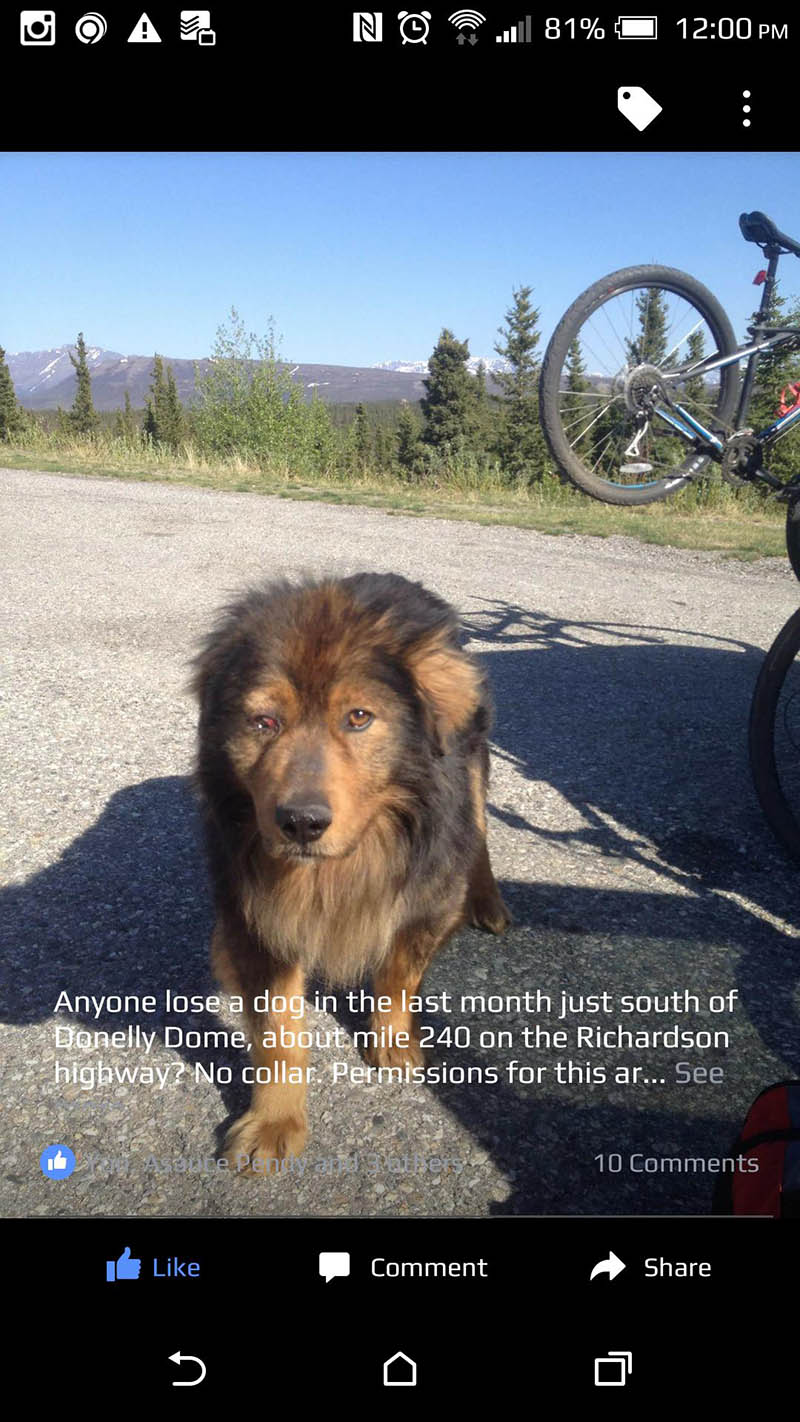 I took him to the after hours vet clinic, where they told me I had two options: I could drop him off as a stray and pound could decide what to do with him the next day; or I could adopt him and pay for his treatment.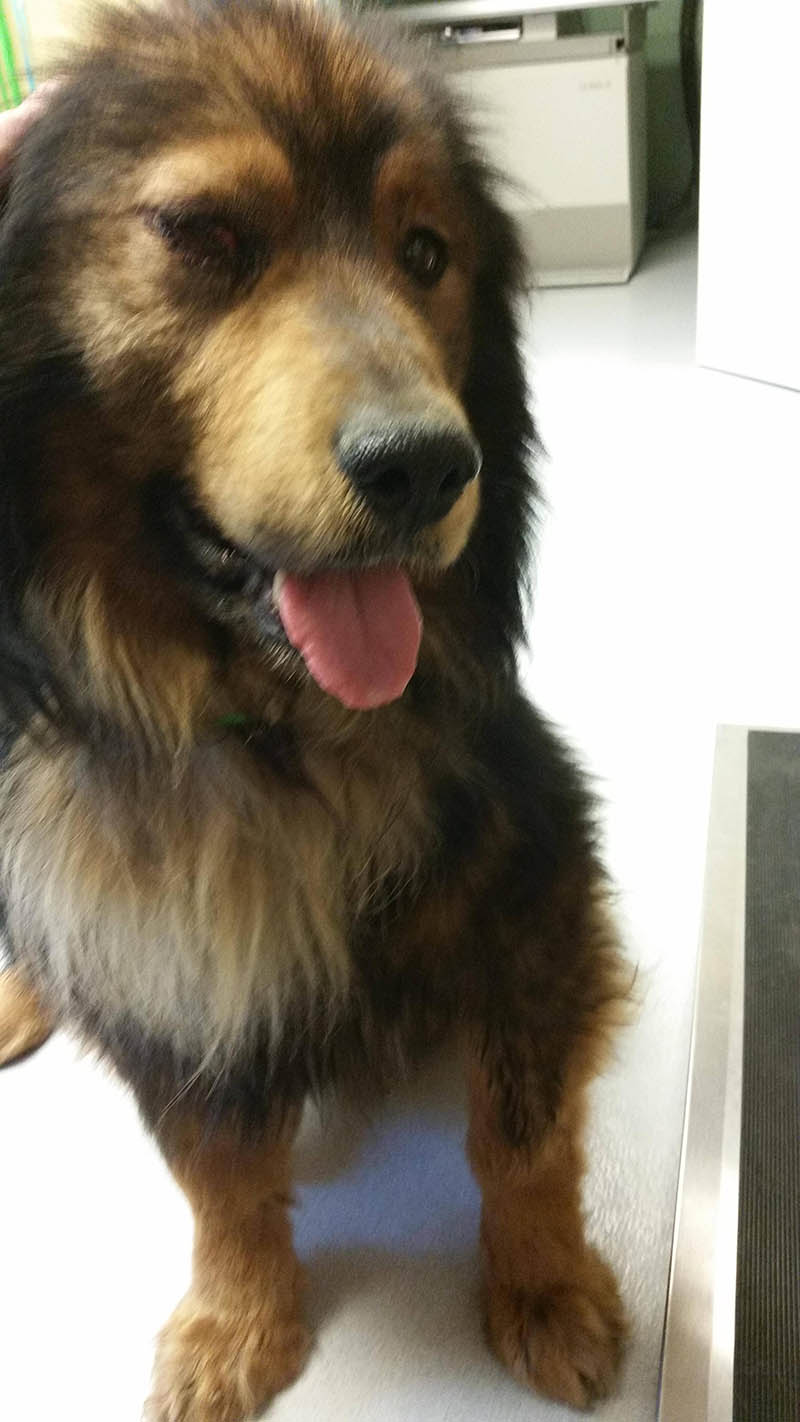 So I adopted him.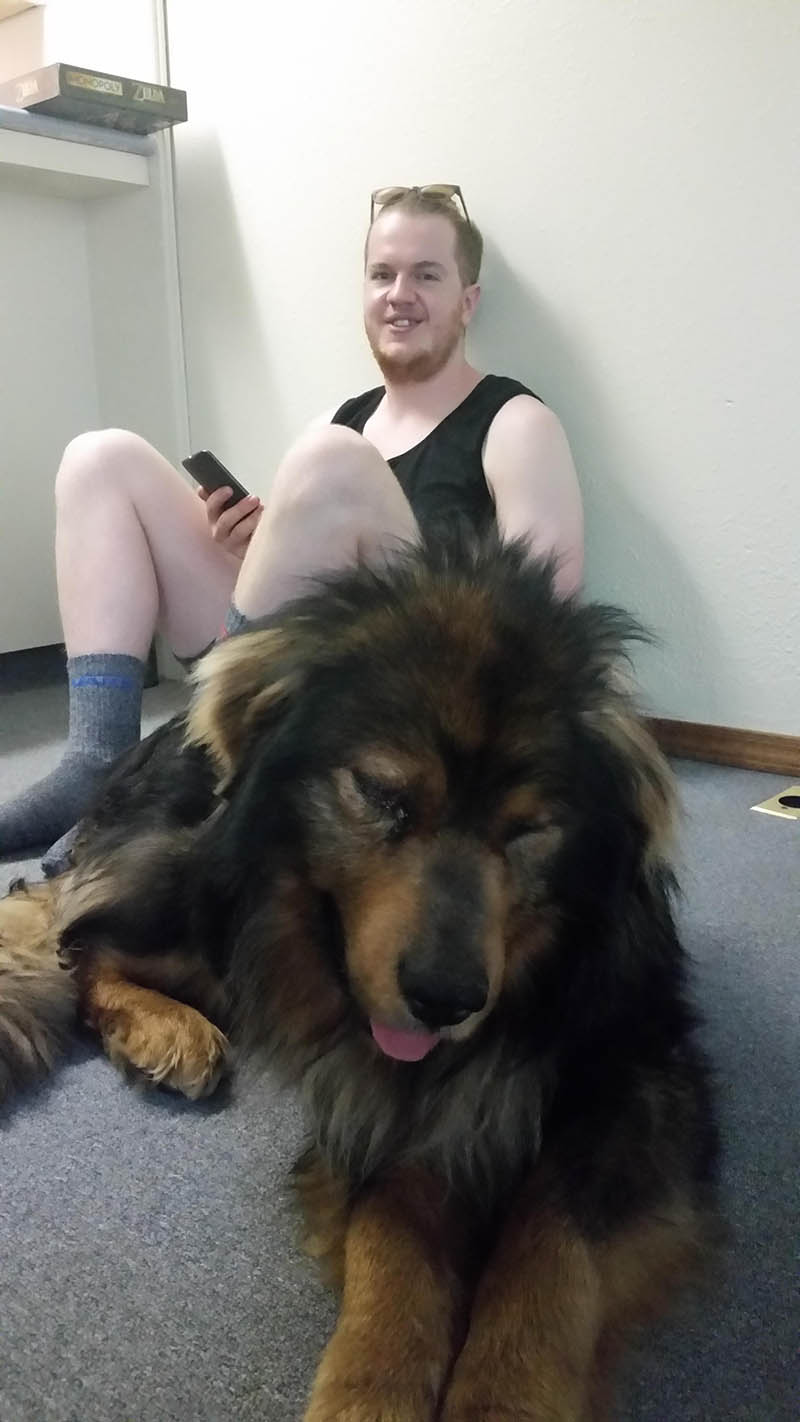 Oberon was in pretty bad shape. It's hard to tell because of how fluffy he was but he was extremely malnourished, when I picked him up he was about 65lbs versus the 90lbs he was at full weight. He also had a smashed up right side of his face. We don't really know what happened to him, but my theory is he fell out of the back of a truck and whoever just left him for dead. The vet assuming he started at a healthy it would've taken three months to get to the level of starvation he was at.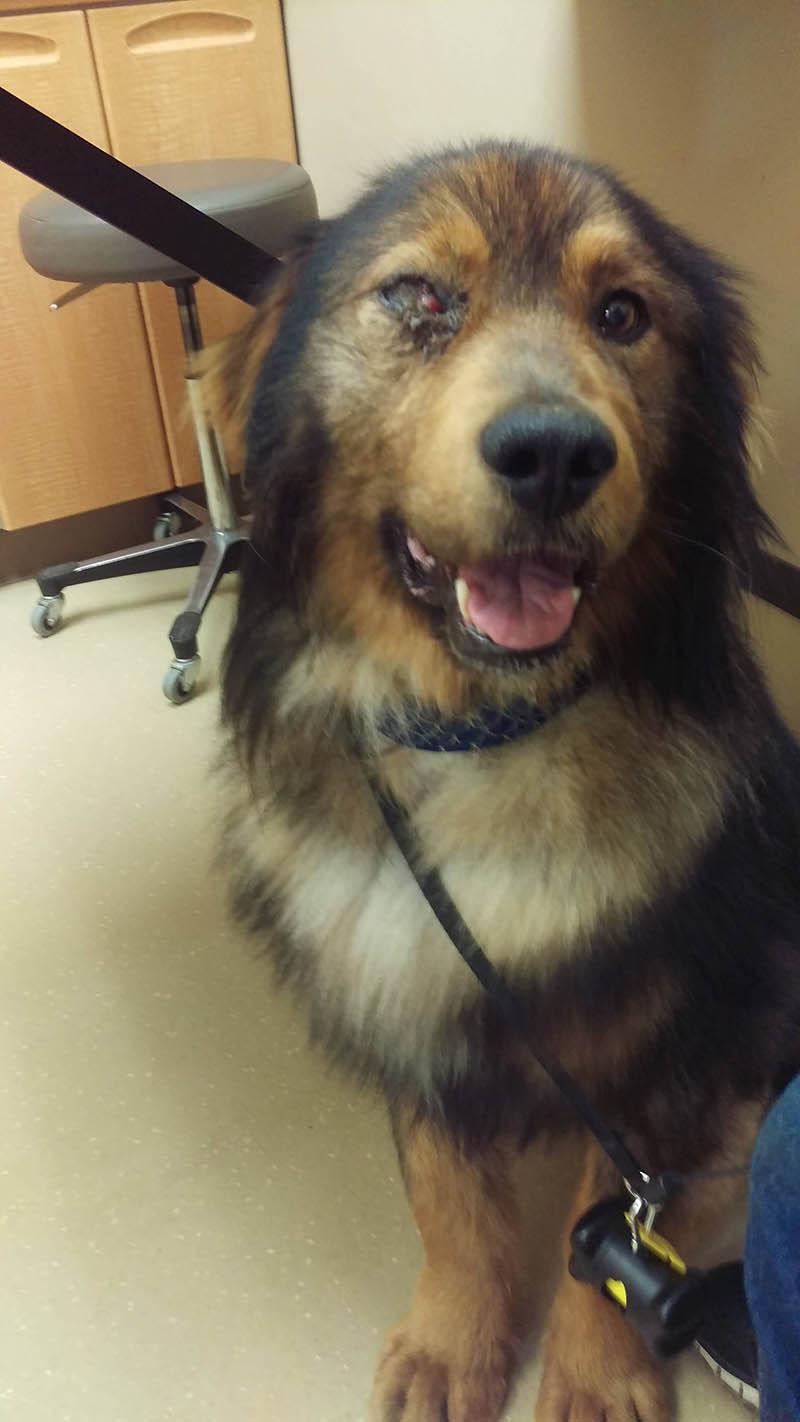 After a few days of antibiotics his putrid face rot started not to smell so bad and he was keen on cuddling.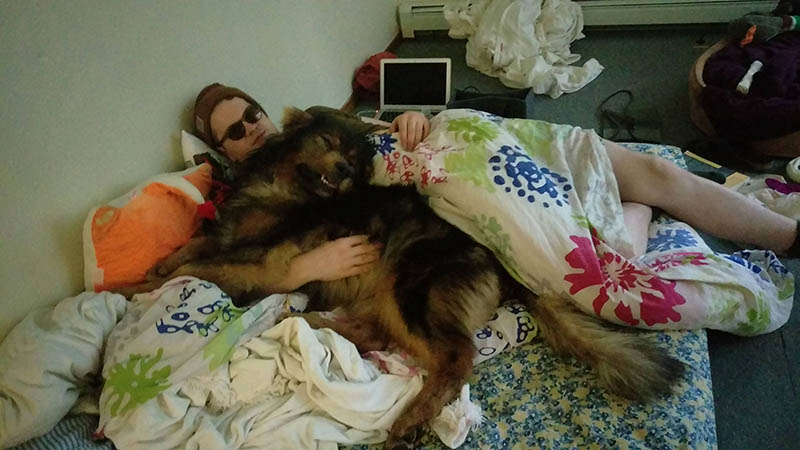 Science says dogs hate hugs and science is a liar.
His eye was dead so after he gained enough weight he got surgery to remove it. They removed his eye, two of his teeth and a tumor on his butt. He was a good sport though.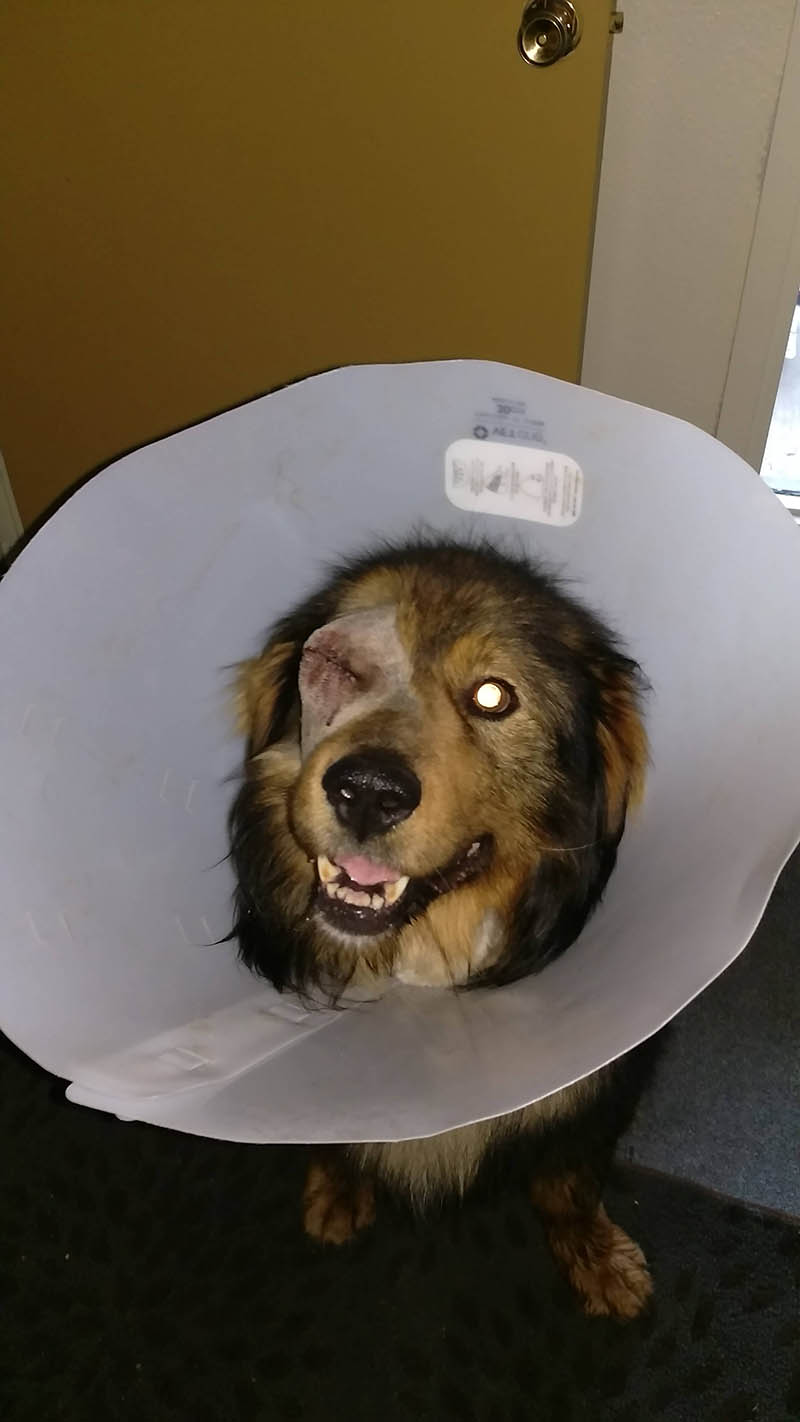 Goober.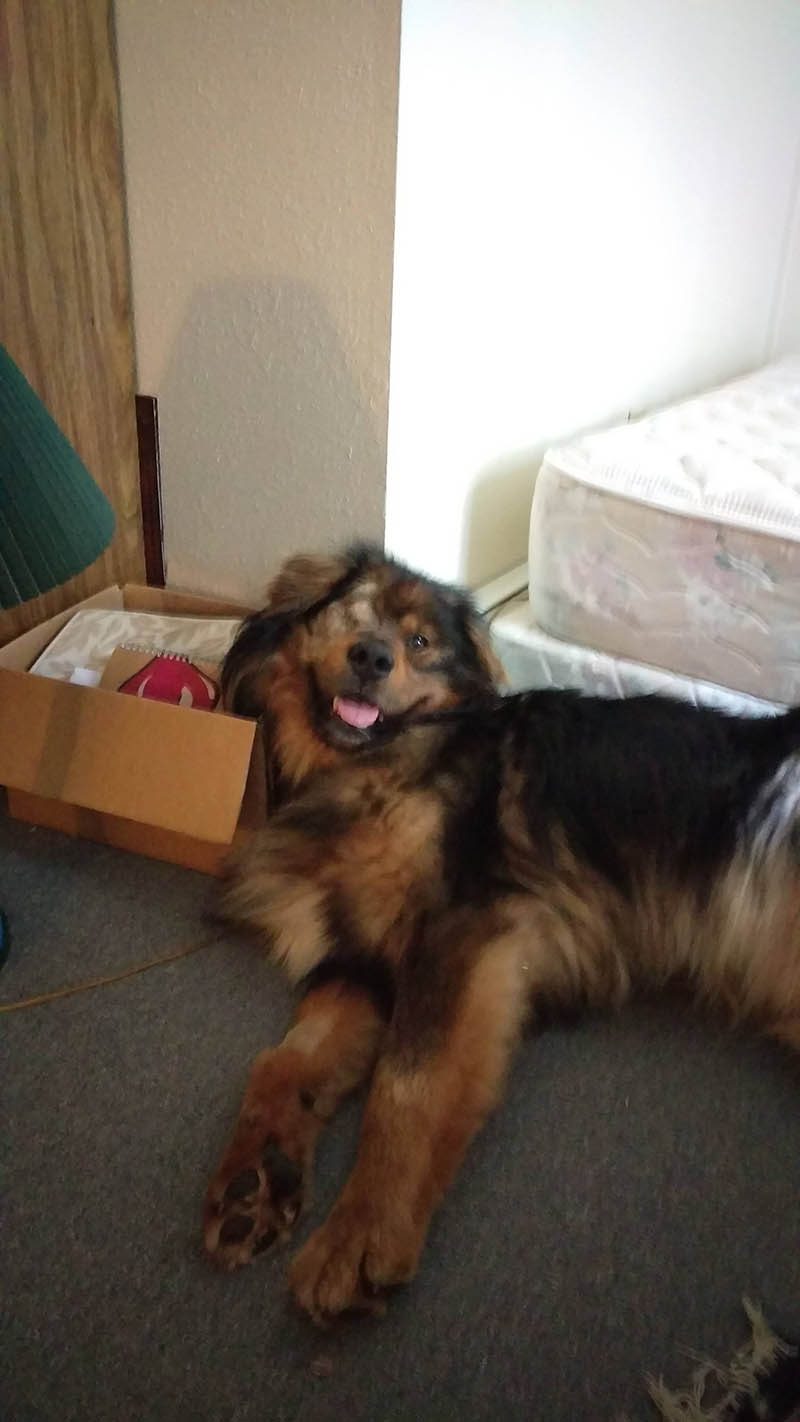 At this point I had taken him to the groomers and they brushed out his coat for 4 hours getting the mats out. He was turning out be a really handsome dog.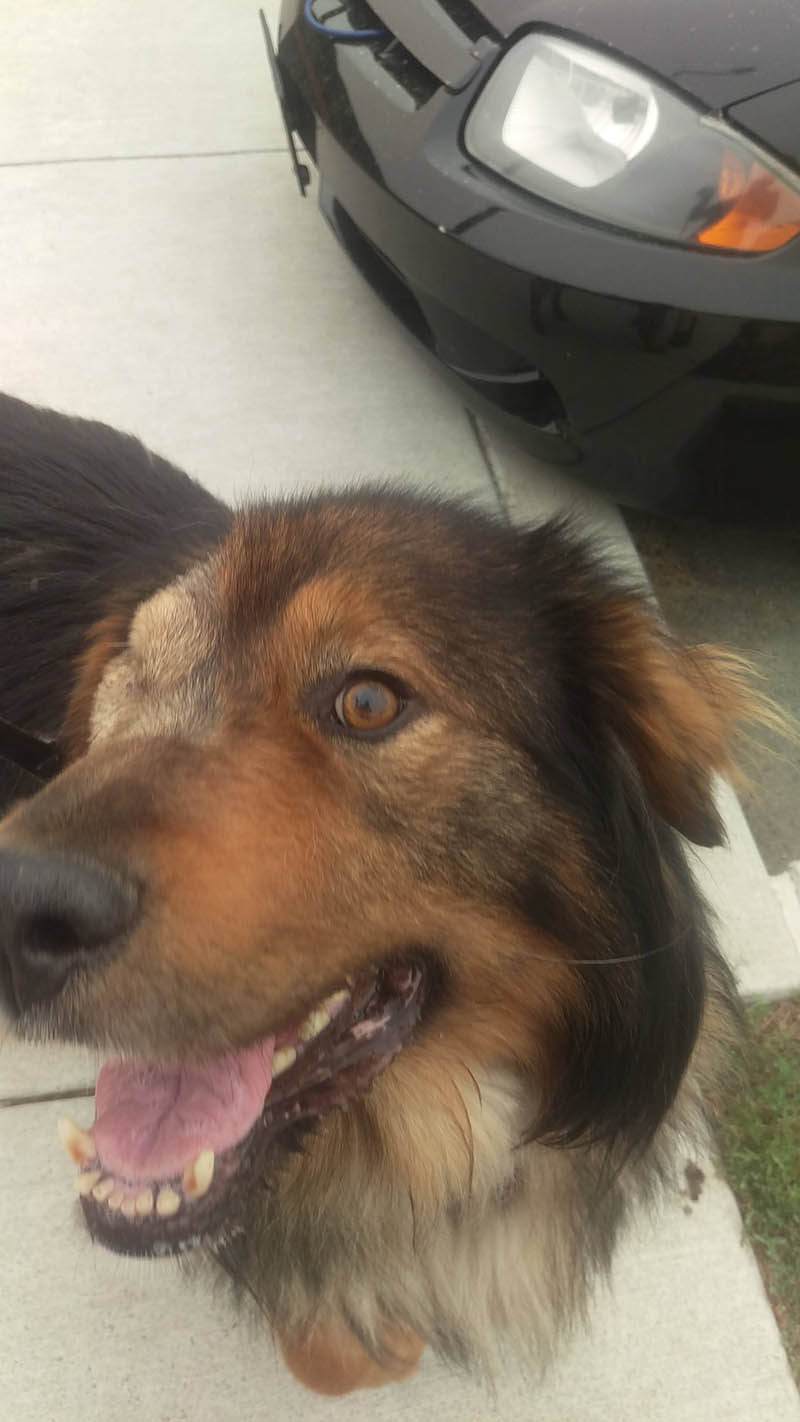 This picture is still my phone background.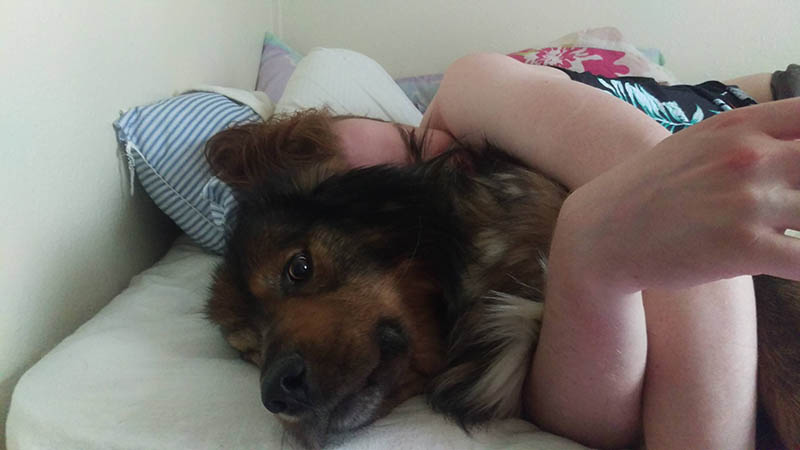 I was trying to leave for work.
My dad hates this picture because he says it's "disrespectful."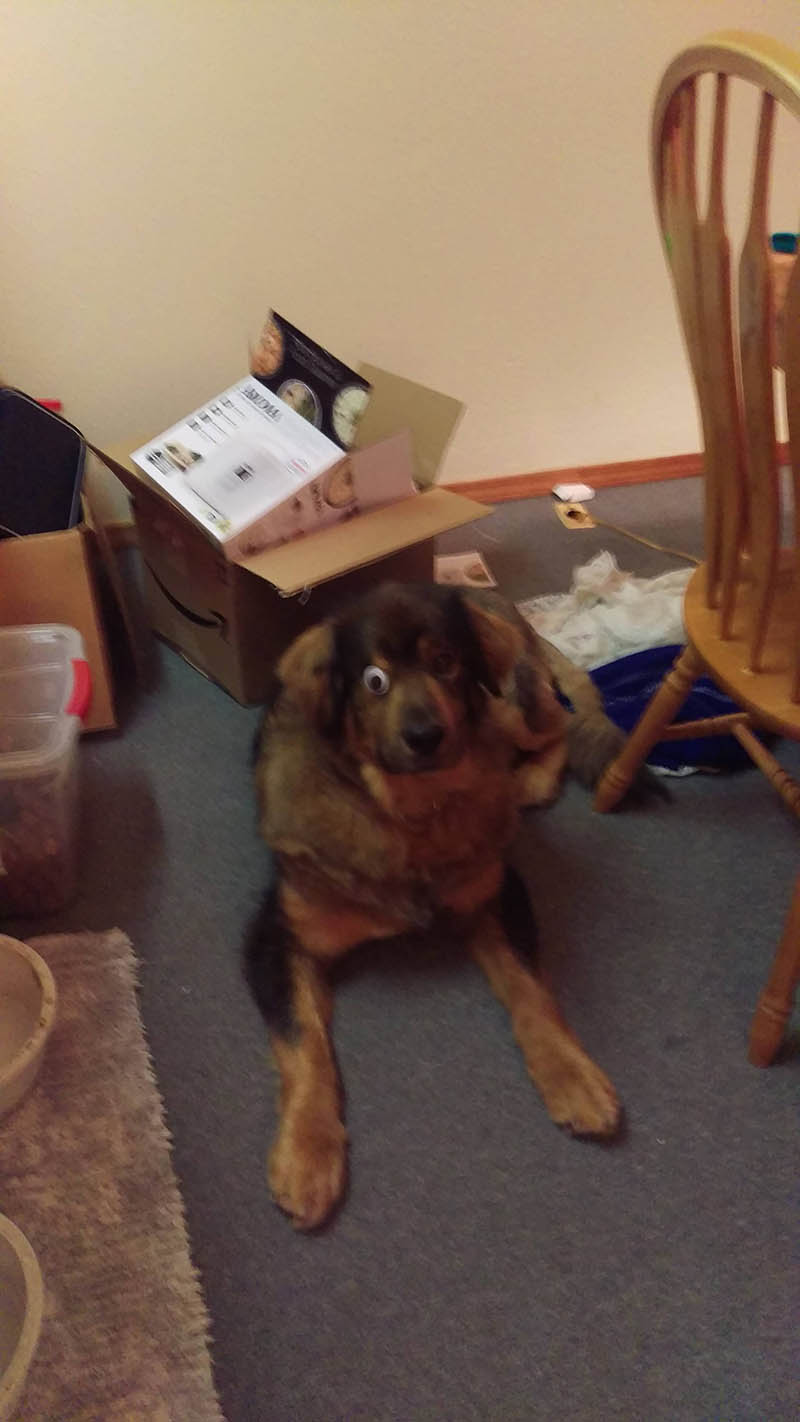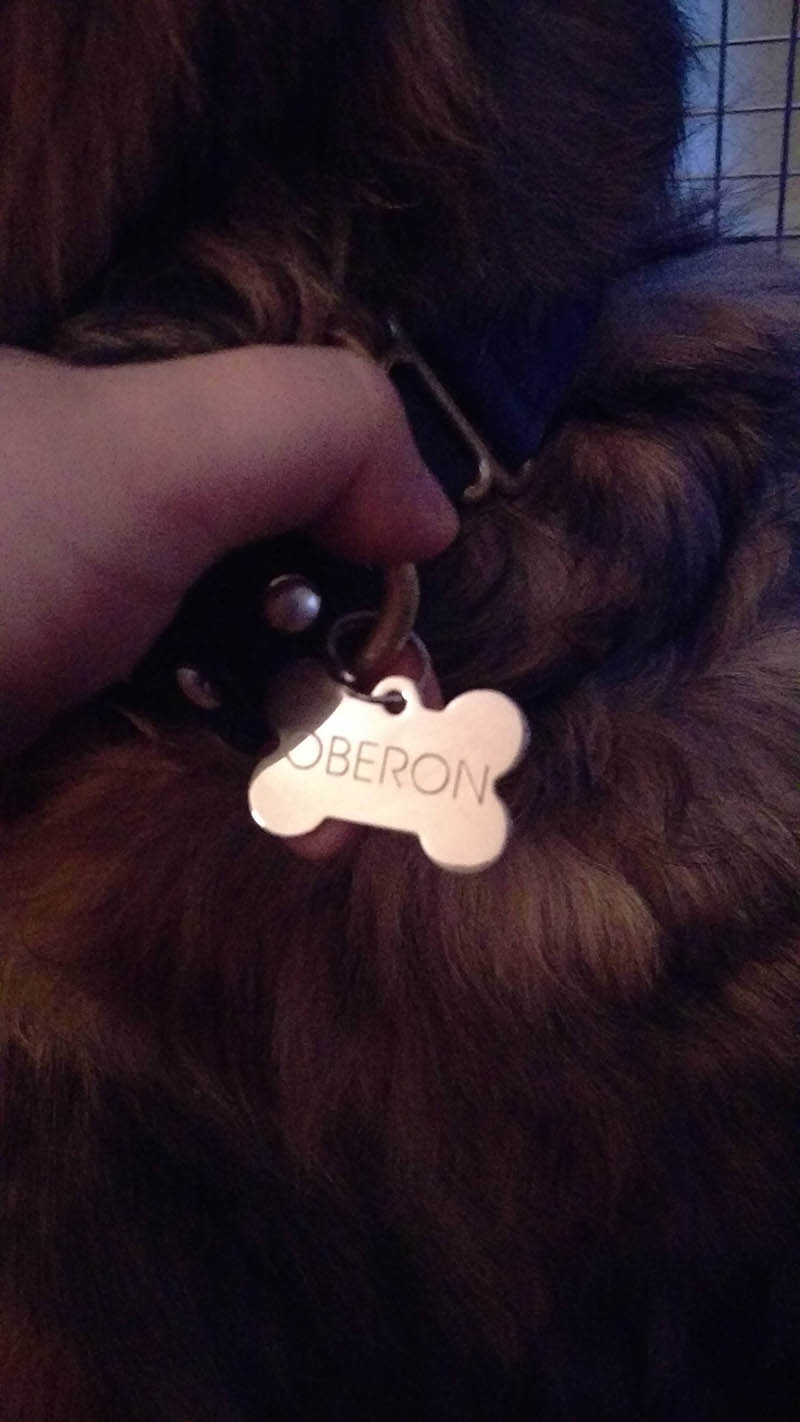 This was about 6 months after I adopted him and as you can see he is absolutely gorgeous.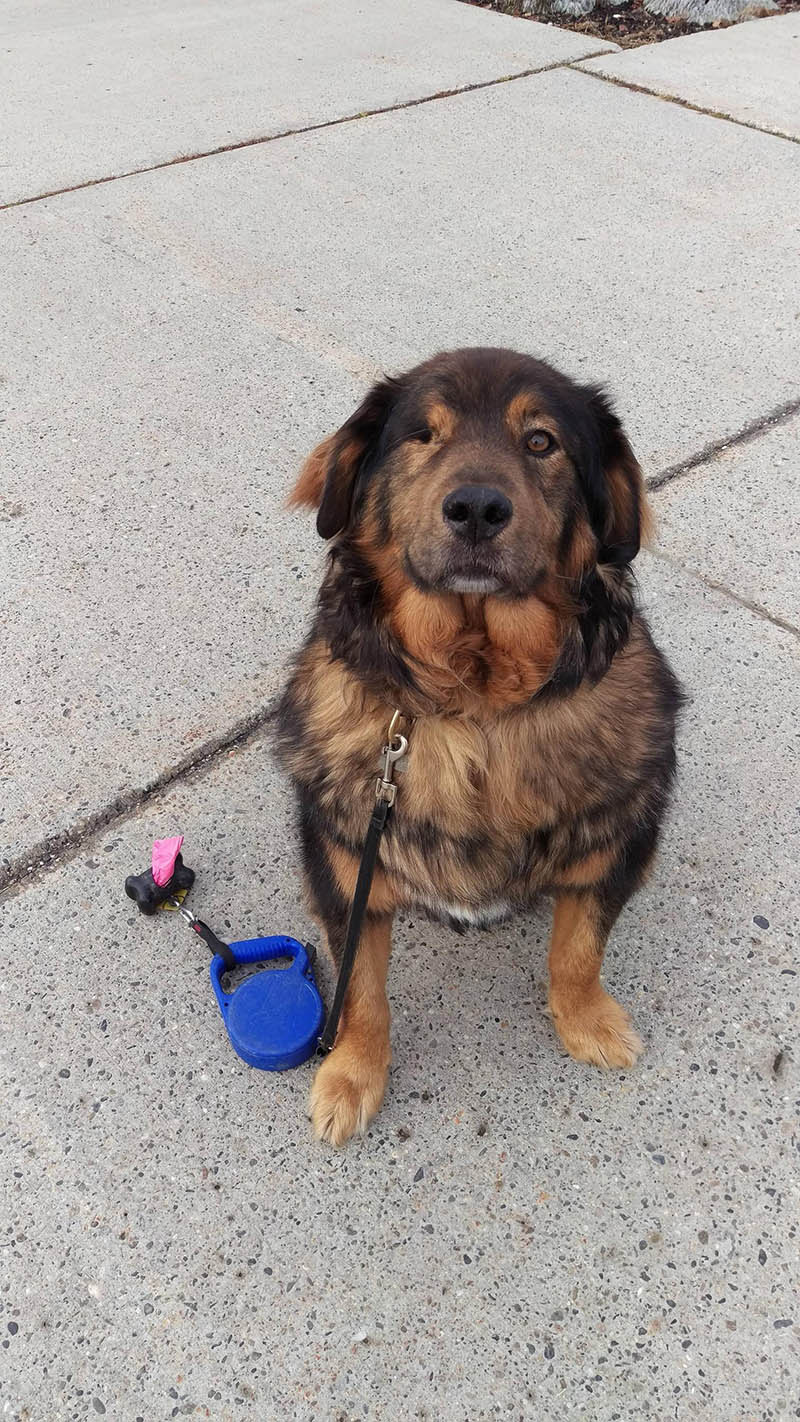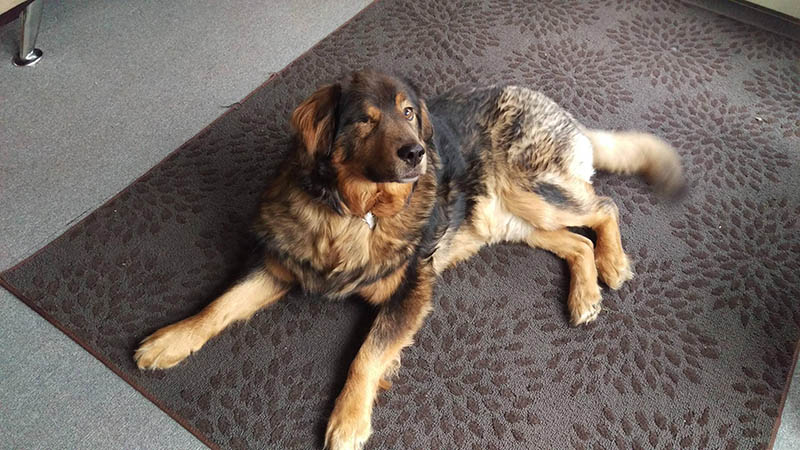 He loved the leg bed. I mean it, this is one of like 50 pictures I have if him doing this.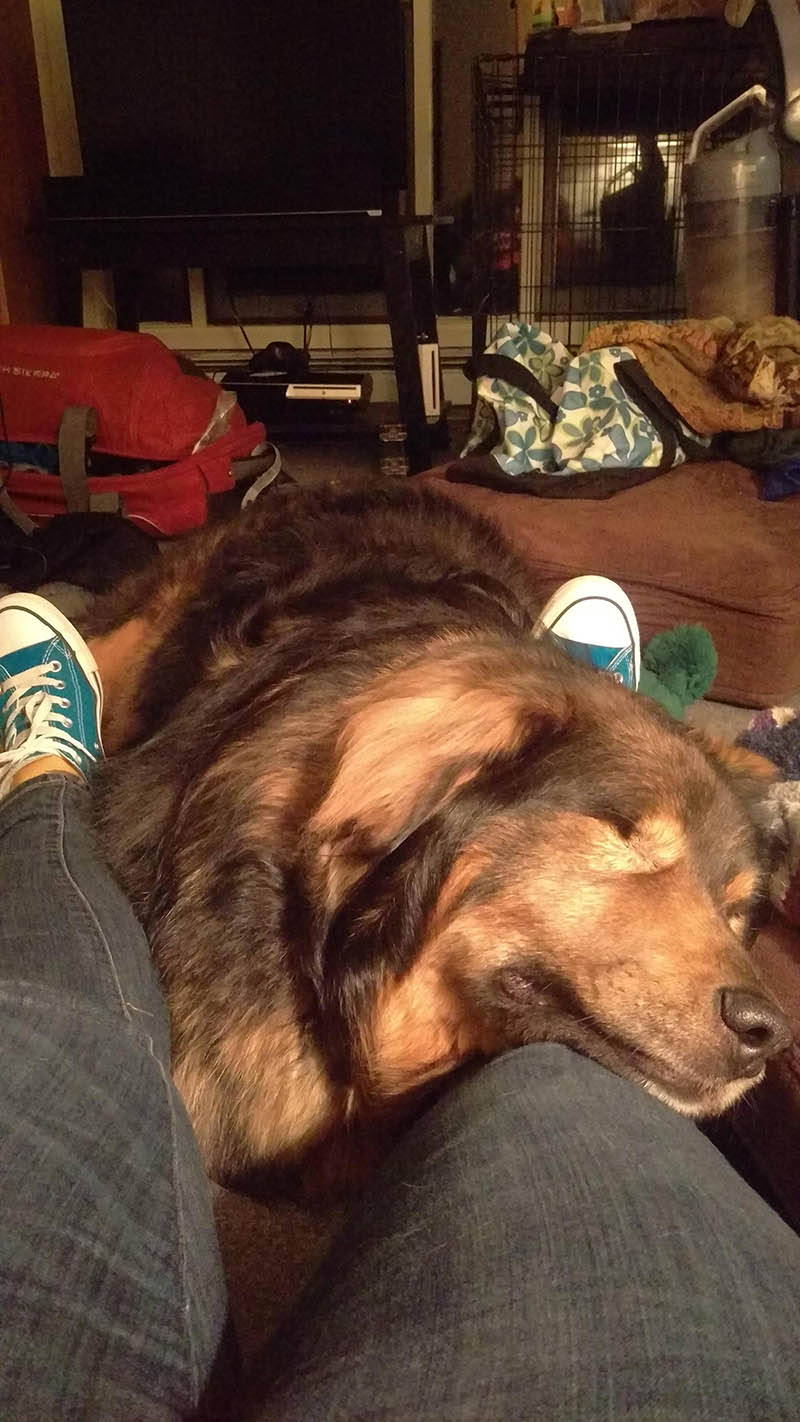 This is a terrible picture of me, I had just had sinus surgery and my eyebrows are a nightmare. I'm posting it because this is the last picture I took of Oberon before he died on January 13, 2016.
Oberon suddenly started having seizures and after two days of treatment they couldn't get them to stop. He couldn't walk, eat or drink anymore. The vet said that it was probably caused by brain damage from his accident catching up to him and we had to put him down.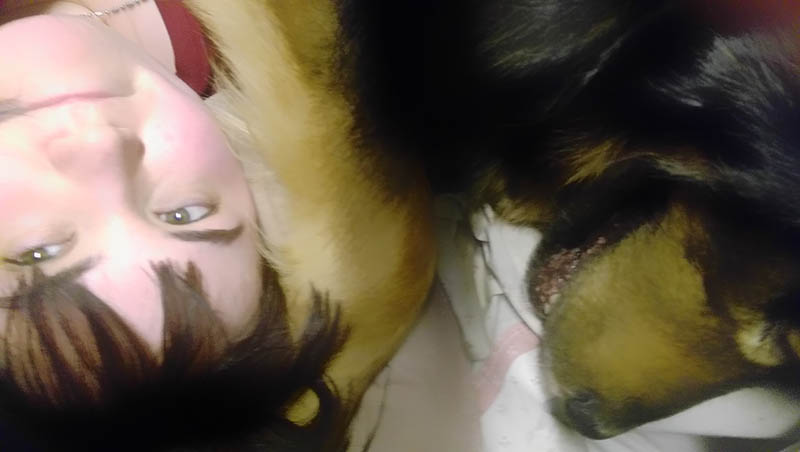 Stacy had Oberon for 9 months. She posted this because it's the one year anniversary of when she adopted him. The man in the photos is Rusty, a friend who helped care for Oberon.
Please consider
making a donation
to
Sunny Skyz
and help our mission to make the world a better place.
Click Here For The Most Popular On Sunny Skyz
LIKE US ON FACEBOOK!